JimmyLincoln
Member since Nov 21, 2012

Male / 23
Lincolnshire , United Kingdom
Block user
Recent

Selling
Jun 18, 2013 at 10:00
Jun 18, 2013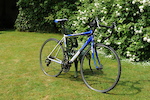 $180 GBP
Here is a listing of my road/racing bike. It has been well used but it still rides pretty much as good as when i got it. comes with metal drink holder and pump attachment. there's nothing wrong with the bike, it rides perfectly fine It has the usual scratches you get from use of a bike, but nothing remotely major at all. best thing about this bike: VERY quick, perfect car replacement for the commute to work. I will give it a good oiling up and usual service before sending. Reason for sale: just bought a new house... Pick up is available POSTAGE COSTS: (TO UK Either 48hr Delivery for £40 or 24hr Delivery for £50 Location NORTH LINCOLNSHIRE - SCUNTHORPE AREA Or if you think you can find it cheaper, you can organize a collection from a courier service.

Selling
Feb 9, 2013 at 14:15
Feb 9, 2013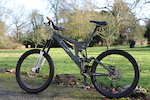 $450 GBP
cash on collection is prefered. £60 for post within UK Specialized Big Hit was a present from my uncle who paid £1200 for it. Fully working condition It has general wear and tear same as any other downhill bike after a few runs. its not touched a dowhill track in about a year and a half. never had a major fall on the bike, not that it would make much difference, its an absolute tank! Everything works Im doing more roadbiking these days so selling so i can invest in a carbon road bike. This is a reluctant sell so i wont just be selling for peanuts. ive actually been using this bike on the road for a bit or strength training which is why the tryes are a little worn (very difficult to ride on the road with the tyres i was using. Forks are 170mm Marzocchi Z1 Sport Avid Juicy 7 and Avid Juicy 3 oversized 203mm disks please see photos below In honesty, the back tyre will need replacing soon, its about 70% way through life. but still fully useable. if you have any questions, let me know and ill answer straight away.

Nov 26, 2012 at 8:10
Nov 26, 2012
Load more...