Johnnypawnny
Member since Jul 26, 2016

Golden , Colorado
Block user
Recent

Selling
Aug 23, 2023 at 16:26
Aug 23, 2023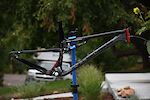 $1400 USD
Size Large. Freshly built up bike for this season but I ended up on an epic instead. New (less than 100miles): Front triangle (warranty for a manufacturing issue) Upper Link Lower Link Derailleur Hanger Headset BB Used: Rear triangle is original issue (2020 model year). Super light frame and an incredible race bike. Shock: RS SidLuxe Ultimate 120mm. About a year old. Bearings are all new and buttery smooth. Happy to upload up close pics of anything

Selling
Aug 23, 2023 at 16:22
Aug 23, 2023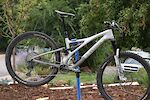 $1900 USD
S4 Stumpy Frame Only. About 900 miles on it. Shock is great still as are bearings. Parting out the bike, and selling as a whole (see other listing). No cracks or scratches. Happy to add any up close photos you want.

Selling
Aug 23, 2023 at 16:16
Aug 23, 2023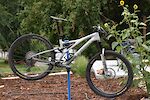 $4000 USD
2021 Sworks stumpjumper. Size S4. 28.8lbs Willing to part out for best offer. Miles: 900. Good condition with some scrapes. Functions perfectly and suspension feels like butter. The super light carbon wheelset with i9 hubs and grippy tires are unbelievable! Bearings are all still going strong as are wear items. I built this bike up last year and haven't put too much time on it. Fork: Pike Ultimate 150mm Shock: Fox Float 130mm Wheelset: Light bicycle Carbon with i9 Hydra Hubs and Cushcore in the back (1400g wheelset!) Dropper: Transfer 175mm Brakes: Code RSC's and HS2 Rotors (200/180). 10/10 brakes with a great bleed still. Drivetrain: XT Cassette and SRAM derailleur (liked the lighter action over Shimano). Raceface cranks. Cockpit: Oneup Carbon Bars and stem, Steerer is tapped for oneup tool. Super jibby trail bike that's amazingly light. Selling because I prefer the s3 size. Happy to add any up close pics you want to see

Selling
Dec 20, 2021 at 6:52
Dec 20, 2021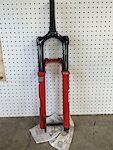 $349 USD
2021 Bomber Z2 with 140mm travel and 44mm offset. Model number 912-01-103. Ridden for about 10 hours total and it's still like new. Take off from a bike with a 120mm head tube; there's over 170mm of steerer left. Buyer pays PayPal / Venmo fees unless you send it as a 'Friends and Family payment.

Oct 12, 2021 at 12:03
Oct 12, 2021

Jul 10, 2021 at 6:02
Jul 10, 2021

Mar 8, 2021 at 7:07
Mar 8, 2021

Selling
Mar 8, 2021 at 7:05
Mar 8, 2021
$899 USD
*Buyer Pays shipping and PayPal fees* Scott Scale 29 Pro, 2011, Medium, Carbon Fiber Frame. Sub 1kg frame! Includes: Carbon X01 Crankset (Bottom bracket spins forever, still super smooth) Raceface 32T Narrow wide chain ring FOX Factory 32 Fork Syncros Carbon Handlebar Syncros Stem Syncros Carbon Seatpost Carbon Seat Bike is in good condition, has paint chips but no cracks or material defects. If you want more detailed pics i'm happy to oblige. Was raced in high school league - she's FAST!

Feb 8, 2021 at 8:08
Feb 8, 2021

Selling
Jan 10, 2021 at 14:35
Jan 10, 2021
Load more...