Lizard Skins Lock-On North Shore grips
Grips have to be the simplest and least expensive way to dramatically change both the feel of your bike and improve comfort while riding, and Lizard Skins has been behind countless different grips for long as we can remember, as well as frame protection and other items. Lizard Skins is still producing those chain stay guards but they also offer a massive range of grips to choose from, including the Lock-On North Shore model that we've been using for the past while. These relatively thick and textured grips have been designed to be super comfortable with or without gloves, and Lizard Skins also donates a percentage of their sales towards trail building efforts on the North Shore, which is obviously a win-win for your hands and the trails. Other than providing funding for trail efforts, the North Shore grips are Lizard Skin's thickest, most padded lock-on option, featuring a wide squared texture that measures 33mm in diameter and 130mm in length. Standard colours are black or grey, but they also offer a customization program (
for an upcharge
) that allows you to choose from nine different lock-on collar colours, nine more plug colours, and text engraving of your specification using twenty different fonts. MSRP: $30.00 USD.
www.lizardskins.com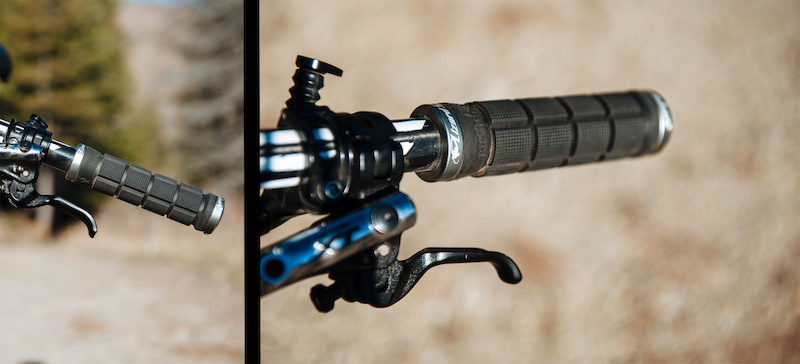 Comfortable but thick, the North Shore grips will be a favourite with riders who have big hands or prefer a soft grip.
Pinkbike's Take:
| | |
| --- | --- |
| | Whether you ride with gloves or without, grips are almost as personal as seat choice, with one person loving a design that another can't stand. You'll know what you're a fan of after spending countless hours holding onto a variety of grips, and that perfect-for-you pair can make all the difference day-in and day-out. With that in mind, the North Shores provide a nice balance between shock absorption and diameter, with the extra thickness compared to slimmer options making a noticeable difference in regards to vibration damping. This results in all-day comfort while still offering plenty of friction to keep your hands glued to the bars, gloves or no gloves. Pairing the added comfort with a functional lock-on style grip makes the North Shores a great option for riders looking to add some coziness to their bars, but their 33mm diameter won't be for everyone - if you prefer a minimalist grip, these may not be the best option for you. Wear rate seems to be par for the course, with them not losing material faster than anything else out there, although their extra thickness could mean that they'll be useable for longer than a set of thinner grips. - Jordan Carr |
---
Kitsbow Soft Shell A/M short
Based in Marin, California, Kitsbow aims to design and produce high quality mountain bike apparel with a minimalist aesthetic and subtle tailored details - you won't find any neon highlights here. They set out to create the best functioning, no-corners-cut mountain bike trail short knowing full well that there were already plenty of reasonably priced options on the market, and that they felt they could offer something different. Made in Vancouver, B.C., with durable and stretchy Schoeller dryskin soft shell fabric, the short is designed to fit like a custom suit. It features one inch sizing increments rather than an adjustable waistband that would depend on buckles or Velcro, and their cut is meant to fill the void left by the not so "performance fit" of many baggy mountain bike shorts on the market. Subtle design features are found throughout: the back of each knee is shaped so it won't brush your calves, and the inseam breaks right where your knees naturally bend. All of the inner seams are taped and finished, the pockets employ a stretch mesh liner so they can also be used as vents, and the quilted waistband is positioned so that it sits high enough to offer full coverage. Other design points include reversed YKK zippers to keep them flat along the leg, as well as a nifty slider snap waist closure that locks shut via a short track. One of the more interesting features is how the pockets are positioned, with them being angled back slightly towards the rear of the short rather than straight down. MSRP: $269.00 USD.
www.kitsbow.com

The best short on the market, period. Comfort comes at a price that might make them an unrealistic option for many riders, though.
Pinkbike's Take:
| | |
| --- | --- |
| | We're not about to tell you to rush out to spend $270 USD on a short - that is a lot of money no matter how you look at it - but there is certainly room for the Soft Shell A/M short given that there are countless reasonably priced options already on the market if you can't see yourself spending this much dough. For those who are both interested and have the financial means to consider the Kitsbow short, read on. If you spend loads of time on your bike, comfort and quality are of the utmost importance, and Kitsbow absolutely nailed those two points. They fit and perform like no other short we have used, with a bit more of a conforming design that is far less baggy than most others. Inseam length is spot on with no extra fabric to catch on the seat, and the same can be said about the leg length. The Schoeller soft shell fabric also proved to be quite weather and stain resistant, but also manages to not feel thick and un-pliable like many ''durable'' fabrics. Our favourite feature of the short has to be the strategically placed leg pockets that make carrying a smartphone or heavy multi-tool almost unnoticeable while still being readily accessible when needed, something that is possible thanks to how the pockets aren't as loose fitting and their positioning more towards the rear. Complaints? They can be a touch warm in hot summer weather, and the pocket position meant that we sometimes found ourselves sitting on our tool or phone when not in the saddle, but that's about it. Are the worth $270? That's for you to decide, but we have to step up and say that they are the best performing short we've ever worn. It isn't one specific design point, but rather all of the combined efforts that make them both the most comfortable and well executed short on the market. There are tons of shorts that perform very well and cost much less, but the Soft Shell A/M short is a step above them all. - Jordan Carr |
---
Charge Scoop seat
Charge designs performance minded products for the mountain, road, and commuter scene that offer great features at a reasonable price. With its rounded top, the Charge Scoop features the aesthetics and performance comfort of many higher end saddles, but at a more fiscally responsible price: less than $100 USD for the titanium railed model, and they also offer a chromo railed version that retails right around $59 USD. The Scoop features a nylon upper with a bonded cover, and the lighter of the two options weighs in at 245grams. It features a 145mm width in the rear and is 280mm in length, while its padding is somewhere in the middle of the spectrum. MSRP: chromo - $59, titanium - $89.
www.chargebikes.com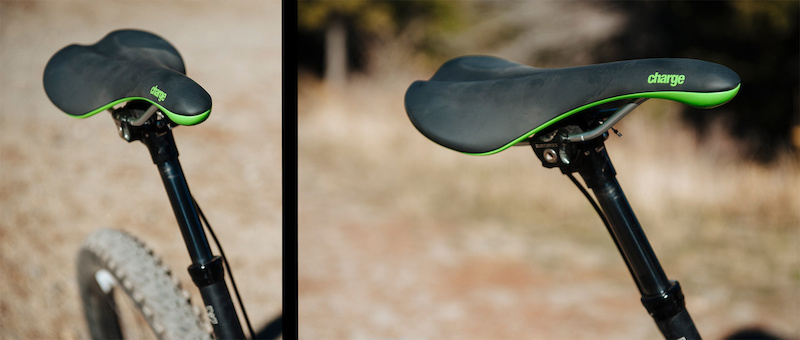 A reasonably price seat that offers a rounded shape.
Pinkbike's Take:
| | |
| --- | --- |
| | Seat preference is obviously a very personal thing, so this or any other seat will not work perfectly for every rider. Luckily, I prefer a more rounded shape to keep me centered comfortably on the bike. The Scoop did this, and did it amazingly well. After spending the majority of my time aboard Fizik saddles, I have become accustomed to their fit and feel, and the Scoop was an easy transition that I was able to spend three hours on with no issues at all. The rounded nose and tail kept me right in the sweet spot of the saddle, while the padding offered a nice cushion to take the edge off on the hardtail I mounted it to. Overall, the Scoop is a great option for riders who prefer a rounded hammock shaped and are looking for something quality, but don't want to spend $200 plus dollars to find it. Having said that, it won't be ideal if you prefer a flat saddle shape that lets you slide around to get in to your desired riding position - the Scoop sets you in its sweet spot, making setup a crucial component. - Jordan Carr |
Photos by: Tal Roberts