If you're on your bike regularly, it's pretty much inevitable that you'll need to perform a few repairs on your trusty rig. Whether those repairs are simple or a bit more involved, having the correct tools for the job not only keeps your bike running smoothly, but will also keep those expensive components from failing. And when it comes to tools, the blue Park Tool logo has to be the easiest to recognize, having been around since 1963. That makes them older than nearly all of the bike manufacturers out there that their tools could be used on! All that time in business has also made them the world's largest bicycle-specific tool manufacturer, all from their headquarters in St. Paul, Minnesota. It's Park Tools' EK-1 travel-based tool kit that we review here, with the 35 piece kit being intended for those on the road who might need to perform some serious repairs. The kit is packed into a durable, well organized blue suitcase that can be closed up and stored away until needed. Yes, $689 USD MSRP isn't a small amount of money, but Park also offers a number of less expensive tool kits that will suit many riders' needs if the EK-1 isn't what you're looking for.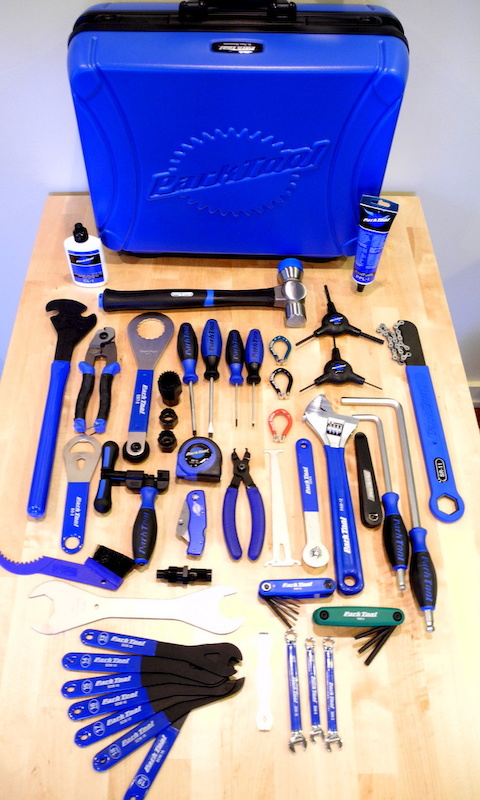 Park EK-1 Tool Kit Details
• 35 separate tools
• Dent-proof, composite, lockable box
• Additional space for adding extra tools
• Proprietary front hanging tool board
• Removable tool boards made with durable 600D ballistic nylon sewn to an ABS inner panel
• 35 tool pockets and straps, plus four adjustable modules to accommodate a wide variety of tools
• Lifetime warranty
• MSRP: $689 USD
Construction
Anyone who uses tools on a regular basis, be it bike tools or those to fix a car or build a house, knows that quality is a key. Park is known for their shop-level quality, and the EK-1 is another example of this. All tools are constructed utilizing a variety of materials like high-torque and chro-moly steel. We found the Bondhus high-torque Industrial steel utilized in the hex keys to be the most durable material for extensive use as it offered an amazing level of resistance to rounding out tool heads over time, even on the smallest of hex keys.
Included Tools
The EK-1 tool kit includes all of the following (
take a deep breath
): 4, 5, 6mm hex wrench Set, 2, 2.5, 3mm hex wrench set, folding hex set, 1.5 to 6mm, bottom bracket / cassette lockring tool for campagnolo, bottom bracket tool, bottom bracket tool, bottle opener, chain wear indicator, crank wrench, chainring nut wrench, synthetic blend chain lube, cable and housing cutter, master chain tool with peening anvil, crank puller, cassette lockring tool, gear clean brush, 32 and 36mm headset wrench, double sided
hammer, 8mm hex wrench, 10mm hex wrench, master link pliers, 8mm combination wrench, 9mm combination wrench, 10mm combination wrench, adjustable wrench, PolyLube 1000 grease, pedal wrench, tape measure, 13 - 19mm cone wrench set, SD-SET screw driver Set:
#0
and
#2
phillips screwdrivers, 3mm and 6mm flat blade screwdrivers, sprocket removal tool, professional spoke wrench x 3, tire levers, fold-up star driver, 12 point, T7 to T40, utility knife, and the tool box (
19.25" L x 8.25" W x 16.75" H
).
Key Tools
While the EK-1 includes quite a few tools, there are obviously key items that will find their way into your hands more often than others. It's imperative that these tools are durable, well designed, and improve your experience using them. Some tools we found ourselves using most from the EK-1 kit were the AWS-1 three-way hex wrenches, separate 8mm hex key, the HT-10 10mm, the masterlink pliers, CN-10 cable / housing cutters, and the UK-1 knife. All these tools were picked up on a nearly daily basis during peak riding times as we are always rotating test bikes and components. A three-way allen wrench is something we use so often it is almost an extension of our hands, and the AWS-1 is a nice offering from Park. Featuring 4mm, 5mm, and 6mm hex keys, it fits the majority of cockpit components, seat post clamps, many brake levers and shifters, and a slew of other highly adjusted components.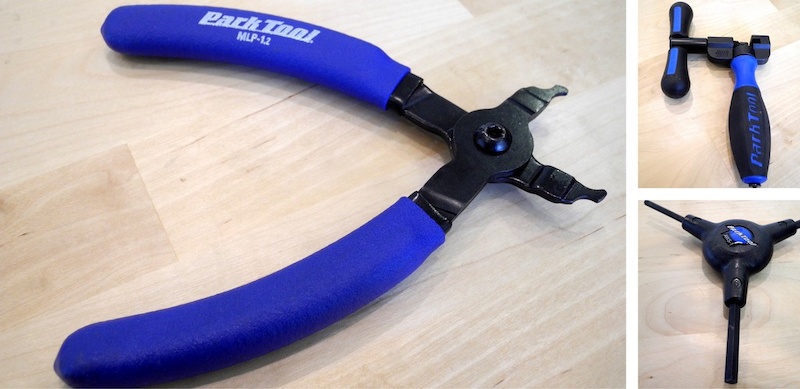 Key tools included (Clockwise): the MLP 1.2 masterlink pliers, which make for quick easy masterlink removal, chain tool, and the AWS-1 Three-way hex wrench.
Using EK-1 Tool Kit
Once organized, the EK-1 kit makes finding the tool you need an easy task, and its self-contained design makes it super easy to travel with. Knowing that you can sort out pretty much any non-proprietary repair job while on the road really does add peace of mind, and once you're done you can close up the blue box and toss it into the back of your truck. When it comes time to make specific repairs, we liked the organization that the EK-1 offered, and found a few tools we used quite regularly. Key items like the three-way hex keys, two-sided hammer, side cutters, chain tool and Masterlink pliers were things that proved their value.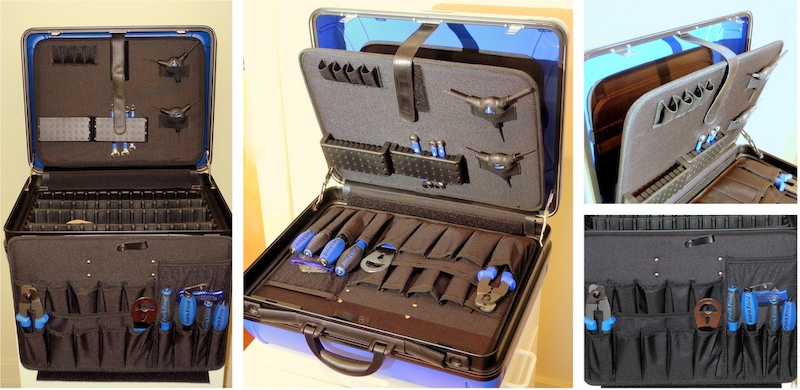 We really loved the organizational aspects of the EK-1 and its professional grade tool box. Keeping tools organized and accessible meant we were able to quickly and efficiently make required repairs so we could get out and ride.
Assembling an extensive, well equipped tool kit is not an easy task. With so many varying styles of components and standards, certain tools are bound to be left out, and there were a few key tools we felt the EK-1 lacked: a simple L-shaped hex key and torx set is something we use very often, and would have been an inexpensive addition, although there is a good chance that anyone purchasing a $689 USD tool kit likely already has a few of those kick around. A simple torque wrench is another item that we feel every home and shop mechanic should have given the influx of torque-specific carbon bits. Also, the cassette and bottom bracket tools included need to be paired with a basic adjustable crescent wrench, and although this obviously works fine, a more uniformed setup would be nice.
Pinkbike's Take:
| | |
| --- | --- |
| | Park Tool is very aware that dropping this much money on a set of tools isn't going to be for everyone, but the EK-1 most certainly isn't intended for every rider out there, is it? Look elsewhere if you don't find yourself getting too far beyond fixing flat tires or the odd broken chain, but don't rule the EK-1 out if you don't mind diving a bit deeper into repairs, and this is especially true if you find yourself on the road with your bike often. It is true that a lot of seasoned riders will already have many of the necessary tools on hand, but the cost of assembling something similar to the EK-1 does add up to a higher total that its $689 USD asking price, making it a good option if you're looking to start from scratch and want a took kit that you can travel with. Just make sure to pick up a set of L-shaped hex and torx keys. - Jordan Carr |
www.parktool.com