Josh-Lewis-Youth
Member since Feb 9, 2009

Male / 27
Sheffield , United Kingdom
santa cruz
Block user
Recent

Dec 16, 2014 at 4:20
Dec 16, 2014

Oct 22, 2014 at 6:53
Oct 22, 2014

Selling
Oct 22, 2014 at 6:44
Oct 22, 2014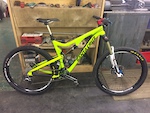 $3200 GBP
Hey up guys, here is my pride and joy up for sale making way for a new bike I got this bike brand new in march where i had it invisiframe wrapped straight away. The bike has been constantly serviced and had updated parts along the way. Frame bearings were replaced end of august at stif. Forks and wheels were serviced at start of august by hope and bos. Spec is as follows Bos deville 2014 air fork Fox kashima shock (fresh bushs) Burgtec enduro stem Burgtec carbon ride wide bars Hope tech 3 e4 brakes Hope enduro wheelset on pro 2's Raceface cranks Hope bottom bracket Shimano Xt shifter Shimano saint mech Chain and cassette new 7th september Mrp chainguide with hope thick thin ring Ks lev seatpost with new southpaw lever (stealth routing) Maxxis high roller 2 single ply. Like new. There are a few chips on the bottom of the frame from loose rocky trails in the peaks but none of the chips have effected the structure of the frame- just aesthetically. Any questions please ring me on 07772322356 Thanks Josh i have this bike advertised elsewhere so could take down at any point.

Oct 22, 2014 at 4:43
Oct 22, 2014

Selling
Oct 22, 2014 at 4:33
Oct 22, 2014
$2100 GBP
i have ridden this bike 10 times since new in march 2014 due to injury. the frame was invisiframe wrapped in the shop. the only damage on it is where some idiot put his pedal on my frame on an uplift as pictured. it has just scratched some lacker off not effecting the frames performance in the slightest. the bearings have been regularly greased and in perfect condition - no play. the frame comes with - fox dhx rc4 450x3.25 spring Hope Headset Hope Bottom Bracket Shimano Saint Cranks Mrp g3 chain device Hope thick thin Chainring Hope Seatpost SDG Saddle spare mech hanger, grease gun all in mint condition any questions just ask ... josh

Oct 22, 2014 at 2:52
Oct 22, 2014

Selling
Oct 22, 2014 at 2:46
Oct 22, 2014
$750 GBP
These forks have been used 10 times, they run like a dream and theres is not a mark on the stanctions plushest forks i have ever ridden. they retail at 1400 so i won't budge from 800 due to the condition. there is a few tiny scuffs on the decals from uplifts as expected. genuine interest only. get in touch if you have any questions.

Selling
Oct 8, 2014 at 4:27
Oct 8, 2014

Dec 17, 2013 at 11:13
Dec 17, 2013

Added 1 video
Dec 17, 2013 at 10:40
Dec 17, 2013
Load more...