Katakalism
Member since Mar 26, 2013

Male / 29
Vancouver , British Columbia
Block user
Recent

Selling
Nov 3, 2021 at 12:44
Nov 3, 2021
$160 CAD
Almost brand new pair of waterproof resist pants from TLD. They're super comfy, got some stretch to them and still have 10k waterproofing. Now that wet bum season is here, get yourself into some pants that'll keep you dry. Only worn once, I personally want to go up in size. They're a size 30 waist but can fit a variety of sizes like a medium due to the built in ratchet belt. (All black) Will upload photos shortly.

Selling
Oct 16, 2021 at 11:56
Oct 16, 2021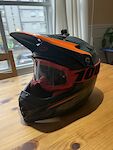 $120 CAD
Basically brand new helmet from bell. This is a super light mips model, everything you want in a helmet. Also features a removable GoPro mount on the top, so no more mounting to your visor. Included is the 100% Strata 2 goggles which fit perfectly into the shell as well as the helmet bag. Had this helmet for when friends join me on a ride but need a full face. Well it's almost never happened so it's time to downsize the gear closet. Size medium and absolutely no crashes, it's basically brand new besides a few very minor nicks in paint simply from the helmet sitting on a table/hanging off your bars.

Apr 20, 2021 at 10:06
Apr 20, 2021

Apr 16, 2021 at 0:46
Apr 16, 2021

Selling
Apr 16, 2021 at 0:45
Apr 16, 2021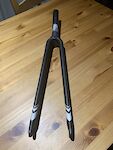 $80 CAD
Almost brand new carbon aero fork ready to complete your build or upgrades your current bike. Subtle graphics with beautiful woven carbon visible will make a stunning addition to any bike. This was for a current bike build but went another route. Rim brake, 1 1/8 steerer, 45mm offset suitable for medium to large frames.

Apr 12, 2021 at 20:03
Apr 12, 2021

Selling
Apr 12, 2021 at 20:02
Apr 12, 2021
$900 CAD
Up for grabs here is a like new, Kona Rove gravel/road bike. A perfect do it all bike for Vancouver with geometry that pairs well to road or gravel riding. Full size disc breaks to keep you stopping no matter the conditions, perfect to keep those wheels riding like new in our rainy climate. Very comfortable bike for our streets and can keep up with road bikes with ease. Paired with a super reliable and easy to use Shimano Claris drivetrain with recently indexed gears. Bike has hardly been ridden, we've got another bike very similar to this, so it just doesn't see the light of day very much. Tires are original and still feel/look like new. For the right price, the accessories installed on the bike can be included, pump/saddle bag and water bottle cage. Will consider trades for road bikes in a similar size.

Aug 12, 2018 at 11:39
Aug 12, 2018

Selling
Aug 8, 2018 at 16:50
Aug 8, 2018

Selling
Aug 8, 2018 at 16:41
Aug 8, 2018
$50 CAD
Up for grabs here are a pair of TLD biking pants. These are the sprint model in a size small, all black. In fairly decent condition, not worn much. Really only wore these on rainy summer days. They have a small rip below the knee. Can easily be stitched up, but don't affect the pants function in any way, also sits below the knee pad so the hole is not growing or being stretched. Very comfy pants, pockets big enough to fit a phone. I'm a 29 waist and can squeeze into these, but would be a better fit if you're a 28.
Load more...