Khorvath0518
Member since Nov 25, 2020

Male / 48
Encinitas , California
Adventure father
Block user
Recent

Oct 16, 2021 at 12:28
Oct 16, 2021

Oct 14, 2021 at 11:48
Oct 14, 2021

Selling
Oct 14, 2021 at 11:46
Oct 14, 2021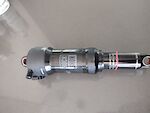 $110 USD
This shock is an excellent condition. Only comes with what you see in the picture. Rebuilt last year and very few miles on it since then. No lockout. Only rebound adjustment.

Oct 14, 2021 at 0:38
Oct 14, 2021

Selling
Oct 14, 2021 at 0:36
Oct 14, 2021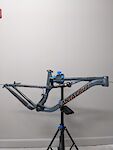 $1050 USD
I'm letting go of my 2017 aluminum Santa Cruz Tallboy. The frame is in fantastic condition. There are some scratches and scuffs here and there but functionally perfect and cosmetically not too bad. All the pivots and links work great. Parts of the frame are covered in camouflage protective tape. The orange is a decal overlay and can be removed for the original orange Santa Cruz lettering. This comes with frame, linkages with bolts, rear derailleur hanger, rear axle, headset and fox shock.....for 1050$. Buyer must pay PayPal fees and shipping. I can ship cheap with bike flights or shipbike.com discounted UPS and FedEx labels. Just ask me for a quote.

Oct 12, 2021 at 18:05
Oct 12, 2021

Selling
Oct 12, 2021 at 18:02
Oct 12, 2021
$1350 USD
I recently purchased this on pink bike and built it up. Turns out it's just too large for me. Decided to let it go and get a different bike in a medium size. This is the 2018 - 2019 model Boost It is size large. Condition: functionally perfect. No carbon damage. There are plenty of small rock chips and scuffs... Primarily inside the rear triangle area and back of the seat stay. This is just rub marks and Rock chips. No cracks, large dings or carbon damage. The picture show the areas where the scuffs are on the inside of the rear triangle and the back of the seat stay. Shock has been recently serviced. This comes with frame, rear shock, rear axle, derailleur hanger and full Cane Creek headset without crown race. The price is firm. I will split PayPal fees. I can ship via bike flights. Just let me know the zip code and I can give you a quote. Only trade I'm interested in is a 2018 or newer medium carbon frame. Let me know what you got. Needs to be a medium or a large that runs small

Selling
Oct 12, 2021 at 17:50
Oct 12, 2021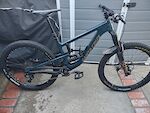 $3400 USD
Recently purchased the Bronson and no longer need two similar bikes. So I'm letting go of my Nomad. There's no carbon damage. Just some scratches, scuffs and Rock chips. Pictures show all areas where there are imperfections. There are scratches on the one side on the down tube where the Santa Cruz decal is... And a blurry rub spot on the top tube near the seat stay. Outside of that everything is just minor Rock chips and small scratches. Here are the components: Size medium. -RockShox coil shock. -E thirteen wheel set with Maxxis tires (wheels are in good shape with a few dings) -11 speed XT derailleur and shifter -Race face turbine cranks (no there's color fading on these from rubbing but functions perfectly) -Lyrik 170 mm front fork -Santa Cruz carbon handlebar (some scratches but functionally perfect) -Reverb RockShox dropper post... There's a little bit of squish to it. I can swap it out for a cable dropper post of equivalent travel and value inspire prefers. -Silverado seat -Raceface Aeffect stem -SRAM Code R brakes -Pedals are Raceface Prefer local pickup but will ship through bike flights if buyer pay shipping. Price is very firm. Will split PayPal fees. Let me know if you have any questions or need to see pictures of any other areas of the bike. Note: the chain guide is not included. Already moving that to my Bronson.

Oct 12, 2021 at 14:37
Oct 12, 2021

Selling
Oct 12, 2021 at 14:32
Oct 12, 2021
Load more...