The Metropolis and Holy bikes have been around for some time now and since their first introduction in 2006 many things have changed. One thing though remained the same – they are purpose built dirt bikes designed according to the most up-to-date trends on the scene.
At NS we are specialists in this category and we take time to sweat every single detail of the design. Usually big brands treat dirt bikes as a necessary addition to their line. This is definitely not the case in NS where this category is the heart and soul of the company."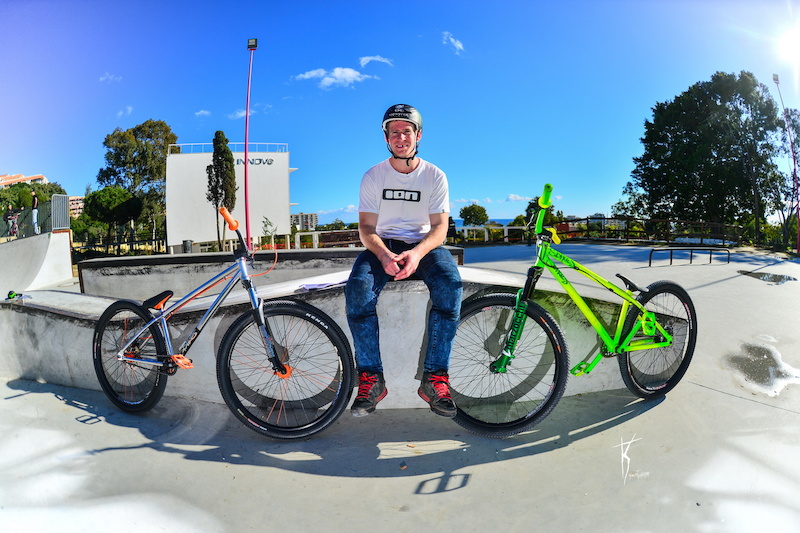 "The philosophy has always been to deliver bikes that can be used right out of the box. It does not matter if you choose a top-of-the-line bike or a budget model - we want to make sure that you will get a reliable bike that feels as close to the bikes our pro-riders use as possible. And even more important - we want you to be able to enjoy the bike without worrying about something breaking on the second ride.
Recently we gave Sam Pilgrim a chance to compare the custom Majesty bike he used during 2012's biggest international events to a bone-stock, middle-of-the-range Metropolis 2. Check out the video to see how he liked it."
Below you'll find a quick preview of the new range.
The Metropolis 1 features loads of great parts mounted on a multi-butted NS cromoly frame. There big change in our flagship dirt bike for 2013 is the Rock Shox Argyle up front that puts this bike in another league. On top of that we spec'd our FMB tour winning Proof handlebars, lightweight tires from Kenda, sealed bearing hubs by Octane One, a microdrive 25:11 drive-train, fat integrated seatpost-combo and many more cool features.
The Metropolis 2 is built on a beautiful chrome-plated cromoly NS frame with a mid-BB and integrated headset. You get a complete NS cockpit which includes the light Quark stem, a Mint handlebar and Sam Pilgrim signature grips. The important changes for 2013 include the 11T driver hub from Octane One that replaces the freewheel unit and the Kenda Small Block 8 tires that replace the K-Rad's.
The 2013 Metropolis 3 is in the entry-level price range, but certainly does not have an entry level spec or look. It now comes with a proper disc-brake up back, and gets the sweet Kenda Small Block 8 tires used usually in much more expensive bikes.
The 2013 Holy 1 comes with some significant upgrades. Most important is that the freewheel rear hub has been replaced with a high-end Octane One 11T driver hub. This allowed us to spec a real microdrive drivetrain that not only looks better, but lasts longer. Add to that the change of the tires to Kenda Small Block 8 and this bike is really in a different league than last year's model.
The 2013 Holy 2 features a cool upgrade - the Kenda Small Block 8 tires. As usual, this bike's heart is the rock-solid NS frame with compact geometry and cromoly fork that is made to last. The bike looks the part too, with our trademark Lemon Lime paint scheme.
Check out more pictures and the full specs of the 2013 bikes on
NSBikes.com/2013
To get NS Bikes in Canada and US please visit our website @ www.lamacycles.com