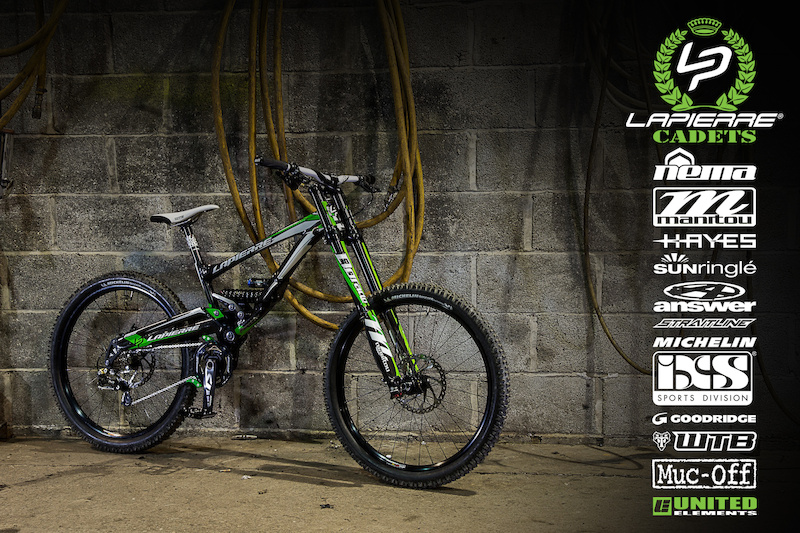 Lapierre Cadets is a team developed with the aim of attracting young amateur riders of all level of skills and abilities, to provide them with a support structure that will help them to develop and realise their full potential.
Although we would love to find the next Danny Hart, the team is all about learning, motivation, dedication and team camaraderie, but above all having fun.
The selected riders are supplied with a subsidised custom Lapierre DH920 downhill bike for the season, Nema are also providing each rider with enough race kit to ensure they always look good for their race runs and hopefully some podiums.
Included in each riders package is race entries into the British Downhill Series, technical support that includes a mechanic, pit space, an event manager at all rounds of the BDS (a therapist will even be present at some rounds of the BDS), testing/training uplift days, we even supply their food and drink during an event and look after the riders parents and families.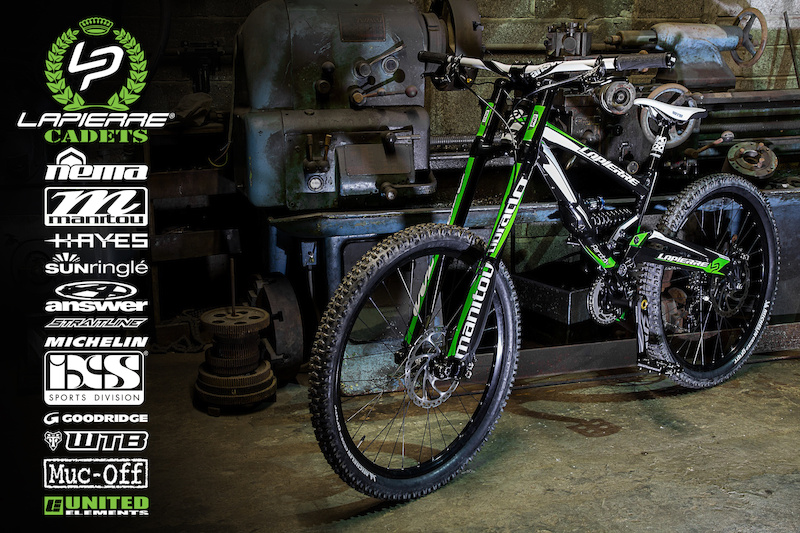 Alongside the team of riders another idea was to create an environment to match the scale of a world cup team. We set about looking for young up and coming videographers and photographers that we could work with to help push the team and its concept in various forms of media, but also for themselves to be associated with such a team as the Lapierre Cadets and to help them gain recognition and awareness of their work.
We had many great applications, and its amazing to see how many talented people are out there going to races or shooting with their mates in the local woods, we even received worldwide applicants, it really was an amazing response to our press release in October 2011.
However, after much debating and viewing lots of pictures and videos there was one person that stood out, someone who we believe (and we're excited about this) is on the brink of making it as a regular on the world cup circuit. He has some great ideas, some amazing video and photography equipment with a strong desire to produce some amazing videos and become a well-known face on the circuit.
Ladies and Gents...
George Milner
is our official video/photographer. We look forward to seeing him produce some exciting race reports from the British Downhill Series during 2012.
Below is his first team video, used to launch the bike our riders will be using during the coming season.
Special thanks goes out to all our sponsors, all the staff at Hotlines UK, and Will Longden, without them none of this would have been possible.
Keep up to date with the team on our Facebook page
http://www.facebook.com/Lapierrecadets
and twitter account
@Lapierrecadets
The team does have one last space available due to a rider having to give up his position due to unforeseen circumstances. So if you are interested in riding for the Lapierre Cadets in 2012 and want to get your hands on one of our team bikes then get in touch. If your looking to be on a team where you can develop your riding, build a good profile for yourself and ride an amazing bike then send us an email expressing your interest and stating your goals for the 2012 season and beyond to andy@f8management.com for all the info.
More news about our riders and staff will be revealed soon, also our website will be available to view very shortly. We hope you come on board and follow the team and its progress throughout the 2012 season.