LiamDonohue414
Member since Jul 23, 2015

Male / 19
Carlsbad , California
Block user
Recent

Sep 19, 2020 at 10:26
Sep 19, 2020

Sep 4, 2020 at 19:51
Sep 4, 2020

Selling
Sep 4, 2020 at 19:44
Sep 4, 2020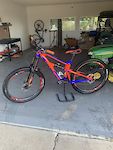 $4850 USD
Selling my 2019 intense carbine. Probably one of my favorite bikes i've ever had. Im a little torn on selling it but I just want to try something new at this point. Normal wear and scratches but everything runs great. Brakes were just bled, has new tires, and the suspension was serviced a few months back. parts list -Rockshox lyrik and super deluxe -Enve m70 carbon wheels -xx1 drivetrain -enve carbon bars and stem -xtr brakes -e thirteen 175 mm dropper *re took photos because the other ones were too dark

Dec 22, 2019 at 10:39
Dec 22, 2019

Selling
Dec 22, 2019 at 10:31
Dec 22, 2019

Selling
May 10, 2019 at 14:53
May 10, 2019

May 6, 2019 at 12:58
May 6, 2019

Apr 18, 2019 at 17:24
Apr 18, 2019
Mountain Bike Access Issues Flaring Up in San Diego County
Been riding in carlsbad since i was 14, kept me out of trouble in high school and gave me something to do literally everyday. Carlsbad could draw in so many new faces if they added a sanctioned bike park. So sad to see my favorite spot go.

Apr 15, 2019 at 18:56
Apr 15, 2019

Selling
Apr 15, 2019 at 18:55
Apr 15, 2019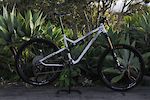 $2500 USD
Hey guys, Selling my One off build Commencal meta. This bike has done me very well and I have mixed feelings about letting it go. Only reason i'm selling is to get a 29er. Key parts Meta New Zealand frame ( size medium) Fox factory 36 fork and X2 shock ( WAS SERVICED YESTERDAY ) Would cost around 2 grand new, this fork and shock are amazing. Renthal bar and stem (50mm stem - 800mm bar) Shimano XT drivetrain and brakes DT Swiss m1700 wheels E13 170 mm dropper post. This bike has some scratches and scuffs like any used bike but has been maintained and still does me very well. Looking to get rid of this thing soon so I can buy my next rig. Shoot me an offer and I will respond asap. Thanks.
Load more...