Lionheart
Member since Jan 25, 2013

Male / 25
Exeter , United Kingdom
Block user
Recent

Jun 9, 2020 at 5:44
Jun 9, 2020

Selling
Jun 9, 2020 at 5:43
Jun 9, 2020

Jun 3, 2020 at 13:35
Jun 3, 2020

May 26, 2020 at 12:59
May 26, 2020

May 25, 2020 at 4:41
May 25, 2020

Selling
May 25, 2020 at 4:40
May 25, 2020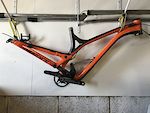 $900 GBP
Commencal supreme DH 29 medium without shock. I have a DHX2 shock available by separate negotiation. InvisFrame wrapped from new, I have left the tape on the bike as it it's still very tidy and does not require replacement. It comes with acro semi-intergrated headset as supplied by Commencal and E13 LG1, 34t, 165 mm crank set. I have also left the outer cable for the gears running through the frame and the sram olive equipped rear brake hose, also in frame. It has the rear mudguard which was an extra, this can be run with a 29 inch rear wheel. I bought this as a full build at the end of June 2019, since then I have used it for 3 race weekends and about half a dozen days local riding, it hasn't seen a hard life at all. The frame is showing minimal signs of use with only a couple of small paint chips, one on the seat tube and a couple on the rear triangle, I have also found one on the underside of the top tube (in the invisitape gap!). No dents or rub marks on the frame. Frame can be collected or I will be able to box it and buyer can arrange collection. Any questions please ask, Thanks for looking.

Dec 30, 2019 at 5:43
Dec 30, 2019

Selling
Dec 30, 2019 at 5:42
Dec 30, 2019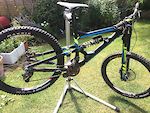 $850 GBP
Bergamont straitline 2015 Large/long frame 27.5 inch wheels This is an ex bergamont team bike, ridden by them when Ed Masters and Jack Moir with the team, which one rode the bike I can't say but it was used for the last couple of races at the end of the season! I have owned it since then, but due to a number of injury's and subsequent op's it's seen very little action. Raced once this year and used for half a day of uplifting. Selling due to lack of use. It's got it's fair share of scratches as expecting from a DH bike, but everything has been serviced this year. Brakes and forks have been serviced with less then a day's worth of riding since. Two sets of wheels for full asking price, one running a set of DH casing minions with plenty of life left in them, running tubes. Basic spec; Manitou dorados Avid elixir brakes XO cranks Saint rear mech and shifter Thompson seat post Sunn direct mount stem TI Shock spring, 450lbs Any questions, drop me a message.

Nov 12, 2015 at 14:22
Nov 12, 2015

Selling
Nov 12, 2015 at 8:20
Nov 12, 2015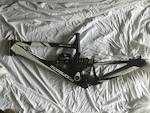 $450 GBP
Hi, I have for sale my 2012 morewood Makulu frame fitted with a fox rc2 kashima with a 225lbs Spring weight. It was used for the 2012 season and then unused since. There are some rub marks from cables, legs and feet touching the frame, I have pictures of the worst areas, they don't effect the performance or safety of the frame. There is an area on the chainstay where chain slap has removed the paint. It comes with its original headset. For any more info just contact me Price is £450 plus P&P or nearest offer
Load more...