The Indoor 4x series wrapped up late Tuesday night, bringing together riders from all over the lower mainland to bang berms, bang off some sweet jumps and hang out with new friends made over a great Winter of racing.
Tuesday, February 15th 2010 – The final race of the indoor series brought on a flurry of responses from everyone racing, organizing or spectating in the events. It looked as though the 1st place spots had been just about locked up, but the separation between 2nd and 5th was anyone's race as Open Men, Junior Men, Open Women, Vet Open Men and even U15 all had guys and girls gritting their teeth to see the outcome. Some were talking about getting stoked for riding outside after work in the Spring and looking forward to a great Summer, while others talked about how quick it seemed the Winter series went by. Other thoughts were towards the future of the series and the plans of the organizers for 2011. Suggestions were flying in hopes to mix it up for 2012, while volunteers also came forward to offer help to make 2012 a success. No matter which way it goes, the current organizers will be around to help out, train the new crew, and hopefully bump elbows with a few of you 4x heads in the gate for 2012.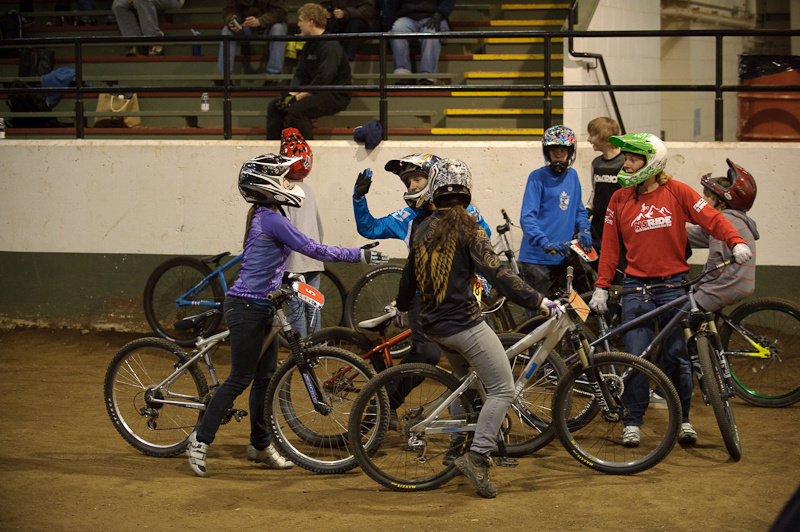 The high fives Tuesday night didn't just happen in the Ladies class. Everyone was stoked on the great series.
What was loosely mentioned on Tuesday night, but needs to be enforced here, is that the success of this series is based on so many things from great sponsors digging deep, to a smooth run race that entertains everyone. But most importantly is the other side of the equation. A well run race with great sponsors and efficient organizing means nothing without the consistent committed support coming from You, The Racers throwing down their entry and practice fees every night. You guys are what made this series so successful and for that we all thank you very much. You rock. You know it.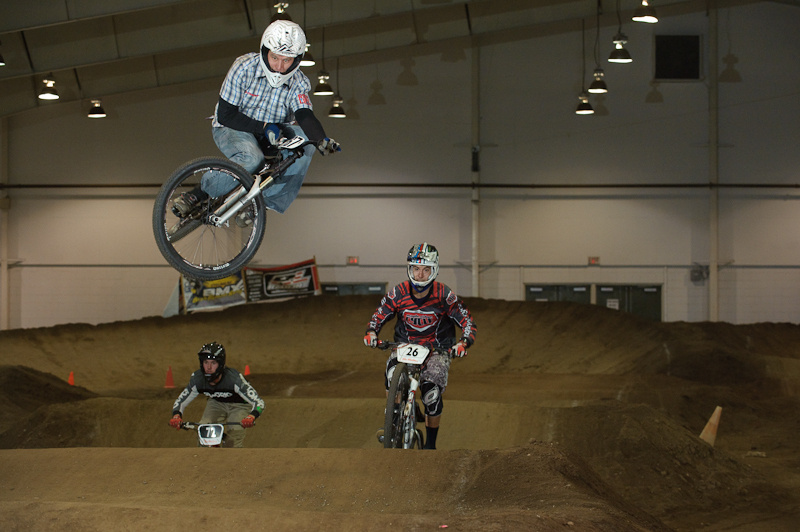 Brian Onofrichuk showing the right way to get downgraded from the Vet Pro class to...the Pro class
Extra Special Thanks for all the volunteer's help go out to our illustrious announcer Gary Harder, The Moto Shed Ladies Cindy and Michelle Landers, Abby BMX President Steve Baxter, Gate droppers Dale Murphy and Terry Welykholowa, and the guy plastering it all on cyber-film Clayton Racicot.
The Sponsors of the series came in huge this year with enough prizes for everyone who attended Tuesday night. A HUGE Thank You goes out to
Kona Grass Roots
,
Chromag
,
Smart Water Canada
,
Abbotsford BMX
,
Pinkbike
,
Clayton Racicot
, and
Decline Magazine
. Clayton's slapped another
271 Photos onto his GALLERY
so check em out!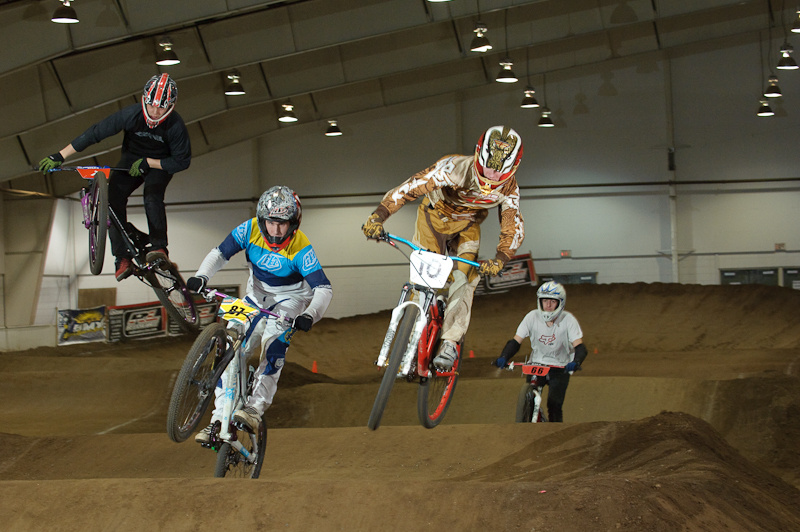 The Junior Main made up of 1 Dirt Jumper, 1 Mountain Bike Racer, 1 BMX Racer, and 1 Freerider. You try to pick which is which.
Special Healing Vibes go out to Bob and Kelly Jones. Both riders raced hard all season and were in the chase for points in their class, but it was Bob who got tangled coming out of the air into turn two and smacked his ankle onto the rock hard backside of the big double, while Kelly who had previously injured her hand in practice carried Bob over her shoulder to get an xray of his ankle. Now that's a real woman. Everyone who attended is sending healing vibes your way guys! Special Honorable Mentions go out to Jesse McLeod who couldn't make the finals due to an illness, Martin Newman and Richard Jarman who came into the series late, kicked butt in their class, but didn't hit enough races to qualify for the year end awards. Thanks for the great racing guys!
Enough chit-chat, let's see 1000 words as seen through Racicot's Lens
: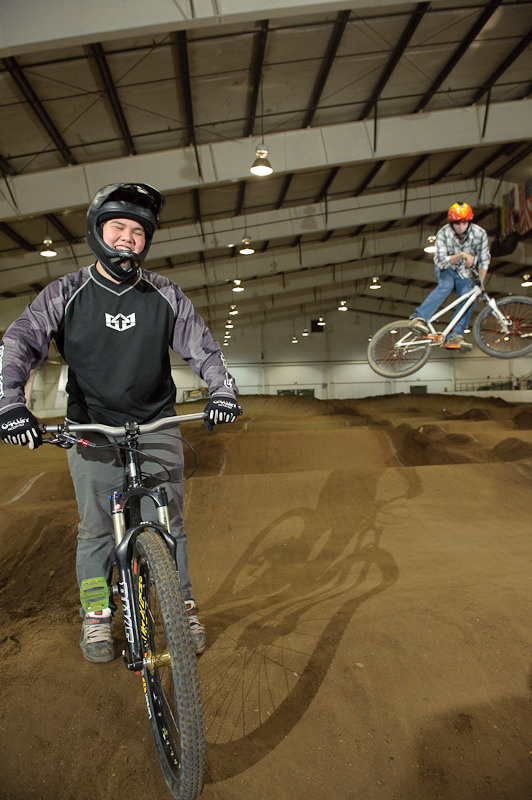 Yeah Eric, I think Nick Tingren is dreamy too. Oh Snap! Shh! Here he comes.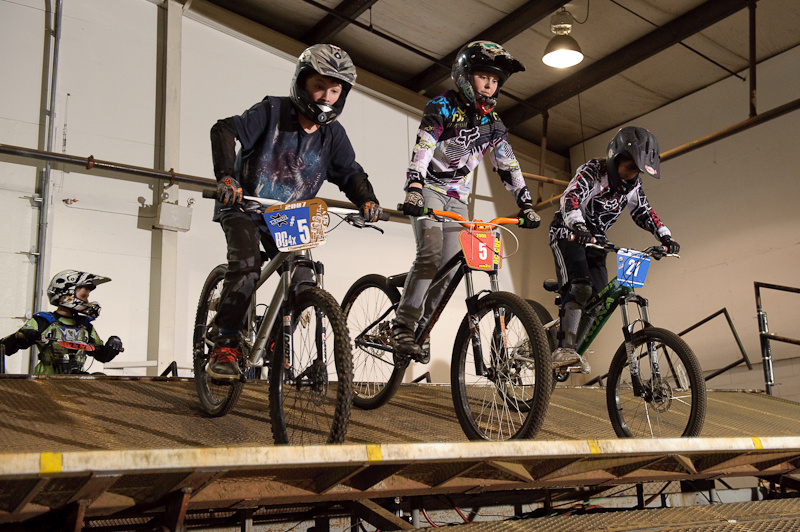 U13s Travis Regnier and Meaghan Carmichael snapping a sweet gate with the rookie Jessie Brown.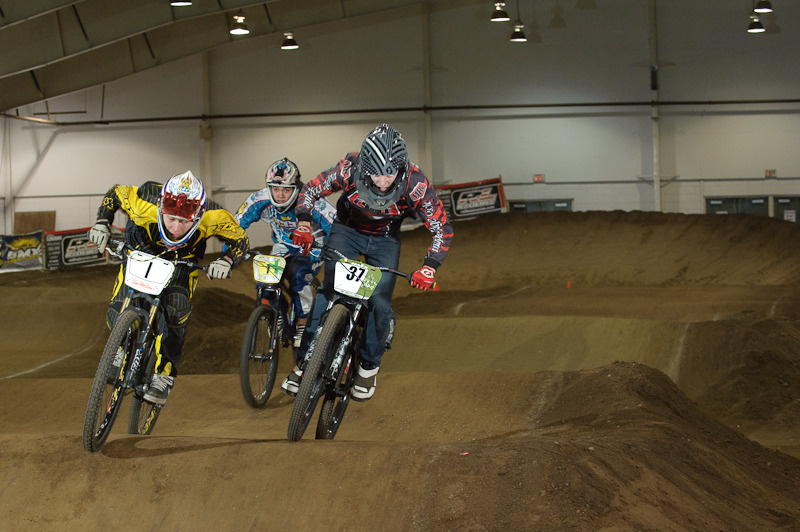 Ben Friesen, Liam Wallace and Hunter Welykholowa about a second before piling into turn#2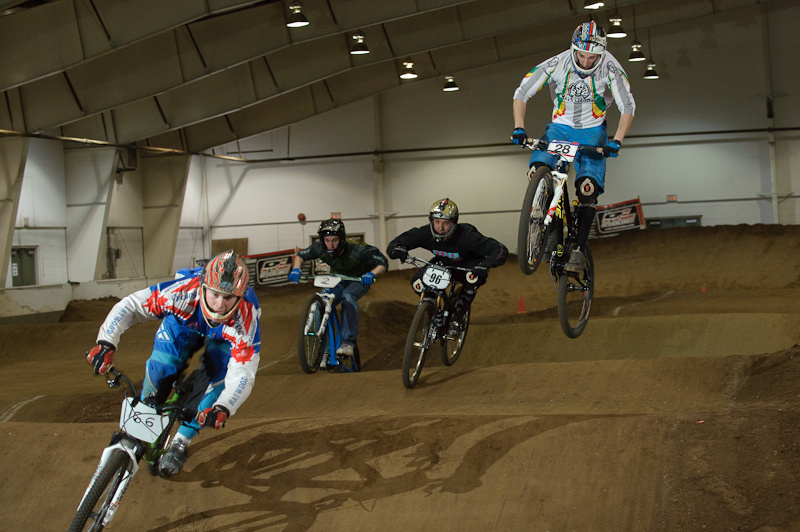 Shmyr, Brown, Woolnough & Murphy in the final gate drop of the Series. The Pro-Am Mash-Up Final. 'Nuff said.
Here's how is all looked after the dust settled
:
U13 Girls
1st Meghan Carmichael 6 pts
U13 Boys
1st Travis Regnier 6 pts
2nd Aidan MacDonald 4 pts
3rd Keifer Bernier 3 pts
4th Jessie Brown 2 pts
U15 Boys
1st Darien Landers 6 pts
2nd Cole Bernier 4 pts
3rd Carson Price 3 pts
4th Stephen Davis 2 pts
5th Jason Reddy 2 pts
6th Ryan Breg 1 pt
7th Chris Davis 1 pt
8th Eric Moore 1 pt
9th Daniel Crane 1 pt
10th Ethan Collins 1 pt
11th Morgan Morrison 1 pt
12th Stewart Davison 1 pt
Junior Men
1st Kyle Murphy 6 pts
2nd Carson Jordan 4 pts
3rd Cole Swanson 3 pts
4th Tyler Jackson 2 pts
5th Liam Wallace 2 pts
6th Ben Friesen 1 pt
7th Hunter Welykholowa 1 pt
8th Eric Wong 1 pt
9th Colton Mcllelan 1 pt
Open Vet Men
1st Martin Newman 6 pts
2nd Andrew Ewart 4 pts
3rd Richard Jarman 3 pts
4th David Jennings 2 pts
5th Steve Baxter 2 pts
6th Andrew Carmichael 1 pt
7th David Kishi 1 pt
8th Jon Mepham 1 pt
9th Mike Noseworthy 1 pt
10th Kim Knowles 1 pt
11th Paul Pennimpede 1 pt
12th Russ Simpson 1 pt
Open Women
1st Paula Armstrong 6 pts
2nd Karaleen Westmoreland 4 pts
3rd Crystal Lambert 3 pts
4th Beatrice Jakob 2 pts
5th Kelly Jones 2 pts
Open Men
1st Glenn Franks 6 pts
2nd Sean Best 4 pts
3rd Jason Lucas 3 pts
4th Nick Tingren 2 pts
5th Daniel Anderson 2 pts
6th Lucas Bacso 1 pt
7th Alex Tinsley 1 pt
8th Bob Jones 1 pt
9th Kyle Bury 1 pt
10th Tyler Shmyr 1 pt
4x Lites
1st Bart Brown 6 pts
2nd Jordan Timmer 4 pts
3rd RD Watters 3 pts
Vet Pro Men
1st Brian Onofrichuk 6 pts
2nd Dustin Homeniuk 4 pts
Pro Women
1st Jess Weed 6 pts
Pro Men
1st Cam Murphy 6 pts
2nd Harold Woolnough 4 pts
3rd Ken Faubert 3 pts
Rockabilly Racing's 2010/2011 Abbotsford Indoor 4x Series Final Results
:
U13 Girls
1st Meghan Charmichael 18 pts
2nd Cleome Hope 6 pts
U13 Boys
1st Travis Regnier 34 pts
2nd Aidan MacDonald 26 pts
3rd Michael Meade 11 pts
4th Keifer Bernier 9 pts
5th Jessie Brown 2 pts
U15 Girls
1st Erin Kinnie 6 pts
U15 Boys
1st Cole Bernier 19 pts
2nd Darien Landers 18 pts
3rd Carson Price 13 pts
4th Jason Reddy 10 pts
5th Morgan Morrison 6 pts
6th Tanner Gehman 5 pts
7th Daniel Crane 4 pts
8th Eric Moore 3 pts
8th Kevin Weed 3 pts
10th Stephen Davis 2 pts
10th Nic Rodgers 2 pts
12th Ryan Breg 1 pt
12th Chris Davis 1 pt
12th Ethan Collins 1 pt
12th Stewart Davison 1 pt
12th Ben Hope 1 pt
Junior Women
1st Kelsey Begg 24 pts
Junior Men
1st Kyle Murphy 36 pts
2nd Carson Jordon 19 pts
3rd Cole Swanson 17 pts
4th Liam Wallace 14 pts
5th Tyler Jackson 8 pts
5th Eric Wong 8 pts
7th Hunter Welykhlowa 7 pts
7th Ben Friesen 7 pts
9th Colton McLellan 6 pts
10th Scott Middleton 3 pts
11th Mitchell Gehmen 2 pts
11th Joey Mackillican 2 pts
11th Sheldon Wegleitner 2 pts
11th Parker Haralds 2 pts
15th John Cook 1 pt
15th Tanner Salkien 1 pt
Open Women
1st Paula Armstrong 30 pts
2nd Crystal Lambert 19 pts
3rd Beatrice Jakob 17 pts
4th Karaleen Westmoreland 12 pts
5th Kelly Jones 11 pts
6th Amanda Girard 4 pts
7th Thea Reynolds 2 pts
8th Marie Cunha 1 pt
Vet Open Men
1st Andrew Ewart 30 pts
2nd Steve Baxter 15 pts
3rd Kim Knowles 10 pts
3rd Travis Peterson 10 pts
5th Paul Pinnempede 8 pts
6th Richard Jarman 6 pts
6th David Jennings 6 pts
8th Andrew Carmichael 5 pts
9th Mike Noseworthy 4 pts
10th Bryan Gioia 3 pts
11th David Kishi 2 pts
12th Jon Mepham 1 pt
12th Jim Corrick 1 pt
Open Men
1st Tyler Shmyr 31 pts
2nd Glenn Franks 20 pts
3rd Sean Best 14 pts
3rd Bob Jones 14 pts
5th Nick Tingren 9 pts
6th Daniel Anderson 7 pts
7th Lucas Bacso 6 pts
7th Devyn Pelley 6 pts
9th Jason Lucas 5 pts
9th Barton moore 5 pts
11th Kyle Bury 4 pts
11th Alex Tinsley 4 pts
11th Andres Paez 4 pts
11th Joseph Reeves 4 pts
11th Dan Graham 4 pts
16th Tom Power 3 pts
16th Matt Juhasz 3 pts
16th Mike Meade 3 pts
16th Kyle Vanditmars 3 pts
20th Andrew Tait 2 pt
20th Patrick Podolski 2 pt
20th Ryan Morford 2 pt
20th Jason Lucas 2 pt
20th Jason Stolze 2 pt
25th Mitchell Pennimpede 1 pt
25th Reece Wallace 1 pt
25th Paul Moyes 1 pt
25th Adam Trotter 1 pt
25th Seth Cairns 1 pt
4x Lites
1st Bart Brown 36 pts
2nd Jordan Timmer 24 pts
3rd RD Watters 16 pts
4th Kyle Isaman 5 pts
5th Dave McNaught 4 pts
6th Wylie Easton 3 pts
6th Alex Tinsley 3 pts
8th Tim Gadd 2 pts
9th Filip Starcevic 1 pt
9th Connor Evans 1 pt
Pro Women
1st Jess Weed 22 pts
1st Micayla Gatto 16 pts
Vet Pro Men
1st Brian Onofrichuk 36 pts
2nd Dustin Homeniuk 22 pts
3rd John Starcevic 8 pts
Pro Men
1st Cameron Murphy 36 pts
2nd Harold Woolnough 24 pts
3rd Adam Muys 9 pts
4th Todd Castonguay 6 pts
5th Ken Faubert 3 pts
6th Tyler Gorz 2 pts
6th Geoff Gulevich 2 pts
8th Graham Agassiz 1 pt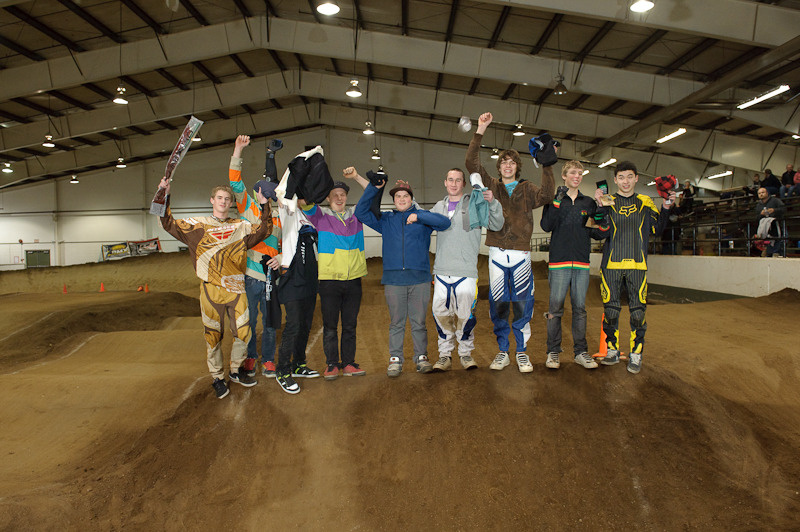 The Junior Men's podium. Just like the Olympics! ...Lies.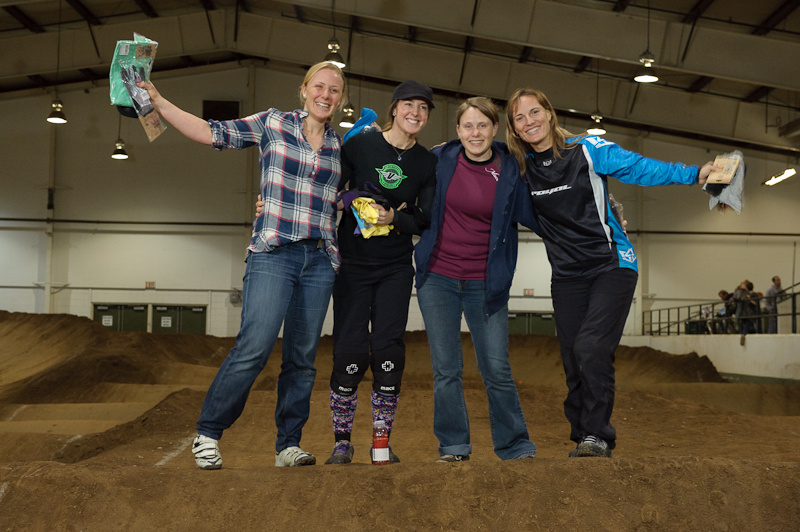 The Open Ladies Class always gets tons of prizes! They were all smiles Tuesday night.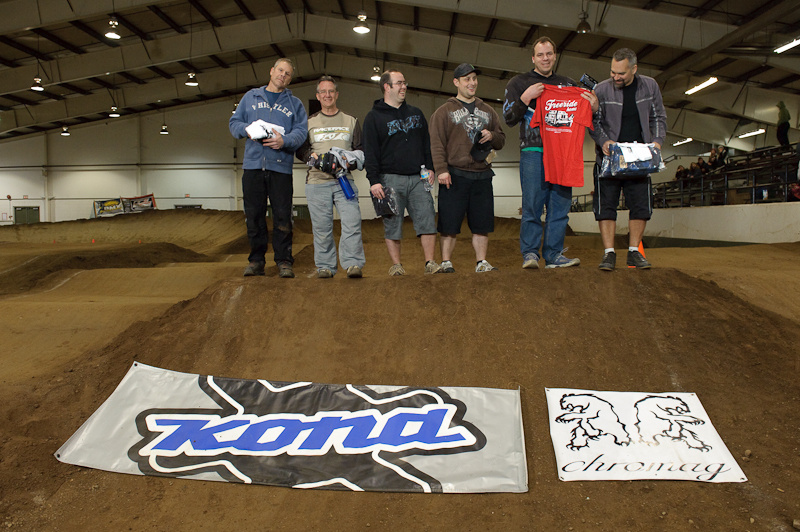 The Vet Open Mens class made for the creakiest, sore-est, grumpiest podium in the history of all sporting events. Just kidding, the only difference between them and the kids were....no wait, they can't afford their bikes either.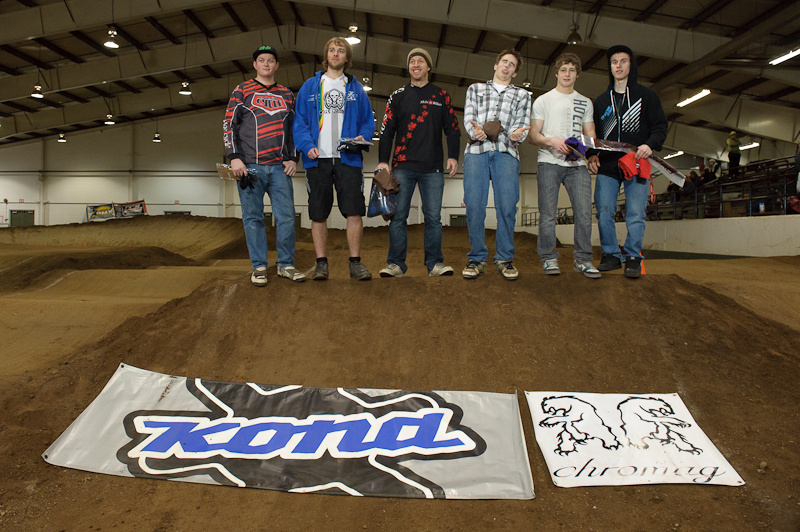 The 2011 Open Men's Class...and the 2012 Pro Class. Mandatory Upgrades for everyone! Yea!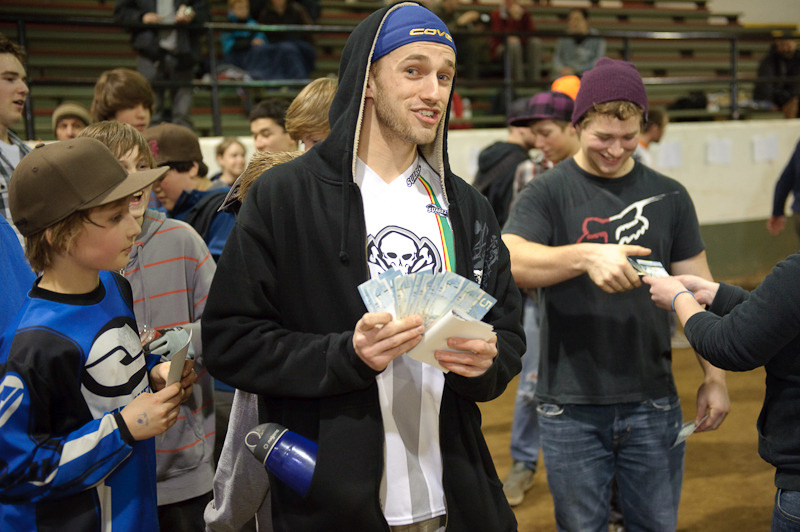 Pro Class Pay Day! Murphy and Woolnough getting paid for a hard Winter's work. Harold Woolnough was actually heard saying "...Tiga Woods Y'all, Tiga Woods Y'all, Tiga Tiga Tiga Tiga Woods Y'all..."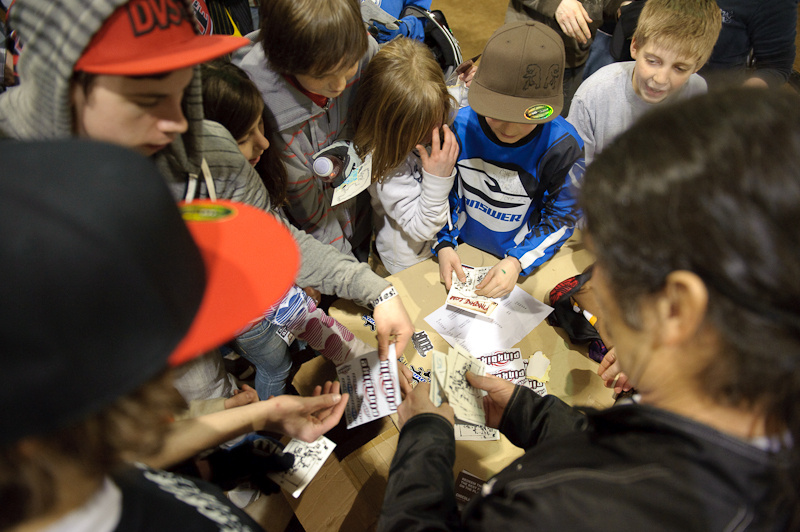 Sweet Niblets. The sticker buzzards showed up too. K-Kaw! K-Kaw! Thanks to all the Sponsors!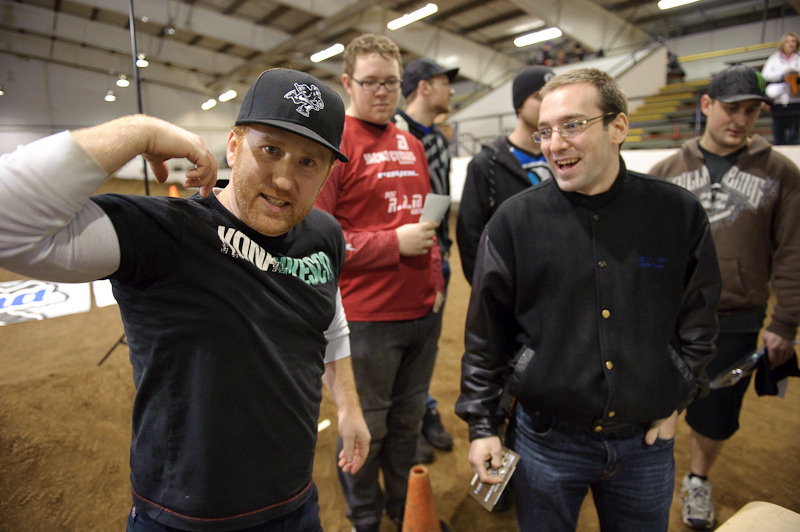 I feel like there's a Pinkbike Sticker on my back, Hey Clay, is there a Pinkbike sticker on my back?!
Next Race? Next YEAR! Summer officially started today. See you all next year!

Please support those who were so generous in their support of the series
:
Kona Grass Roots
Abbotsford BMX
Chromag
Smart Water Canada
Decline Magazine
Clayton Racicot
Pinkbike.com