MitchGi
Member since Aug 15, 2011

Male / 33
Toronto , Ontario
Block user
Recent

Aug 1, 2020 at 14:06
Aug 1, 2020

Selling
Aug 1, 2020 at 13:58
Aug 1, 2020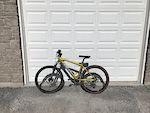 $550 CAD
My long loved companion on the trails. PedalsWellgo Slalom Bottom BracketTruVativ Hollow Splines RimsSun Rims Ditch Witch Front; Double wide Rear Tires26 x 2.10inch Tioga Factory DH Front; Holy Roller rearFork Brand & ModelMarzocchi Z5, 4.0inch travel Cassette8-speed, 11 - 30 teeth CranksetTruVativ Hussefelt DH splined w/Kona Ring of Fire, 22/32 teeth Rear ShockNot applicable HandlebarKona DH Primo Aluminum Riser Handlebar StemKona Clump HeadsetAheadset SX-1 SaddleSDG Grand Prix SeatpostKona Thumb Brakeset Avid disc brakes , Avid Speed Dial 5 levers Frame Tubing MaterialKona DH 7005 aluminum Shift LeversShimano Alivio RapidFire Plus

Jul 25, 2020 at 9:03
Jul 25, 2020

Selling
Jul 25, 2020 at 8:54
Jul 25, 2020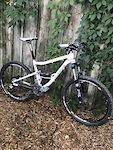 $1500 CAD
Selling great bike that doesn't see the trails as often as it should TiresFront: Geax Gato 26 x 2.3; Rear: Geax AKA 26 x 2.2 CassetteSRAM PG-950, 9-speed: 11-34 Rear ShockFox Float RP23, 130mm-travel HandlebarRitchey Mountain Pro Rizer Handlebar StemRitchey Pro 4-Axis SaddleSyncros FL BrakesetAvid Elixir CR hydraulic disc, 185/160 front/rear rotors Frame Tubing MaterialKinesium aluminum w/7005-aluminum stays Shift LeversSRAM X-9 Fork: Fox Talas

Jul 25, 2012 at 8:37
Jul 25, 2012

Jul 16, 2012 at 19:43
Jul 16, 2012

Jul 16, 2012 at 19:43
Jul 16, 2012

Selling
Jul 11, 2012 at 20:05
Jul 11, 2012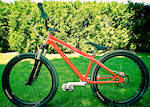 $700 CAD
Moved back to XC riding and need to get rid of the bike. Great condition. Will not part out. 2008 Blk Mrkt Riot Fork: Rock Shox Pike Stem: Blk Mrkt Underboss 25.4 Handlebars: Deity 25.4 Brake: Avid BB7 Chain: Shadow Conspiracy Crankset: WeThePeople Royal Sprocket: WeThePeople Supreme Pedals: Animal Hamiltons Rims: Atomlab GI Street Rear Hub: Eastern26 12t Front Hub Atomlab GI Tires: Kenda K-Rad Saddle: Kink Pivotal Seatpost: MacNeil Will include Argyle lowers in addition to the complete bike.

Jun 7, 2012 at 18:02
Jun 7, 2012

Selling
Jun 4, 2012 at 19:23
Jun 4, 2012
Load more...