N-R-G
Member since Jan 18, 2016

32
Nelson , British Columbia
NRG is a company of bike fanatics dedicated to providing innovative and quality products, with the best possible customer service, to the Canadian cycling industry – since 1989. We're as addicted to the mountains as we are to getting the job done right. Located in an old brewery building in Nelson BC, our staff enjoys the outdoor lifestyle easily accessed from this small city, located on the shores of Kootenay Lake. You must know that while business gets done in an efficient, professional manner, thoughts of the next shred session are never far from the minds of our active staff!
Block user
Recent

Selling
Jun 13, 2019 at 13:17
Jun 13, 2019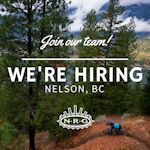 $123456 CAD
Inside Sales Agent – Nelson, BC NRG has a rare opening in our customer service department, based in the mountain bike mecca of Nelson, BC. This position is full time, year-round. Wage will be determined based on level of experience and qualifications. NRG is an iconic Canadian cycling distributor representing many brands including: Chromag, Maxxis, Hope, Ortlieb, Benno, HT, and more. Nelson is a playground for outdoor enthusiasts, located at the doorstep of numerous mountain ranges and on the shores of Kootenay Lake. For more information on the Nelson area, please visit: https://www.nelsonkootenaylake.com/ Key Responsibilities: - Building and maintaining customer relationships - Processing customer orders - Managing customer backorders - Working directly with the shipping department to maximize order processing efficiency - Communicating regularly with sales reps and management staff - Solving issues with orders and addressing customer's specific needs - Managing inventory transfers between multiple warehouses - Help in developing sales strategies and programs What you need for the job: - Must have a passion for cycling - Ability to identify modern bicycle components - Strong communication skills - Experience with Microsoft Excel, Word, and Outlook - Previous sales or customer service experience - Ability to work well in a team environment - Live near Nelson or be willing to relocate. Remote is not possible for this position. What will help you secure the job: - French / English bilingual - Experience with SAP business management software - Friendly, personable, and easy going. How to apply: Please email your resume and short cover letter explaining why you would be a good fit for our team: info@nrgenterprises(dot)com A quick phone call is never a bad idea as well: 1 (800) 665-4362

Jan 7, 2019 at 14:48
Jan 7, 2019

Selling
Jan 7, 2019 at 14:48
Jan 7, 2019

Feb 5, 2016 at 9:30
Feb 5, 2016

Feb 4, 2016 at 17:13
Feb 4, 2016

Feb 4, 2016 at 14:24
Feb 4, 2016

Added 1 photo
Feb 4, 2016 at 12:46
Feb 4, 2016
Load more...