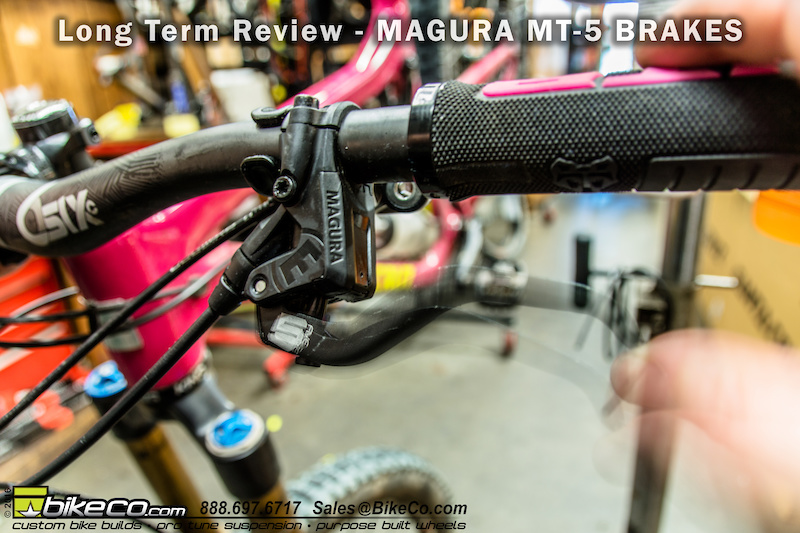 This morning while bubble bleeding my brakes I began thinking about my overall experience on the Magura MT5's.
Want the really, really short version of this long term review? I love them. Want to know why? Keep reading.
I went to the MT5's a couple seasons ago somewhat on what I might call a researched whim…
I knew that I wanted four piston brakes with excellent modulation. That quickly narrowed down the field. From there I was looking for brakes that offer great performance without breaking the bank – once again narrowing my search. I'm a bit spoiled and was able to discuss a variety of brakes with BikeCo owner Joe Binatena and checked out how often I saw the MT5's on Pro Rider Brian Lopes bike (and how good they felt on his bikes as well). I had enough info to jump over onto the Magura's even though my previous brakes never had any real issues for me confidently (previous brakes were beginning to require major service too frequently so it was time to send them out to pasture.)
If you remember the original write up I did have a couple issues putting a clean bleed on the Magura's - but once I did a thorough, slow, full system bleed the performance has been amazing. Turns out what was giving me a hard time was a bubble somewhere near the caliper which caused intermittent issues.
Once I had a full clean bleed the performance was awesome.
The Magura brakes provide confident, precise power with incredible modulation control. The four piston system's power means that even as a 210 lb rider a 180mm front and 160mm rear rotor are plenty for my riding.
The MT5's provide awesome heat capacity – I really have to be hard on them before I notice power loss from heat saturation.
I've touched on their performance in other write ups and nothing has changed. I still love them.
What dawned on me today, that I want to articulate to readers is how reliable these brakes have been. Honestly, being around bikes all week professionally when I have personal time I WANT TO RIDE not wrench… My personal bike spec has to be something that performs at the level I demand and not require anything more than the basic, good housekeeping type touch ups between tunes. The Magura MT5's hit this mark.
Here is a basic service schedule that I have enjoyed on my brakes.
I bubble bleed my brakes once every month to month and a half (it's a five minute project and is a good practice for Magura, Shimano and SRAM brakes – it greatly improves lever feel). Here is a how-to we created with PinkBike a few years ago: https://www.pinkbike.com/…/tech-spotlight-5-minute-bubble-bl…
At this point I've run four through four sets of pads (I prefer the 4 piece MT7 pads still). When I replace the pads I take the time to lubricate the pistons and insure that all four are driving equally.
I also reset the pistons rather than messing with the alignment bolts on my brakes. If they begin dragging off axis I have had great success driving the pistons back in and pumping them back out. They typically re-center themselves. It's like a magic trick and I swear it works way more often than not...
Before you drive the pistons in make sure, MAKE SURE!, you open the bleed screw on the lever so that you don't stress the bladders. The four piston calibers drive a lot of fluid back through the system – if you've been bubble bleeding your brakes as your pads wear your system will need to purge the excess as you manipulate the pistons back in. After I install new pads I replace the wheel and pump the lever until the brakes contact the rotor. After this step I put a final bubble bleed on the system and I'm done.
Also be careful with the bleed screw. It is plastic and doesn't want to be over torqued. It cost me a couple of those to learn to be more diligent with them!
There are a handful of things you can do to help insure your brakes performance and increase the service intervals.
- Don't store your bike upside or hang it by the front wheel. Store your bike like you ride your bike – wheels down. It's much easier on brakes and suspension systems.
- Don't run your brakes into the ground.
Running pads down to the metal backer is pretty obviously a no go as at some point you're not going to be able to stop but did you know that the heat capacity goes down as the pads thin? So less heat capacity means less power which means more stress on the brakes.
Keep your rotors surfaced appropriately. Your rotors go black typically from super-heated brake pad material fusing with the rotor. This lowers the friction coefficient, which means you have less bite, which means you use more brakes, which is hard on the system. Overheating your brakes is hard on the hydraulic fluid which leads to less performance and far more bubbles.
- Don't contaminate your pads. I don't let anything except water, Muc-Off, or the cheap, blue, ammonia based window cleaner contact my brakes. We will do a Tips in Sixty on resurfacing rotors in the shop and on trail and it's important to know what you're exposing your pads to so they don't foul up on you. As a note contaminated pads typically make a goose type honk whether there is heat in the system or not.
If you're having continuous brake issues and are adhering to the above you may have a system anomaly. Work with a credible resource to define and correct the issue – brake performance isn't something to mess around with.
Have questions on what the best brake system is for your specific riding? Reach out to our expert sales staff to define the brand, model, number of pistons, rotor type, rotor size that best suits your needs. If your requirements parallel mine, know that the Magura MT5's will be positioned to you!