Nathanwield
Member since Dec 19, 2015

Male / 41
Biggar , Scotland
Block user
Recent

Selling
Aug 24, 2019 at 5:16
Aug 24, 2019

Selling
Apr 19, 2019 at 13:27
Apr 19, 2019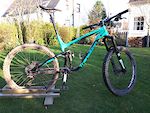 $1500 GBP
2017 Transition Patrol. 27.5 wheels. Used but well cared for. Cleaned after every ride. Shock had full service March 2019. No play in bearings. Rockshox Yari forks XT groupset XT brakes Rockshox Super deluxe shock Wealth dropper 170mm WTB rear rim on hope hub Stans on hope front Magic Mary / Vigilante tyres Usual scratches and rubs. Let me know any Qs. Would consider selling as rolling chassis if interested. Based in Biggar but can get to Tweed / S. Edinburgh easily

Jul 14, 2017 at 13:06
Jul 14, 2017

Selling
Jul 14, 2017 at 12:57
Jul 14, 2017

May 28, 2017 at 2:46
May 28, 2017

May 27, 2017 at 12:08
May 27, 2017

Selling
May 27, 2017 at 12:03
May 27, 2017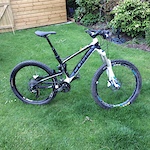 $600 GBP
Cube Stereo for sale. Wife is looking for something different so time this faithful servent moves on. Good trail bike, mostly used on a Scottish trail centre routes, but also capable of summer Alps trips. Shimano SLX mostly, formula brakes, 140 fork, reverb seatpost. Usual wear marks but it's just had a service so running smoothly. My wife is 5.10" and fits her well.

Oct 12, 2016 at 10:52
Oct 12, 2016

Sep 20, 2016 at 23:18
Sep 20, 2016

Selling
Sep 6, 2016 at 14:29
Sep 6, 2016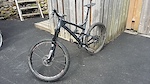 $1500 GBP
Selling my beloved Transition Covert 27.5 mountain bike. Size XL in good nick with a heap of brand new parts on it. Usual scratches and wee dint on downtube but it has been helitaped in high wear areas. Spec of items on it: Rockshox Yari forks (seen 1 weeks use), great condition no scratches Fox FloatX CTD shock (serviced by specialist in march) Shimano XT drivetrain, (All new with 1 weeks use) New narrow wide up front. Shimano XT brakes Fusion saddle - 1 weeks use Stan Hope Hoops front wheel WTB rear wheel (fully serviced hub in April) Magic Mary and Vigilante tyres on it Reverb seatpost. Based in central Scotland/Tween so can travel for delivery/collection or can post if needed. It's an excellent mountain bike, I'm 6ft 4" and suits me fine, if anything a little bit small, so reckon would be ideal for someone 6.1" and up. Have raced enduros, had big mountain days and charged about walkers paths on it - nice and versatile. Drop me a note if interested.
Load more...