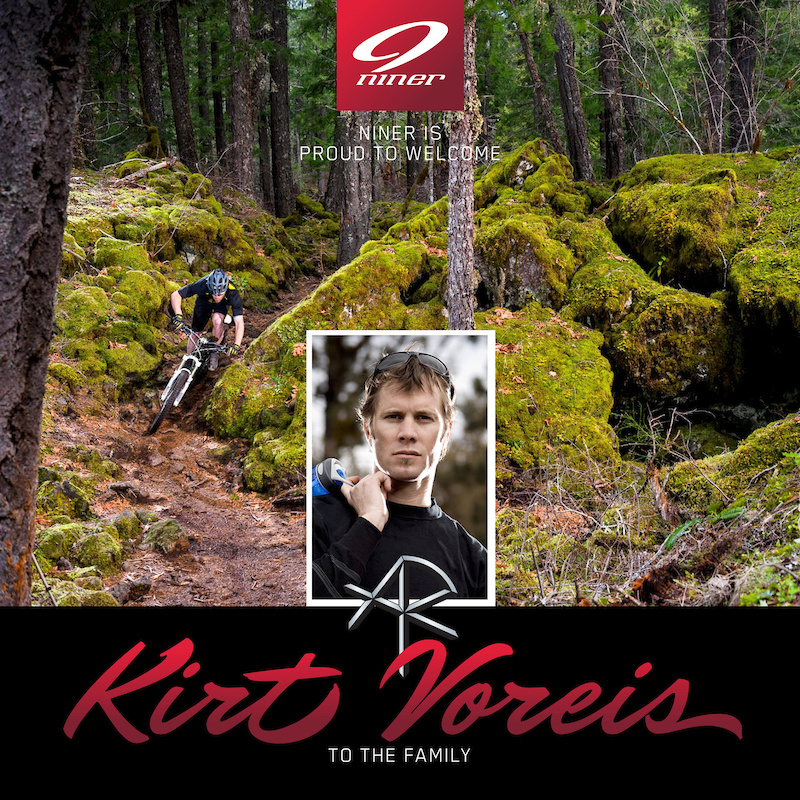 Last November, Kirt Voreis posted a video to Instagram showing he and his trusted video guy, Doug, working to make a bike video. The problem? Kirt didn't have a frame. He had parts, but no frame. Making a bike video with only bike parts was, well, difficult. It's pretty hard to roost some trail without a fully built bike.
Social media went crazy. The interwebs asked, "How could Kirt Voreis not have a frame?" Being the enterprising and seasoned mountain biker, Kirt decided to get a little creative and take matters into his own hands.
| | |
| --- | --- |
| | Why look for a frame in all the regular places? he asked. Why not go hunting? |
And so, on a cold, wintry day riding into the woods on Doug's handlebars, Kirt went hunting and bagged a frame - a Niner, size large.
And the story begins – a match made in the woods. Niner welcomes one of the most storied mountain bikers of all time to our family and, we also get to watch (and egg Kirt on) as he showcases the capabilities of our newly redesigned trail bikes. Kirt, on the other hand, gets to make more rad bike videos while riding a complete bike and continue to stoke the mountain bike community with his intriguing personality and entertaining antics.
From a career that started in 1994 as a downhill racer to now, one of the most respected and recognized ambassadors of the sport, Kirt has stood on podiums worldwide and worked tirelessly to get others jazzed about mountain biking. Kirt's history and easy-going personality are well-known in the mountain bike world where he has long been recognized as a leader.
Truly stoked to be working with Niner bikes for 2017! I've been a huge fan of 29er performance since 2010 so being able to work with a company that set that standard is invaluable. I am also extremely motivated to work with the marketing team to create content that inspires a "ride everything" attitude and to have fun doing it! Very excited for 2017, it's Niner Time!

- Kirt Voreis
Kirt will throw a leg over Niner's trail bikes, the newly redesigned
RIP 9 RDO
and
JET 9 RDO
. As Niner's Trail Ambassador, Kirt will spread Niner love wherever he travels. Find him at major bike festivals, keep an eye out for more riding videos and learn how to ride better with his helpful riding tips.
@NinerBikes
sells and supports happiness - good health, excitement, friendship, personal accomplishment and lasting memories – to avid mountain bike riders. Niner achieves this through the creation of beautiful, dependable mountain bikes that exemplify our understanding of bike handling, technology, current rider needs, and future rider requirements.
Learn more at
www.ninerbikes.com
Follow Kirt Voreis on Pinkbike at
@Voreis
and Instagram
@KirtVoreis_AllRide
---
MENTIONS
:
@NinerBikes
---