Noahm
Member since Aug 23, 2012

Male / 20
Abbotsford , British Columbia
Block user
Recent

Selling
Nov 30, 2014 at 11:09
Nov 30, 2014
$20 CAD
Brand new 1664 chrome rim, light and strong, has a few small scratches from storage but nothing major.

Nov 27, 2014 at 23:01
Nov 27, 2014

Selling
Nov 25, 2014 at 20:59
Nov 25, 2014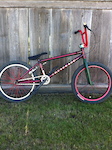 $360 CAD
I am sadly selling my BMX simply because I don't have any time to ride it and I am sticking to mountain biking. It is in excellent condition wheels are true and spokes are tight there are a couple small scratches on the top tube but nothing major and zero dents, cracks or dings. Could use new tires. All parts have had very little riding done on them I am mainly looking for cash but will consider trading for a nice road bike, cyclocross bike, smartphone Samsung S5, IPhone 5s or 6. Any questions don't hesitate to ask, this is an awesome build and an even better deal. Also comes with Macneil pegs. Parts list: Fit Rasta stem Titanium hollow stem bolts Fit sky high bars Fit blade 2 forks salt plus cranks kmc 710 hollow pin chain almost brand new eclat skylar sprocket eclat cassette switch drive system eclat flangeless front hub eclat polar front rim 1664 bmx rear rim eclat headset salt plus BB colony pedals longneck grips revenge industries brakes fit seat post fit seat pivotal aluminum bar ends
Load more...