OwainLund
Member since May 17, 2018

Male / 28
Monmouth , Wales
Block user
Recent

Selling
Aug 19, 2021 at 3:36
Aug 19, 2021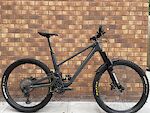 $3500 GBP
Forbidden Druid SLX - XL Standard bike, apart from a 203mm rotor on the front. The bars and saddle are unused. Would suit rider of around 6ft. Serviced and maintained by a Forbidden dealer since new in January. Only damage is wear on the cranks, the frame and forks have been clear wrapped from new. Fork: Marzocchi Z1 150mm Shock: DPX2 - Custom tune by Sprung for this bike Drivetrain: Full SLX with a new chain Wheels: SLX Hubs on Race Face rims Tyres: Assegai/DHR2 Brakes: Deore 4pot Can ship the bike, but I would want payment up front. Can meet in person if preferred. Bike located in Monmouth.

Selling
Aug 19, 2021 at 3:29
Aug 19, 2021

Selling
Mar 27, 2021 at 12:09
Mar 27, 2021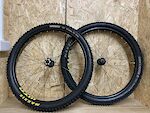 $175 GBP
WTB i25 rims on Whyte hubs. XD driver 15x110 front / 148/12 rear 6 bolt bearings are fine, wheels are true. they've been ridden a few times as a stock wheelset before upgrade. comes with shorty front and HR2 rear. tubeless.

Jan 3, 2021 at 3:52
Jan 3, 2021

Selling
Jan 3, 2021 at 3:51
Jan 3, 2021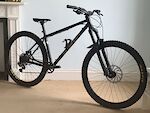 $1200 GBP
Cotic Solaris Max - Large Available as a full build for £1200, frame and fork for £750 or frame only for £420. Frame: Cotic Solaris Max in Large (some top tube rubbing, no chips or dents) Fork: Rockshox Pike (Freshly serviced) Groupset: GX11 Speed - New chain and Cassette with Race face cranks with crank rub Brakes: Sram Guide R and RE. New. Wheels: WTB i29 Cockpit: Nukeproof 50mm stem (new) with 38mm rise bars. Gusset grips. Tyres: Shorty/HR2 Can ship if you pay me upfront, no paypal. Willing to meet in person if restrictions allow. The only reason I'm selling is that I need an XL, I've only ridden this bike twice.

Selling
Jan 3, 2021 at 3:31
Jan 3, 2021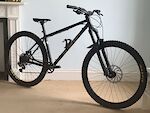 $420 GBP
For sale/swap is my Large Cotic Solaris Max frame (full build/frame and fork available too). Large frame - with new BB and seat clamp The frame has been ridden so has scuff marks from knee pads on the top tube. But is overall in good condition with no dents or chips etc. I love this bike dearly but I need to admit I need an XL as I'm 6'2. Will swap for an XL Solaris max or similar. Could sell frame and the freshly serviced Pike fork for £750. Or full build for £1200.

Nov 13, 2020 at 12:21
Nov 13, 2020

Selling
Nov 13, 2020 at 12:16
Nov 13, 2020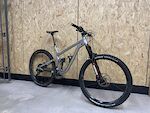 $2000 GBP
2018 Transition Sentinel XL Custom Build. Frame was raw'd earlier in the year as the paint was terrible from day one. I'm the original owner. Bought frame only. Frame: XL 2018 Alloy - frame bearings done earlier this year Shock: Fox DPX 2 - Serviced earlier this year Fork: Marzocchi Bomber with the correct shorter off set. Serviced 5 rides ago. Wheels: Roval - newish freehub Group set: Xtr shifter and 11 speed XT rest. 32T chainring. New BB. Tyres: Michelin's Wild Enduro. Seatpost: Brand X 170mm. Brakes: Zee's with fresh pads and bleed. Renthal Fatbar 760mm and Burgtec mk2 50mm stem. I'm 6'2 and the bike fits very well. Very capable bike, I've done 50k rides on it as well as an Alps trip. Runs really well, but I fancy something new and I've built a steel hardtail for winter. No swaps, cash/bank transfer only.

May 25, 2018 at 23:39
May 25, 2018
Load more...