PJE01
Member since Nov 25, 2019

50
Shrewsbury , United Kingdom
Block user
Recent

Jul 11, 2020 at 0:46
2 days

Selling
Jul 11, 2020 at 0:44
2 days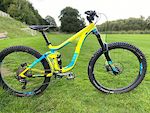 $1250 GBP
This is my 2016 Giant Reign in Small. It is an amazing and very capable bike, unfortunately I have grown out of it and I have moved up to a medium size. I am 12 years old and I have had this bike since November 2019. It is in good condition but there are signs of use; A few small scratches as you would expect for a bike age, although it has been extremely well maintained and looked after, as my dad is very strict about that stuff and he ensures I keep it well clean and maintained. Its clean enough to live In the house. I have had a new dropper, rear shock and crank shaft fitted since I got it, we didn't check it out properly when buying it, I can assure you that it is now in tip top condition, it has been looked after and fully serviced at the Trailhead Bike Shop in Shrewsbury. The Spec is: Forks: Rockshox Pike Select Rear Shock: Rockshox Monarch RT3 Debonair Brakes: Shimano Deore BL-M6000 Drivetrain: Shimano SLX 1x9 Tyres: Schwalbe Magic Mary Tubeless Stans no Tubes puncture Resistant Sealant Grips: Nukeproof Sam Hill Dropper: KS Lev 100mm Drop Seat: Burgtec The Cloud Wheelset: Giant AM-2 27.5 Bar: Nukeproof Horizon 30mm Rise PEDALS NOT INCLUDED! Im near Baschurch SY4 if you want to come trial (thats a serious buyers invite) I look forward to hearing from you if you want this great bike! £1,250 GBP

Jun 28, 2020 at 12:18
Jun 28, 2020

Selling
Jun 28, 2020 at 12:14
Jun 28, 2020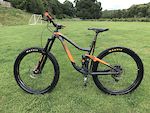 $1250 GBP
This is my Giant Trance 3. It is an amazing and really capable bike, unfortunately I have quickly grown out of it and need to move up to a medium size. I am 11 years old and had this bike since October 2019. It is in great condition and really well looked after, my dad is really strict about that and checks I keep it clean and always well oiled etc, it's clean enough to live In the house! The bike has given me no problems and has been professionally checked and serviced at The Trailhead, Shrewsbury. The forks, rear shock, brakes and bearings were all serviced this year. It's faultless! The Spec is - Forks: SR Suntour Aion Rear shock: RockShox Monarch Deluxe Brakes: Shimano bl-mt400 mineral oil, Gears: Shimano Deore 1-10 drivetrain Tyres: Maxxis High Roller 2 front and rear both tubeless with puncture resistant tube gel. Grips: dmr brendog death grips orange Dropper post: stock giant dropper Seat: Marin Cranks: Cadet praxis works Pedals: not included Rims/hubs: Giant AM 27.5 Bars/stem: Giant connect I'm near Baschurch SY4 if you want to come trial (that's a serious buyers invite!) I look forward to hearing from you if you want this great bike!

Mar 11, 2020 at 11:50
Mar 11, 2020

Selling
Mar 11, 2020 at 11:18
Mar 11, 2020

Feb 6, 2020 at 10:59
Feb 6, 2020

Selling
Feb 6, 2020 at 10:55
Feb 6, 2020
Load more...