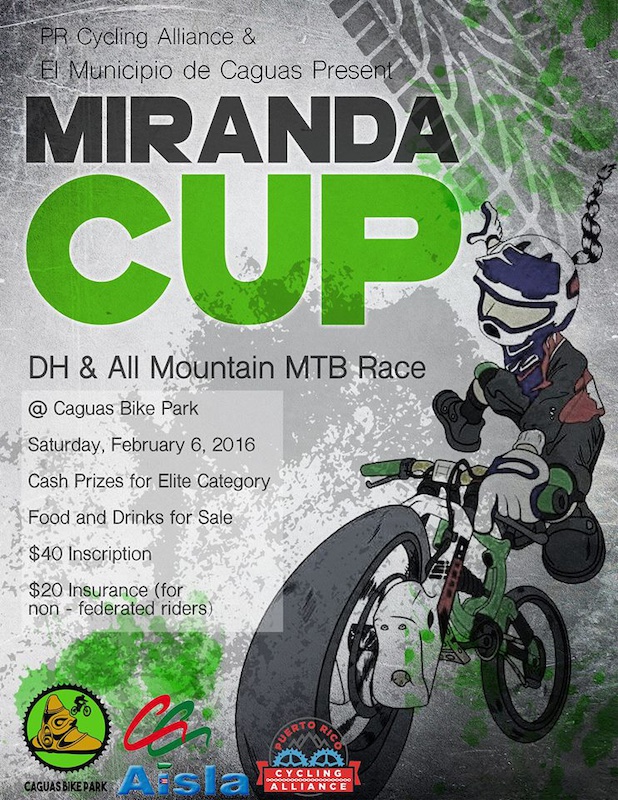 The Puerto Rico Cycling Alliance and "El Municipio de Caguas" are pleased to announce the Miranda Cup Downhill and All Mountain MTB Race to be held on Saturday, February 6, 2016 at the Caguas Bike Park in the town of Caguas, Puerto Rico. This will be the first edition of this race which we are working hard to develop into an annual 3-race series taking advantage of Puerto Rico's constant weather conditions. Professional and amateur racers from the east side of the states have already confirmed their participation and we welcome every and any other racer interested in being a part of this event to contact us.
Racers will be grouped into one of four categories: Elite, Master Elite (40+), Amateur and *All-Mountain; and race each other on one of three designated tracks to see who is fastest down the mountain.
*
The All Mountain category was opened at the request of riders with 6" or less suspension travel on their bikes that want to get into downhill racing but have not gotten an opportunity. The AM track will be a Blue rated downhill track with a short uphill section
.
Inscription Cost: $40.00
Mandatory Insurance (for non-federated riders): $20.00
There will be cash prizes for selected categories.
More info soon!!!
For inquiries on taking part of this event you can contact us at:
PRCyclingAlliance@yahoo.com
facebook.com
facebook.com/CaguasBikePark/