I got a lot of work done last weekend...the vision is coming to life ! We have a reach boom style forklift at our disposal this weekend for some serious boulder moving in the lower rock garden line and the whole lower line is ready for construction !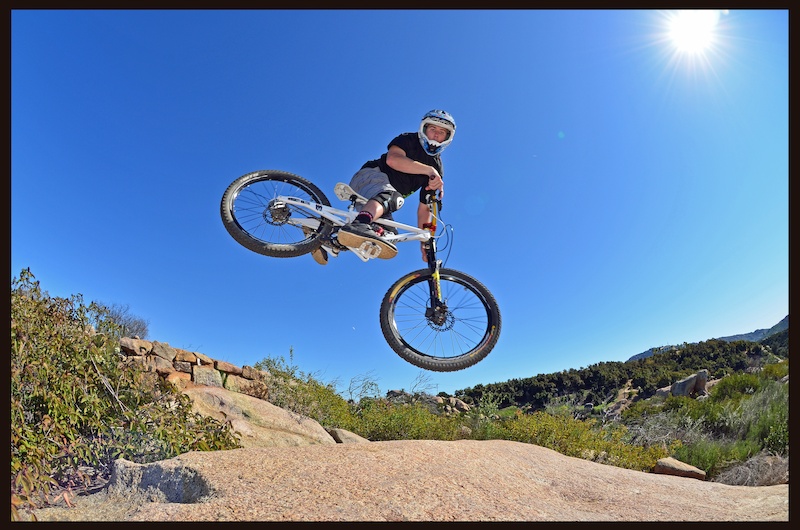 Here are the details ;
When
- Saturday morning at 8am, it is greatly preferred if everyone shows up early so we can organize the troups and base our plans for the day upon the number of people on hand.
Where
- Ellsworth Handcrafted Bikes in Ramona, CA
- From the 15 exit Pomerado Rd ( the north end of Pomerado by Lake Hodges )
- Go east on Pomerado and take a left at the first light onto Highland Valley Road
- Stay on Highland Valley for approx 7 miles until you see Highland Trails on your left
- Take a left onto Highland Trails and proceed up the hill to the second driveway on your right ( the first drive is right at the corner )
- Go through the gate and immediately after the gate stay left and go straight onto the dirt road up the hill, DO NOT stay on the driveway.
- There is a small dirt parking area at the top of the hill, if you do not have 4wd park here !
- If you have 4wd keep going past the dirt lot down the hill and turn right at the bottom of the hill, this will put you at a dirt culdesac, look to your left and follow the steep fire road up the hill to the next plateau and park there.
Food
- It's Ramona... there is no food or water for miles and miles so pack in a lot of drinks and a lunch !
Some New Rules
- This location on private property is very generously provided by Tony Ellsworth to build our dreams on. Please - no alcohol or smoking and we need to maintain a very family friendly atmosphere at all times including watching our language. This is a families backyard and we need to respect it as such please ,thanks !
Any Questions - Call Jason ( 858 ) 663-6401