Photo: Todd Hellinga
Riding new a trail is always the most fun I can experience on my bike. The unknown is scary but so exhilarating. Exploring new areas and conquering new trail features. And racing these new trails for Round 1 of the Sea to Sky Enduro in Pemberton, made it so much more exciting/scarier than ever.
With butterflies in my tummy, goose bumps on my skin, my shoes tied tight, and a massive smile on my face, the race began from Black Bird Bakery with a casual 300m elevation climb to the start of Stage 1, Fat Tug. This trail was built last season and is a bit of a hidden secret for the Pemberton locals. It is such an amazing trail. It is fast, playful, and very fun, but if you're not paying attention, can quickly catch you out. After surviving the mosquitoes at the start and having a problem free run, we rode back through town and onto the One Mile area for another short 250m elevation climb to the top.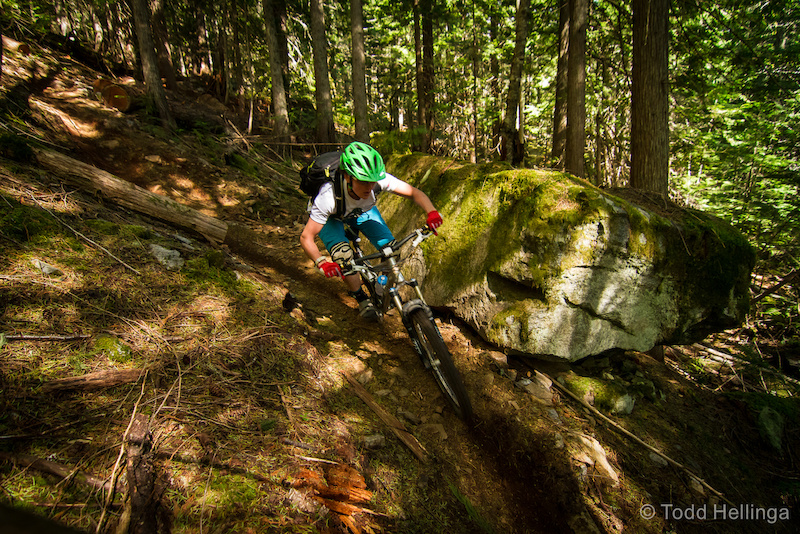 Photo: Todd Hellinga
Stage 2, Breakaway to Lumpy's, was my biggest challenge of the day. I only had the chance to pre-ride this trail once a few days before and I had unfortunately forgotten (or mentally blocked out) just how much climbing was involved and how long it was. Not remembering what was to come, I took off all guns blazing. The first section was fast flowing corners with a good downhill gradient, and then I came to the first climb. I was not prepared, in a tall gear and out of breath, which forced me to get off and run. This would not be the only time during the stage where I shamefully ran my way up the climbs. I was delighted to see the finish line, move on and focus on doing better over the last two stages.
That delighted feeling was short lived, when you are at the valley floor with a 1000m climb ahead of you. After taking a short break and being refuelled by Susan with her delicious treats at the food station I set off up Nimby. The weather had been sunny and beautiful and luckily not too hot, making the climb comfortable. My legs were pounding, my back ached, my lungs were tired, and after what seems like hours, I stopped for a break at the lookout. The views were overwhelming, looking out to Mt Curry and south through to Whistler. And within a blink of an eye it was snowing.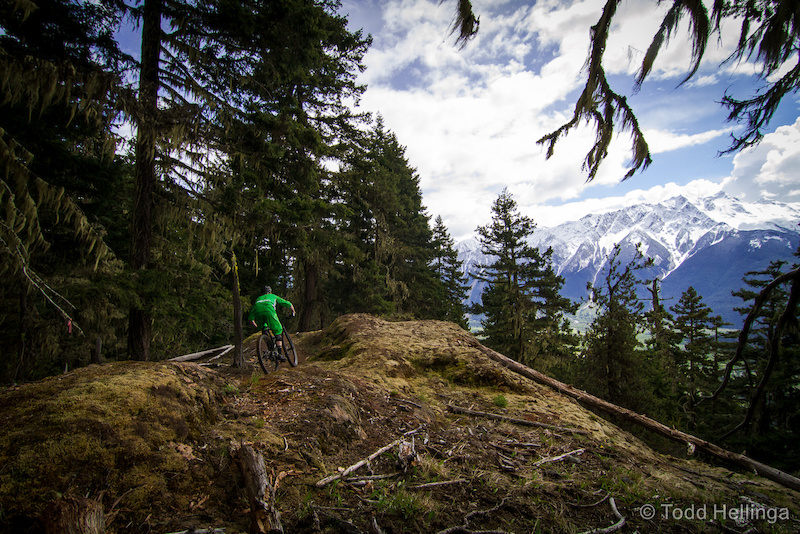 Photo: Todd Hellinga
Stage 3 was my favourite. Newly built in memory of Rudy Rozsypalek, Rudy's trail which lead onto Rusty Trombone was 16 minutes of pure joy. Rudy's trail is superbly made with a pleasant gradient that follows the natural line of the mountain with just the right amount of climbing. And if you had time to look, the trail would open out to amazing views of Pemberton. Just as my legs were starting to get tired from all the pedalling and pumping (no shamefully running up the climbs this time), Rusty Trombone was there to make your legs feel like jelly and your arms ache from gripping to hard. It was a wild ride to the bottom, with rock rolls, jumps, a step up, roots and an endless number of corners. Stage 3 had it all.
With only 10 more minutes of climbing, it was time to tackle the last stage, Hawaii 1 - 2 - 3. Descending 250 elevation meters over 4 minutes. The end was in sight, with every corner railed and every jump cleared, the end of the race approached. And ending with the most fitting way to finish a race, being greeted at the finish line with an icy cold beer. Thank you PVTA for a great season opener and for showing me the many more trails that Pemberton has to offer.