After the successful introduction of two Downhill Bike models, Redalp now launches their Freerider. This brand new model, the "Cascadeur FR" was developed for the European Enduro Racing scene. Built on the same frame as the DH bike, it is as robust and reliable as a Redalp Downhill Bike -
see article from 2012 here
.
Redalp sees the different Enduro Championships as the perfect platform to promote their patented chain drive system. With 180mm rear wheel travel on many bikes the rear suspension needs to be blocked to climb in order to avoid squat. Manufacturers attempted to get this problem under control by developing high tech systems, and even electronic devices. On Redalp Bikes, the patented chain link ensures a continuous smooth running of the rear suspension. While climbing, the rear wheel follows the slightest unevenness and guarantees maximum grip. During the descent the rider benefits of the long swingarm and high pivot point which make this bike so fast!
Fork: Fox 36 Talas 180 RC2 FIT
Shock: Fox Van RC
Transmission: Sram X0 10-Speed 38/11-36
Brakes: Avid Elixir X0 200/180mm
Wheels: Easton Havoc 26" UST 20/12x150mm
Tires: Maxxis Ardent 26x2.25"
Weight: 15.4kg/34.0lbs (w/o Pedals)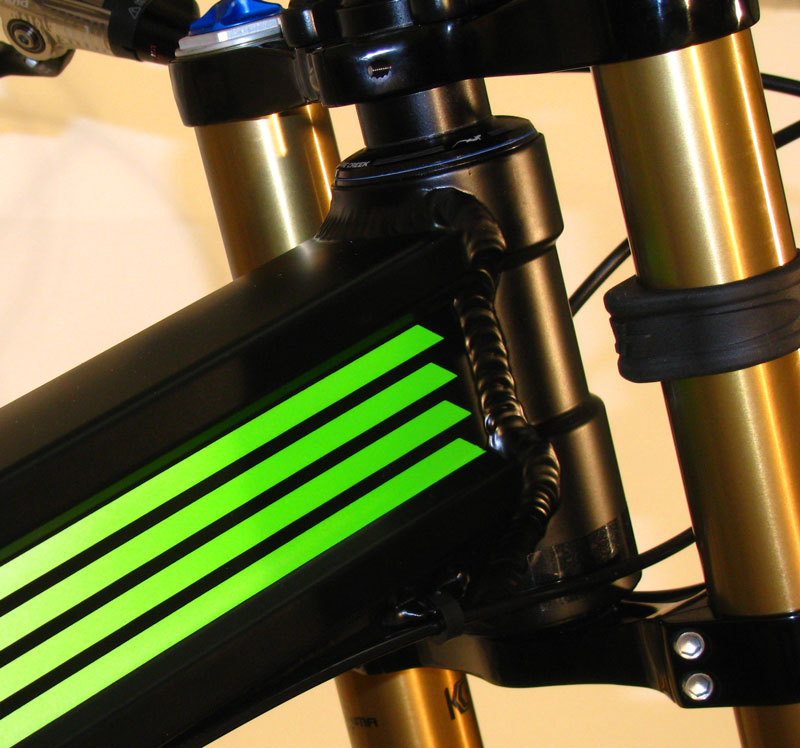 The downhill bikes are offered with some upgrades. The Replica DH is now equipped with Avid Code brakes and the Team DH with a Fox Van RC shock. All bikes are available in trendy colors, either satin black or flashy lime green. For 'frames only' a drop out for 650B wheels size is available.
For ambitious DH or Enduro riders Redalp offers attractive co-factory contracts for 2013. Contact us with your rider CV and agenda under
info@redalp.com
.
'With the new Cascadeur we are proud to offer an excellent bike for the various Enduro series. With 66° fork angle the new bike is so much fun to ride, easily maneuverable and at the same time unbelievably stable. Our riders will have a great time in 2013' says Andy Wuthrich. Redalp keeps the prices for DH bikes unchanged and offers the new Enduro bike for $5,693.-
REDALP is a Swiss Mountain Bike manufacturer. The Company was founded in Crans-Montana, Switzerland, in August 2011. For more information please visit
www.redalp.com