Bryson Martin
brought Marzocchi, and most of the world's suspension makers, kicking and screaming into the freeride movement at a time when the bike industry at large scoffed at the suggestion that the closely knit community of technical riders would amount to anything but trouble. Fast-forward to Whistler, where Crankworx is celebrating its tenth anniversary, long-travel AM/trailbikes are the baseline for general mountain bikers, big bikes overflow from the lift lines into the village, and slopestyle has become a global spectator sport. For Bryson Martin, Crankworx 2013 must seem like both a victory and a rebirth. Martin and Marzocchi parted ways in May, 2012 and shortly after, Martin founded the DVO suspension brand. The plan was to take on the best and brightest players in the mountain bike fork and shock business with a no-compromise product line. This September, the first 300 DVO Emerald inverted forks will ship to customers world wide. We asked Martin about the challenges of creating a start-up suspension brand and about the next step for DVO.
---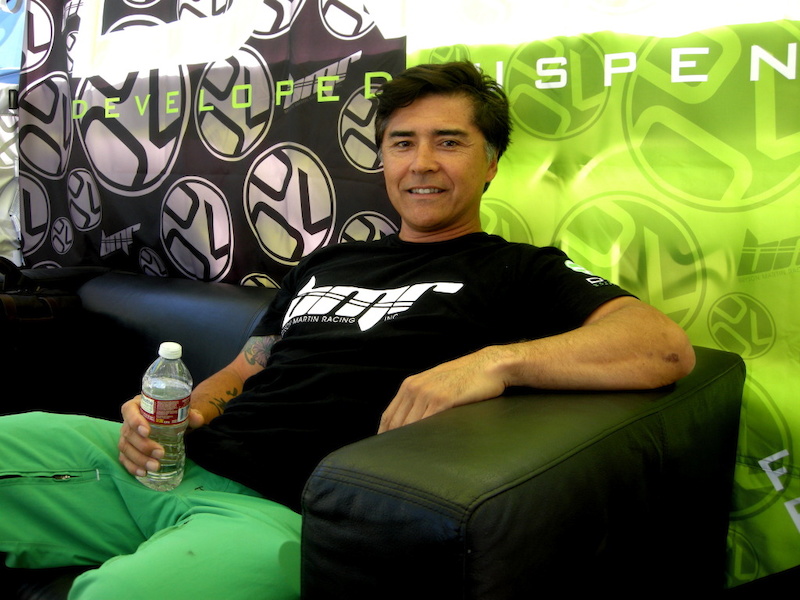 Developed Suspension/DVO founder Bryson Martin relaxes for a moment in their pit compound at Crankworx 2013.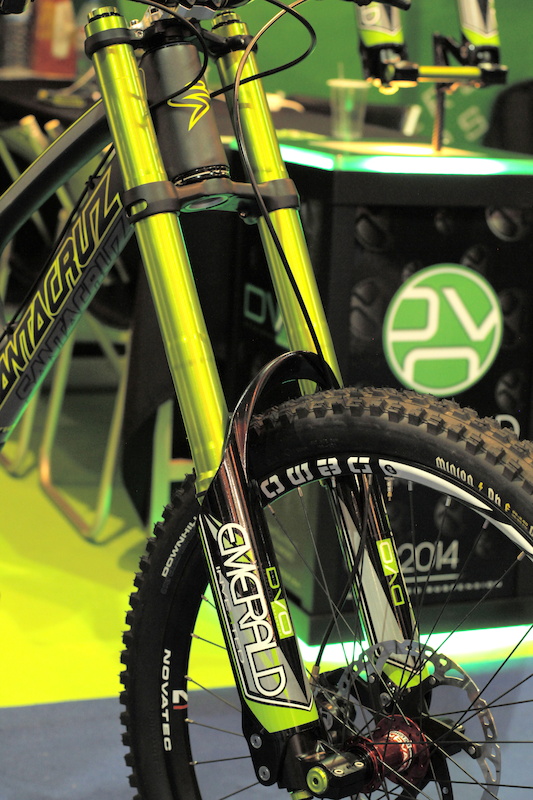 DVO's Emerald fork is an inverted type. The integrated carbon
arch and rock shield provides additional torsional stiffness.

When can we expect DVO to begin shipping forks?
September tenth, is the firm date. We will travel to the factory in a few weeks and hand assemble the first 300 Emeralds. They will get special tags, signed by us. The idea is to be there for the first production and also to teach and oversee the workers there to ensure that the assembly process is right. From then on, we will build 300 Emeralds per month.

Who is making your suspension components?
SR Suntour in Taiwan. I have known the owners there for over 25 years and we needed a partner who had the manufacturing expertise and also the quality control to build a pro-level fork. I worked closely with SR Suntour during the Marzocchi days, so there was very little transition required. They have also been with us every step of the development process and we have modified some of our technical details to fit within their manufacturing and assembly process. I've seen many companies work on designs and prototypes in their own facilities then hand off the drawings to Taiwan and expect perfection. That's just not the way to do it. Needless to say, we have spent a ton of time in Taiwan fine tuning our program.

Rough estimates from popular bike brands say that their all-mountain/enduro bikes are outselling their DH models by fifty to one. When can we expect a mid-travel fork and shock from DVO?
We are already in full development of a mid-travel fork and
shock, but to enter the market at the highest end, where DVO needed to be, I knew that we needed to set the tone of the company with our DH fork and shock. The Emerald incorporates some "Blue Ocean" features, compared to what is available now, and we needed it to showcase who we are and what we are capable of engineering and producing. This fall, we will be previewing our pre-production mid-travel fork and I think you will be impressed with where we are going with it.

Fox and RockShox are powerful foes in the DH suspension arena. How can a company like DVO hope to compete with them in such a small marketplace?
I look at those guys as formidable competitors. Both Fox and RockShox are large OEM companies that must develop products based upon large-scale production and for a wider, more generalized customer base. We don't have those pressures. They're more like slow moving giant cruise ships that need to entertain a wide customer base, conversely, we are more like a quick turning speed boat and we only make top level suspension. Therefore, we can take the time to make it right, and if we have the slightest doubt, we can delay production and continue testing until it is. Our prices are expensive, but I believe that there is always a demand for a quality product thats built to last. Our first two productions are pre-sold. When we first opened, we were immediately approached by some larger OEM brands who wanted an alternative to Fox and RockShox.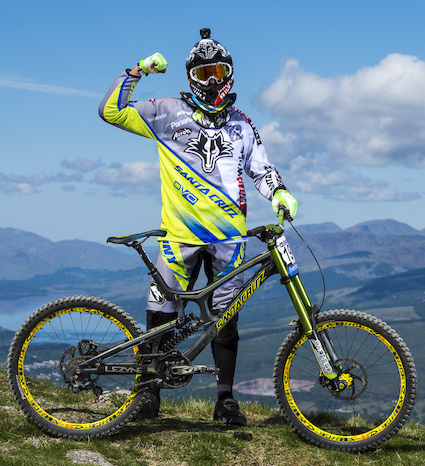 Cedric Gracia signed on with DVO early on and has played
a pivotal role in the development of the Emerald fork.
- Colin Meagher photo

So, DVO will also be selling to OEM customers?
Our business plan has always included OEM customers but the DH market is very aftermarket driven, where customers are building up bikes to their own specifications. What we will offer to the OEM's is the same no-compromise products that our aftermarket customers will have.

A number of suspension brands, most recently, X-Fusion have tried to pry some business from the Big Two with limited success. What does DVO bring to the table that gives you a better chance?
X-Fusion makes some great performing products and entered the market at the low end and then moved up to the high-performance arena later on. That can be done, but swimming upstream is difficult and very expensive. I knew that for us to be successful, we had to begin at the highest level. We will not be able to make the same numbers as an affordable OEM suspension brand, but we don't need to sell huge numbers to survive if we concentrate on quality and excellent customer service.

DVO signed Cedric Gracia as your ambassador.
Cedric is a perfect match for who we are. I told him that we
couldn't match the offers he probably would get from a company like Fox, but he didn't seem to care about the money. Cedric has been a friend since the beginning and we always wanted to bring the band back together, so we agreed on a long-term program. The rest should be history!

Has Cedric been pushing DVO for Enduro-specific suspension?
We talked about exactly what he felt the perfect Enduro fork would be when we started the project. I thought it was too lightweight - like most of what we are seeing out there. I think of an elite level Enduro bike as a mini DH bike, so I "modified" some of his earlier ideas and we started with a burlier design. Later, Cedric and I talked and he agreed that a stronger fork (and shock) with DH level performance is more critical than just a light weight product. I think you will be happy with what we are working on.

DVO is not rolling in cash at the moment. What is it like, only being able to develop one product at a time?
During the Marzocchi days, I was working on five or six forks at once. In that situation, you cannot focus enough attention to make each one perfect. There are always compromises or 'running changes' that must be done in order to meet sales deadlines. The result is often half-finished products. With DVO, we can focus the attention of seven people on one project until it is ready for production. We like that way of doing things much better.