Liteville's 301 MK10
is an elite level AM/trail bike that bristles with innovative features, most of which are camouflaged by its simple welded-aluminum, double-diamond frame design. Liteville may not be on the radar of rank and file mountain bikers, but the boutique German bike brand is becoming well known among Europe's most accomplished
big-mountain riders
because of its blend of solid descending and cat-like climbing attributes. The uninitiated may pass the 301 off as a pumped-up cross-country sled because it lacks the X-tubes, Foo-links and Umma-Bummer technology so prevalent in contemporary all-mountain
haute couture.
Among those who are familiar with the brand, however, that would be a laughable mistake.
Simply designed and elegantly engineered, Liteville targets the 301 at accomplished all-mountain riders who have already been to the circus and who place attributes like light weight, pedaling efficiency, and trustworthy handling over trendy materials and chassis design. As delivered, our 160-millimeter-travel 301 weighed 26.63 pounds (11.66 KG) without pedals and a medium-sized frame reportedly comes in at 5.34 pounds (2450 grams). That is pretty darn light for an AM bike, but in case there are any doubts about the 301 MK10's reliability, Liteville's $2595 MSRP for the frame and shock comes with a limited, ten-year transferable warranty that does not stipulate rider weight or riding style.
Liteville 301 MK10 Details:

• Purpose: All-mountain, Trail, Enduro racing

• Frame: Butted and manipulated high-strength aluminum.

• Four-bar rear suspension: 160 or 140-millimeter options

• Recommended fork travel: 150mm-plus (545 - 585mm axle to crown)

• Tapered head tube with integrated double-sealed stainless steel cartridge bearings.

• Sealed cartridge bearing suspension pivots.

• ISCG-03 chainguide tabs

• Dropper-post ready with addition of seat-tube shim.

• Syntace X-12, 142mm axle system and break-away derailleur hanger.

• Oversized 34.9mm seatpost

• Shock: Fox RP 23 CTD with Kashima coating



• Fork (furnished): RockShox Revelation WC Black Box 150mm stroke
• Accessories: Syntace SCS integrated chainguard and P6 seatpost
• 180mm minimum brake-rotor diameter, post-mount brakes
• Six sizes from X-small to XX-large
• Variable geometry, specific to each frame size
• Wheel-diameter options for extreme frame sizes
• Tires up to 2.5 inches (all brands)
• Color options: Anodized black, natural aluminum or white.
• Five-year unconditional plus five-year 50-percent crash warranty
• Frame weight (medium): 2800 grams with shock
• MSRP $2723 USD (frame, shock, headset and X-12 axle)
• Estimated cost for 301 as tested: $6595 USD

Liteville USA
---
Inside the 301 MK10 Chassis
Liteville engineers achieved weight figures comparable to its carbon-fiber-framed competitors by first scrutinizing and then redesigning every aspect of the frame and its key components to work together as a system. They then put the welded-aluminum chassis through a punishing series of laboratory and real-world tests to ensure that the 301 would deliver as promised on the all-mountain battlefield. While Liteville's 301 has been in production for a few years running, it has periodically been updated to the extent that our 301 MK10 represents a complete redesign.


(From left) Liteville's tapered head tube arrangement can be adapted for straight, 1 1/8-inch steerer tubes. A look at the underside of the bottom bracket area reveals ISCG-03 tabs, internal routing for the rear derailleur and a spare derailleur hanger screw for the Syntace X-12 dropout system threaded into the BB shell. Horst-link dropouts and a slick-looking optional derailleur bash guard by Syntace.
The 301 frame begins with dramatically oversized and manipulated tubes that are reportedly drawn from a special high-strength aluminum alloy and then butted with up to five different thicknesses in a single length. Each frame member is drawn, tapered or profiled to handle the loads in its sector without wasting a gram of metal – to the extent that the right and left chainstays are completely different tubes. The seat tube is flared dramatically where it reaches the bottom bracket to boost stiffness there and on the opposite end, the wall thickness is greater to provide strength at the shock mount. Up front, the 301 has a tapered head tube, machined to directly accept double-sealed stainless steel cartridge bearings. The top tube is grooved on its underside, forming an invisible channel to route a dropper post cable, and tunnels are welded into the frame at key junctions to cleanly route cables and to ensure that suspension action will not affect the bike's shifting performance.
All of the welds throughout the 301 frame are treated with a second, smoothing pass. The second pass with the TIG welding torch gives the joint a smoother look, but more importantly, it reduces stress concentrations at the frame junctions. Time and testing have proven that the treatment can add years to the fatigue life of a welded-aluminum frame.
Syntace and Liteville are confederate companies, so many of Syntace's
innovative products
are designed into the 301 chassis, like the X12 through-axle system with its break-away derailleur hanger bolt, an optional integrated rear-derailleur guard, the Syntace Chainguide System (SCS), and the 480-millimeter P2 seatpost which was integrated into the frame design to reduce its stand-over height. The 301 is definitely designed as a system of components that are integral to the performance of the frame.
About That Suspension
Liteville's four-bar rear suspension actuates the 301's signature top-tube rocker link which drives the shock into a welded boss near the seat-tube junction. The unusual arrangement is designed to use
suspension forces to counter natural load-pathways
in the frame, so stress is actually reduced in the top tube and seat tube area. Watching the slim rocker links swing above the top tube as the suspension compresses for the first time gives the impression that the 301 is a surgical tool intended to lop off male parts at the least convenient moment, but such is not the case. The rockers are placed in the area protected from contact by the saddle and considering the depth of the 301's design and testing, it should not come as a surprise that no rider even brushed the links throughout testing.


Liteville configured the 301 linkage to deliver efficient pedaling action while the shock is set to its most active mode. The linkage geometry is engineered to eliminate chain-growth through its the entire range. According to Liteville, this translates into a suspension that is free to move about the rocks and bumps while the rider is smoothly pedaling up and down the trail. The same should be true when braking, as the 301 suspension uses a Horst-link dropout arrangement that uncouples braking forces by placing the caliper on the isolated seat stay member of its four-bar linkage.


The 301 MK10 can be configured with 140 or 160 millimeters of suspension travel via interchangeable rocker links. Ours was set up with the 160-millimeter option. Up front, the factory allows for forks ranging from 140 to 160 millimeter strokes (545mm or 565mm axle-to-crown lengths). The suspension pivots on eight stainless steel cartridge bearings, and the rocker assembly utilizes a fail-safe sag indicator that lines up with a boss on the top tube to ensure proper ride height. Spacers are provided to ensure that the frame's steering geometry is optimized, and a kit is also included to adapt forks with untapered 1.125-inch steerer tubes.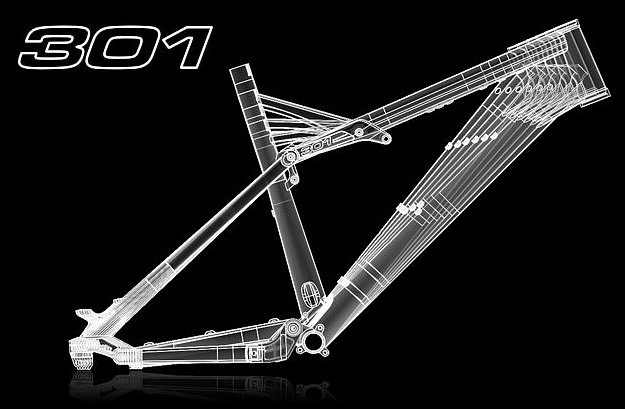 Custom Geometry
Liteville went to great lengths to ensure that the 301 will fit riders of any stature. Frames are available in six sizes from
X-small to XX large
, and the geometry of each frame is adjusted to provide a similar weight balance and handling feel. Liteville is not a huge operation in any respect, so it boggles the mind that it could commit to the time and expense of fabricating such a large variety of swingarm-lengths, frame angles and in some cases, wheel-sizes for the 301.
Many riders differ in leg length and torso proportions, so Liteville keeps the top tube low throughout the size range and keeps the tapered head tube low to offer riders a choice of top tube lengths without sacrificing the bike's stand-over clearance. This should make those with longer torsos happy. For tall riders, or those with longer legs, Liteville uses a triangulated brace at the seat tube/top tube
junction, and the frame is designed to work with Syntace's oversize, 34.9-millimeter seat post to prevent unwanted flexing between the rider and the bike. Liteville's bottom line is that almost anyone who chooses a 301 will be able to achieve a fit that rivals a custom-built frame.
Fit is only part of the all-mountain equation, where higher speeds and toothy terrain dictate that sharp handling is job one. The 301 is both slack enough and low enough to enjoy the steeps, with a 66-degree head angle and a 13.9-inch bottom bracket. The 74-degree seat tube angle puts the rider's weight forward, which helps to pin the front tire to the ground while cornering, and keeps the bike in control while climbing technical sections. The wheelbase is a bit long at 45.6 inches, but its relatively short 16.9-inch chainstays mean that most of that extra wheelbase is in the bike's front-center. Liteville's sizing system allows riders to tune their wheelbase by shopping top tube lengths and choosing a larger or a smaller frame. For those who sweat the small details, Liteville posts separate geometry charts for the 301 for 140 and 160-millimeter configurations and forks with either 545 (our test bike) or 565-millimeter axle-to-crown measurements.
---
Component Check
Liteville sells the 301 MK10 chassis complete with a Kashima-coated Fox Float RP23 CTD shock and X12 through-axle system in bare aluminum, anodized black or white. To showcase the 301's intended purpose, Syntace built our test bike specifically as an all-mountain/trail bike. Front suspension was handled by a 150-millimeter-stroke RockShox Revelation fork, spaced to 545 millimeters. The brakes and two-by-ten drivetrain were Shimano XTR. The crankset was fitted with a sweet looking machined-aluminum Syntace bash guard as was the rear derailleur. The 301 rolled on 2.35-inch Schwalbe Hans Dampf tires mounted to Syntace's new 35-millimeter-wide W35 MX wheels. For the steering department, Syntace furnished its oversized, 740-millimeter-wide Vector carbon handlebar, paired with a 50-millmeter aluminum Megaforce 2 stem. All tallied, the 301 weighed only 25.625 pounds (11.66 KG) without pedals. For testing purposes, we later added at RockShox Reverb dropper post, which added over a pound to the 301's weight.
Liteville 301 MK 10 Trail Test
Get a few accelerations in, then push through the first succession of turns and your first impression will be that the Liteville 301 is going to show you a distinctly different take on trail riding. The 301 feels efficient, calm and capable on the trail. The chassis feels longer and its steering is slightly slower than the most popular 26-inch-wheel all-mountain designs. Coasting down a typical XC trail gives the impression that the bike may be too smooth and too stable, but put the 301 to task on a technical drop or a maximum effort-climb and it springs to life. For hard-chargers on challenging terrain, the end product of its dual-natured handling is a welcome period of recovery between 100-percent efforts.
Setup:
After some experimenting, we quickly learned that the sag indicator built into the 301's top tube and rocker link is not to be trifled with. With the shock's air spring adjusted to line up the red dots, the 301's suspension feels too soft, especially for efficient pedaling, but it turns out that the Liteville pedals, corners and climbs best with its suspension set near 30-percent sag – right on the dots – which turned out to be 175psi for a 180-pound rider, including a hydration pack and gear. Except for a loud freehub ratchet, the 301 is a very quiet ride, and that sensation translates to its pedaling and handling performance as well.
Acceleration and Climbing:
We tested the 301 initially with lightweight Specialized Ground Control 2.35-inch tires and found it to be quite fast on the flats, with acceleration that feels energetic, but not quite XC-racer snappy. Later, when outfitted with larger Schwalbe tires, the 301 slowed a little, but remained frisky over everything but paved surfaces. There is, after all, over 150-millimeters of squish on either end of the bike, so we had to plan ahead before committing to an explosive, out-of-the-saddle effort by maximizing the pedaling platform of the fork and shock. In real life, however, we rarely, if ever, used the pedaling platform on the Liteville because its suspension action facilitates power output by erasing chatter on the flats or by calming sharp impacts up the climbs without sapping the power from your legs – and this was true whether we were seated or standing.
Technical performance:
Fitted with the Specialized tires, the 301 could corner and brake predictably at speed, but there was always some degree of drifting involved. Luckily, the 301 is an easy bike to slide with its low bottom bracket and a longer-than-average wheelbase. Upgrading to the 2.35-inch Schwalbe Hans Dampf tires that Liteville sent us, however, made the bike run around corners like it was on rails. We had many opportunities to test the Liteville's straight-line climbing and braking traction during the test period with similar results. The long-ish chassis, paired with the monster-sized Schwalbe tires left no excuses for botching a technical section.
Staying centered over the 301 is best, and it requires minimal fore/aft weight shifting to transition to steeps in either direction. The front end needs slightly more of a pull than many AM bikes to loft the wheel over gaps or obstacles, and its rear suspension action is deep and soft, which means that you really have to pop it to get both wheels off the ground. In similar fashion, the 301 tends to stay glued to the earth unless its rider makes an effort to jump it off minor lips and senders. When you do launch the 301, landings are non issues, even if you miss your transition or jump to flat.
Suspension report:
With high-volume tires and nearly a third of its 160-millimeter rear suspension sagged, the 301 rides like a leather sofa. With the fork sagged to 25-percent, the 301 settles slightly in the rear, which slackens the head angle about one degree, drops the bottom bracket about a quarter of an inch and enhances the bike's handling throughout its performance envelope. The rear suspension curve begins with minimal resistance, which provides a supple ride in the first part of its travel, and full-compression events feel bottomless. This indicates that the 301's suspension transitions smoothly into a rising rate towards the end of its stroke.
Up front, the 150-millimeter RockShox Revelation fork out-performed our expectations with precise steering and smooth action throughout the speed range – not bad for 'old-school' 32-millimeter stanchion tubes, a 15-millimeter axle and a carbon fiber crown. After being subjected to ten hours of red Southwestern micro-dust, the Revelation's seals started to get sticky, but a squirt of chain lube into the wipers immediately put the sliders back in operation. Typically, the formula for optimum big-hit suspension performance would be to choose a fork with a slightly longer stroke than the rear suspension travel, but the extra measure of sag that Liteville builds into the 301's 160-millimeter-travel rear end proved to be a good match for the 150-millimeter RockShox fork.
Overall Feel:
The 301 proved to be an ultra-reliable mount that could easily be an accomplished rider's 'one bike.' The 301 is light, fast and uber capable in the most challenging terrain. Add efficient pedaling and power transfer to that mix and you get a recipe for success. Its only technical flaw of note was the rare but bothersome tendency for the chain to slip in front of the Syntace integrated chain guide when throwing a big shift from the large to the granny chainring. The bike could still be pedaled at full power, but the noise would not go away until the rider paused or momentarily back-pedaled. Our test bike was outfitted with Syntace's ultra-wide W35 MX wheelset, which pushed the width and volume of the Schwalbe tires to a dimension closer to a 2.5-inch DH tire, which should be noted as a contributing factor to the bike's stellar climbing and cornering performance.
Component Report:
• Syntace X12 through-axle system is a major plus, but its Allen-key removal could be a time waster should one flat in competition.
• Syntace bash guard on Shimano's XTR crankset is one of the nicest two-by setups we've used.
• W35 MX wheels, at 1680 grams are a performance enhancer for those seeking lightweight wheels with big-bike traction.
• Oversized P6 seatpost design requires a shim to mount a dropper post.
• Dedicated head tube bearings may not allow an adjustable-angle headset for those who must have that option.
• Syntace's Rear derailleur bash guard could be a cash-saver in rocky terrain.
• Twelve-degree pull-back of the Vector Carbon handlebar effectively reduces the bike's stem length 10 to 20 millimeters.
Pinkbike's take:
| | |
| --- | --- |
| | Liteville's 301 is proof positive that some pleasant surprises remain to be discovered in the mountain bike universe. Who would have guessed that a total rethink of the classic welded-aluminum diamond frame could produce a competitive long-travel all-mountain bike at a weight figure that rivals the most elite carbon fiber offerings of its day? Liteville's painstaking application of science and simplicity to every aspect the 301's chassis, and its integration of key components from Syntace has proven that it is possible for a small bike maker to triumph over megabuck manufacturers. We can guess that the 301's stark profile, unusual suspension design and vanguard features will not capture the imagination of the mass market, but we are absolutely sure that there are a sizable number of trail riders, big-mountain specialists and Enduro racers who get it. If you are among them, the Liteville 301 deserves a look.- RC |
Must Read This Week