Words:

Colin Meagher


Photos:

Colin Meagher/Paris Gore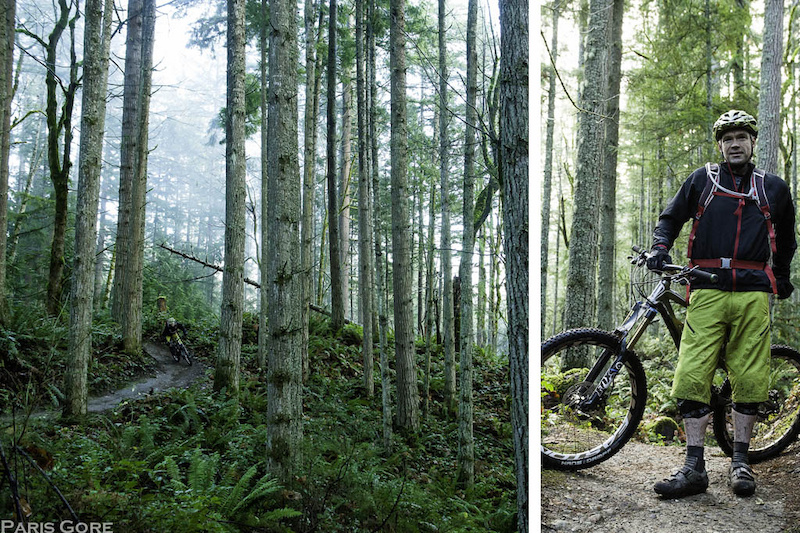 My true love is epic XC and AM rides, and my riding starts in late fall for the simple reason that, during the World Cup race season, I don't have much time to go mountain biking. My riding season really starts in November and I live in Seattle, which means cold, dark, and wet. This is not arctic weather riding - generally we're talking mid 30s to high 40s Fahrenheit (3 to 10 Celsius). Based on that temperature range, the wet, and the dark, I tend to keep my ride times around two to three hours. Consequently, the gear I've tested and suggested here is for these conditions.
- Colin Meagher
---
Endura Pro Skull Cap: $30
Pure and simple, you'll lose more heat out of your head than anywhere else. Stuffing a wool hat under your helmet is not the solution; it's uncomfortable and your helmet will fit so poorly as to be worthless. So do yourself a favor and invest in a skull cap. Sure, you may feel (and look) as if you've placed a condom on your head, but it's basically invisible once your helmet is on and it will keep you toasty warm.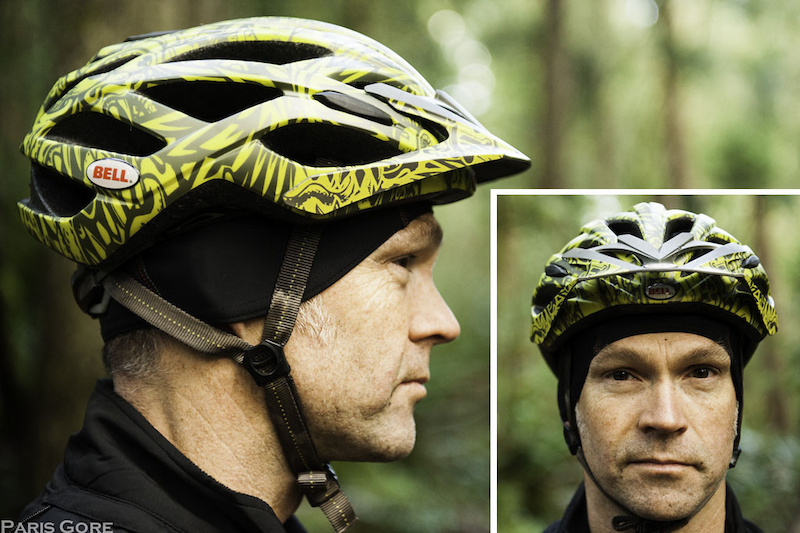 Endura's Pro skull cap offers toasty warmth for one of the body's most oft-neglected appendage.
If there's one piece you should have in your arsenal of bad weather riding gear, a skull cap is it. I particularly like the Endura Pro skull cap for its minimalist fit. There's absolutely no bunching under the helmet. Additionally, the seams are flat stitched to avoid skin irritation. There are waterproof/windproof panels over the ears—a nice touch. These are mated to breathable Thermolite panels over your noggin, which allow for a near perfect balance between keeping you warm without overheating.
Endura
---
Ibex Woolies 150 Sleeveless Base-layer: $60
It only takes one frozen ride to realize that you need to layer up to stay warm out there. And it only takes one miserably wet ride with cotton to realize that cotton is not the item to layer up with. Artificial fibers will wick well, but get mighty funky in short order. A switch to Merino wool, however, will do you wonders: it wicks, it doesn't stink, and it's amazingly comfortable next to skin.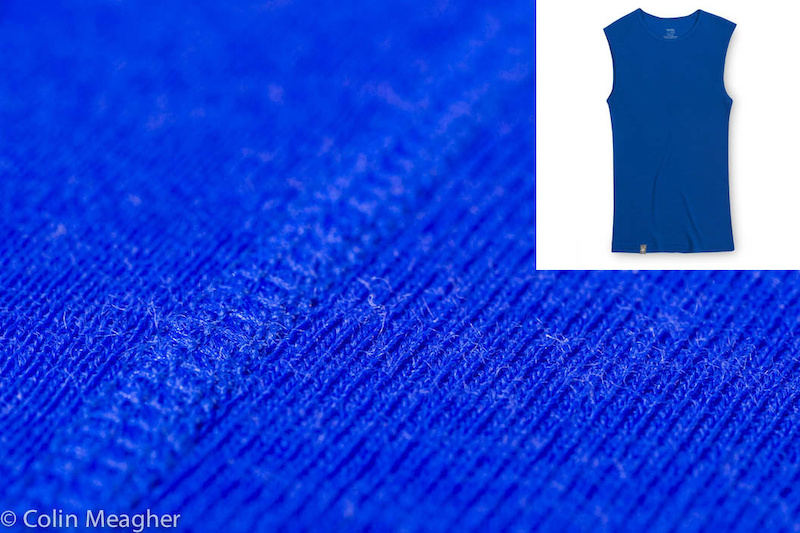 Merino Wool is prized for its ability to wick (most wool won't). Merino Wool fibers are generally finer than 24 microns. This allows the wool to bend against the skin for a luxurious and soft feel.
Ibex is not the only manufacturer out there offering a Merino wool solution, but they are one of the few utilizing environmental responsibility throughout every step of their process, from sourcing the wool to manufacturing their products. It's a sound investment in staying warm, and for any cool weather outdoor activity, not just mountain biking. I found the fit and performance of the Ibex wool base-layer to be everything I've come to expect in a merino wool piece. It never itched - merino wool is so fine that unless you have a raging wool allergy, it should never aggravate your skin. It never, ever got body funk stink, even on a multi-day riding trip where it was my only base-layer piece. In short, it was a perfect, "put it on and forget about it" piece.
Ibex
---
About Cold-Weather Gloves...
| | |
| --- | --- |
| | Being cold on a ride sucks. But having cold hands will make a sucky ride absolutely miserable: you can't feel trail input through your handlebars, which makes for clumsy bike handling, and having popsicles for fingers means you can forget about brake modulation. All it takes to change that picture is a good pair (or two) of proper cold-weather riding gloves. Not ski gloves, either, but gloves designed for lever and bar feel as well as cold and crappy conditions. I wish I could offer a single solution for happy digits, but sadly, I cannot. For the warmer end of winter riding conditions in the Pacific Northwest, I tested the Royal Racing Mercury Glove. For downright chilly conditions, though they simply weren't quite enough for the worst days, I opted to test the Dakine White Knuckle Gloves. Choose whichever you feel best matches the riding conditions you will face. |
Royal Racing Mercury Glove: $45

Royal Racing's Mercury gloves feel like performance gear while managing to fend off temperatures above 40F.
For temperatures down to 40 or so degrees F (5 C), the Royal Racing Mercury Gloves were great. I found Royal's fit chart to be bang on - the added bulk of insulation in winter gloves can frequently make the standard fit inaccurate; but the Mercury gloves had almost no bulk to them for a "just right" fit that allowed good blood circulation and great lever and handlebar feel. As a result, time and time again I found myself going for "just one more lap". Additionally, the hook-and-loop closure was nice and secure, and Royal has thoughtfully added a molded Thermoplastic Rubber (TPR) tab to assist in pulling on the gloves. Grip on both the bars and brakes was great too, thanks to silicone grippers on the fingers. The key ingredient for making the Mercury gloves worthy was the use of a windproof, water resistant material for the back of the hands and fingers. All in all, a great cool-weather glove for more moderate winter conditions. As for durability, I have used these gloves nearly every day for over a month with zero issues.
Royal Racing
Dakine White Knuckle Glove: $38

Dakine's White Knuckle glove is a better choice for temperatures near freezing.
When the thermometer dipped below 40F (5C), I opted for the Dakine White Knuckle Gloves - the 100 grams of Thinsulate material used in these gloves did wonders for keeping my grimy mitts warm when the temps were too low for the Royal gloves. Another great thing about Dakine is that the designers are riders - a comforting thought when the trees are groaning overhead, the rain's coming in sideways and you know it's gonna be an awesomely miserable day. Overall, the White Knuckle gloves were solid performers. Like the Mercury gloves, the White Knuckle fit is accurate. They also feature a thin artificial suede palm for excellent handlebar feel and gripper silicone on the brake fingers. Durability wise, I've used mine intermittently since December of 2011 with zero issues.
Dakine
---
Royal Racing Signature Shorts: $120
Royal Racing has been around since 1998 when Steve Peat and Nick Bayless were both fed up over a lack of well-designed MTB clothing - it was all converted MX gear or lycra back then, and either too bulky or too fragile. In short order, Royal Racing was created, and to this day, the mantra of of "Made by MTB riders for MTB riders" holds true. Their Signature short is a key piece that saw 15 months of development - including input from enduro hard man Mark Weir. They wanted a bridge between a DH race short and a trail riding short: baggy, but not too baggy, long enough to cover knee pads, and durable enough for all-day riding in technically challenging conditions.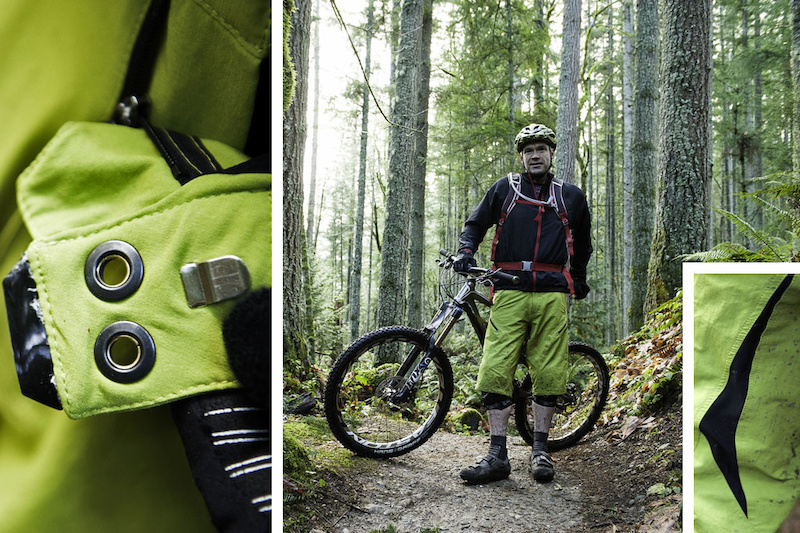 The Royal Signature Short: this has quickly become "the" short for me. They breathe well, and they have yet to hook my saddle in technical terrain or on steep trails.
The heart of the signature short is a lightweight, supple-yet-robust fabric that breathes well and dries quickly. The waist can be custom fit with hook-and-loop tabs on the outside of the short. Further, they are bar-tacked at all critical seams to prevent blow-outs, and have a DWR treatment for keeping the elements at bay. There are five pockets - three of these zip shut, and one is a waterproof stash pocket for whatever needs to stay dry. Last, the shorts come with a removable chamois-liner short. Overall, the shorts are damn good. They fit well, are incredibly comfortable, weigh nothing, breathe well, and have kept me mostly dry. I've only been wearing them for six weeks, but so far they've been absolutely mint in everything from warm weather desert riding in Nevada to miserably wet riding in Seattle. The liner short is a bit looser than some I've worn, but the chamois itself is comfortable - zero chafing on multiple rides. They are another "put it on and forget about it" item.
Royal Racing
---
Race Face Ambush Knee Guard: $85
For technical AM and high speed XC trails on wet, slippery roots and rocks, I think of knee guards as cheap health insurance. Plus, they function like knee warmers to keep that vulnerable joint warm in the winter months - a time when my normally slippery roots and rocks are laced with water and ice. There are a number of knee guards available for trail riding, but the Raceface Ambush guards top my list, thanks to the thoughtful strap system that allows them to be put on without removing one's shoes - a nice touch in winter. Raceface utilizes D3O padding in the Ambush, too - an impact-absorbing gel that remains soft and pliable unless struck. That gel does the bulk of the protection, but the guard has additional foam on the sides for some side-strike protection.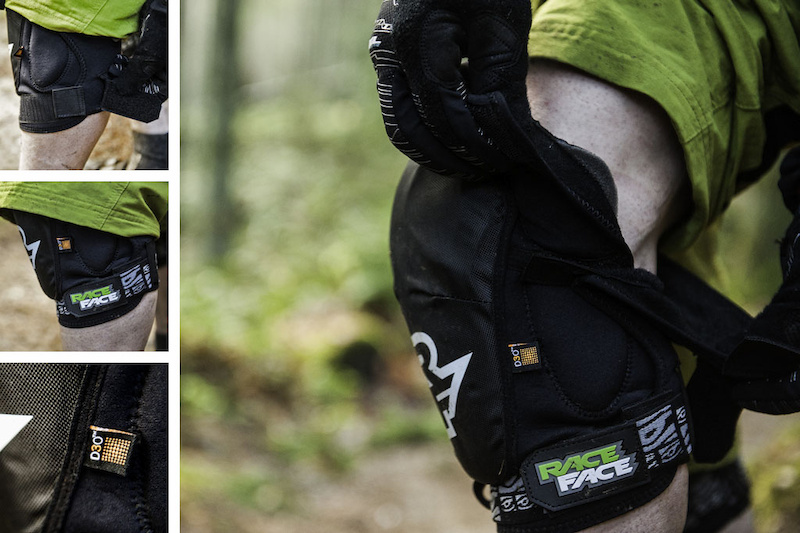 What makes the Raceface Ambush knee so good for sloppy riding is being able to put on and remove the pad without removing one's shoes.
I've found the Raceface Ambush Guards to be a great addition to my riding gear. The strap system and cup shape over the knee keep the guard in place when pedaling and whenever I've gone off the bike. The Ambush guards are surprisingly comfortable; even during long pedal fests in the rain, they never chafed. To be honest, they are so comfortable that I generally forget I have them on 30 seconds into my ride. Even more important, though, is that the D3O functions as advertised: they totally saved my ass in more than one crash. The only nitpick I can make is that they don't ventilate as well as I had hoped, but given the comfort and the protection level, I'm OK with that.
Raceface
---
Sockguy Wooligan Wool Sock: $13
Wool socks are wool socks, right? Nope. The right sock for winter riding can't be too thin (for obvious reasons) but even more importantly, you don't want it to be too thick - cramming a fat foot into your shoe will impede blood flow, turning your feet into blocks of frozen tundra. And the sock has to be durable enough to withstand continual exposure to mud. That constant grind is like having little knives sawing away at the places where your socks meet your shoes.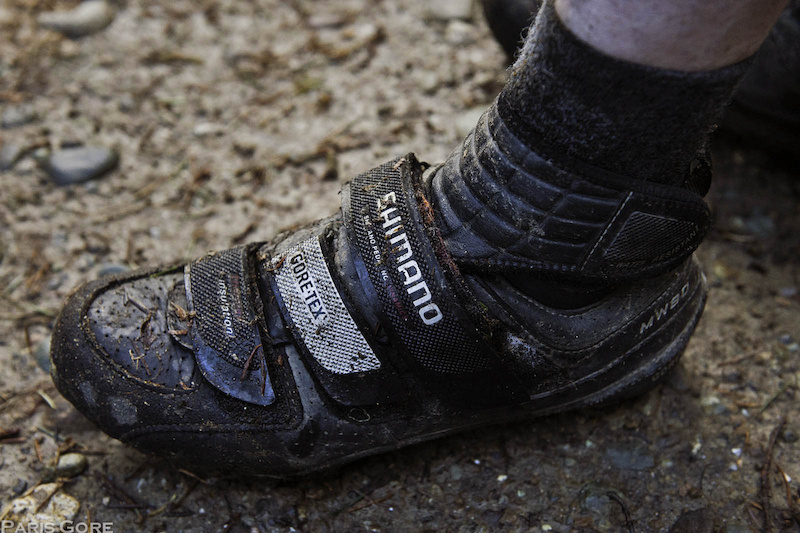 Sock Guy Wooligan Socks: Low profile, but just the right amount of insulation for all but the coldest riding days.
Sockguy Wooligan socks fit that perfect place between too thin and too thick - Goldilocks would approve. Plus, they have proven to be good for the long run. I've had a pair in regular winter use for two years with no issues. They are a low-key, no-frills sock compared to some of the other offerings by Sockguy, but winter riding is hard on gear, so it is the ultimate no-frills riding season in my book. Low key is fine by me. I found the Wooligans to be a great crap-weather riding sock. They machine wash just fine and the poly/wool blend means that they handle the dryer just fine, too. Mine are the originals, which feature a four-inch cuff. The new version, the 'Mr Black Sox,' offers a six inch cuff for a little extra warmth on your shins.
Sockguy
---
Bellwether Convertible Jacket: $90
Core body heat management is key in winter. Everyone tends to favor a different garment for this. Personally, I prefer a breathable outer shell with some water repellency, but I tend to avoid completely waterproof shells as I find that they simply do not breathe enough for my needs; after all, if it's "raining" in my shell more than it is outside, what's the point? Sometimes I favor a jacket, especially for descents, but more frequently, I favor a vest for its core heat-retention and breathability when pedaling hard. Bellwether makes a handy convertible jacket with removable sleeves that solves both needs.

The Bellwether Convertible Jacket, with removable sleeves for those times when a jacket is too much, but the jersey isn't quite enough.
The convertible jacket isn't exclusive to Bellwether, but its lightweight shell - more a wind shell than a rain shell - is exactly the thing I've found to work for me. The fit in the shoulders of the size large was a hair snug with a jersey and a base-layer on, but not uncomfortable. The zip-on, zip-off sleeves were easy to use, but the only bummer was having to remove the vest to zip the sleeves on. Performance on the trail was pretty much exactly what I wanted, though, it breathed well, shed water adequately, and kept in just enough warmth that by the time I got cold, I was ready to call it quits anyway. The water resistance wasn't quite as good as I had hoped for, but a quick treatment with Nikwax solved that. For most winter riding conditions, short of constant rain or a hard deluge, this is a great piece of gear. However, if you are riding in a continual downpour, you will be better served picking up a dedicated hard-shell.
Bellwether
---
Night Lighting Systems...
| | |
| --- | --- |
| | From November to March, between either work or school, daylight riding generally means weekends only. So if you're jonesin' for dirt, an investment into a set of riding lights is the only way to go. And nowhere in bike gear is there a more obvious 'you get what you pay for' example than the disparity between budget and quality night-riding lights. A commuter light may get you around the trails, but it's a bit sketchy, to say the least. A set of quality riding lights, on the other hand, will not only last for years, but will provide enough light that sundown will never mean the end of your ride. Personally, I prefer both a handlebar mount and a headlamp. But since decent lights are not cheap, if I had to choose one or the other, I'd go with a handlebar light over a headlamp for the simple reason that, with a bar mounted light, I can see contours in the trail better. This means that not only can I see an obstacle, I can tell how big that obstacle is. I can't do that with a headlamp - when the main source of light is in line with one's eyes, it tends to flatten the landscape out, making it harder to determine how tall trail obstacles are. The downside to running only a bar light is that you can't look around tight corners. But if you combine the two, then you get the best of both worlds. |
Light & Motion Lighting Systems: Seca 1700 Race - $469, Stella 300 - $149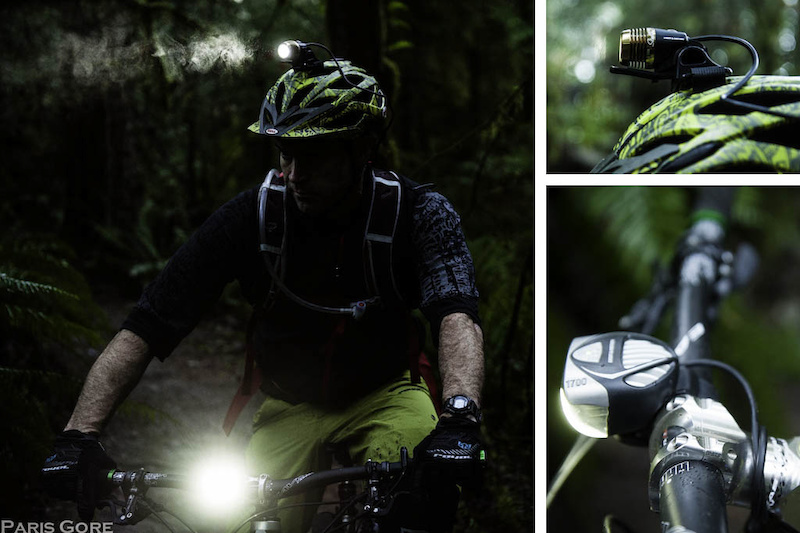 The Light Motion combo of the bar-mounted Seca 1700 Race and a helmet-mounted Stella 300 is the ultimate night riding set up for the darker months.
I found that the bar-mount Seca 1700 Race system threw a ridiculous amount of light; I mean, it was nothing short of impressive. I barely needed the lower-powered helmet-mount Stella 300 for supplemental illumination. However, the Stella was a lifesaver on a couple of steep trails, allowing me to accurately negotiate tight switchbacks with ease. Additionally, the designers at Light & Motion have handlebar and helmet attachment dialed. I was able to have lights on my bike and my lid in five to six minutes. The Achilles' heel of night riding is run time - operating the systems at full power means only 90 minutes of play on a charge and a cold night out if you lose track of time. The Seca 1700 had three different power settings, allowing me to save battery power by running low illumination options on climbs (or just using the Stella 300), and then switching to max power for full tilt boogie descending. By mixing and matching power options during my rides, I never once ran out of juice - even on a couple of longer (three-plus hour) excursions.
Light & Motion
---
Osprey Syncro 20 Pack: $120
Osprey would seem to be the new kid on the block for bike packs, having started making hydration packs only in 2009. Owner/lead designer Mike Pfotenauer designed his first pack at age 16 and founded Osprey Packs in 1974 in Santa Cruz, CA. Now their headquarters are in Cortez, Colorado, where they have ready access to a plethora of trails for testing. The Syncro Pack from Osprey is lightweight, streamlined, and has a ventilated harness - just the thing for all-day trail epics. The pack comes in three variations based upon storage volume: 10 liter, 15 liter, and 20 liter. All three feature a 100-denier triple-Ripstop 'High Tenacity' nylon body, a Lidlock helmet clip, a three-liter hydration bladder, a variety of pockets for storage, and mesh side pockets for quick-stash items. Notable details are Osprey's magnetic sternum buckle for holding the bite-valve, and an integrated rain cover that was a key selling point for me. I opted to test the Syncro 20, reckoning that while it has a LOT of cargo space, it also comes with compression straps, allowing me to streamline the fit of the pack in the event I wasn't maxing its capacity. It has a main gear compartment, a smaller pouch for important gear like phones and wallets, as well as medium and a small-ish zippered stash pockets for tools, etc. The rain fly unfurls from its own zippered pouch on the underside of the pack.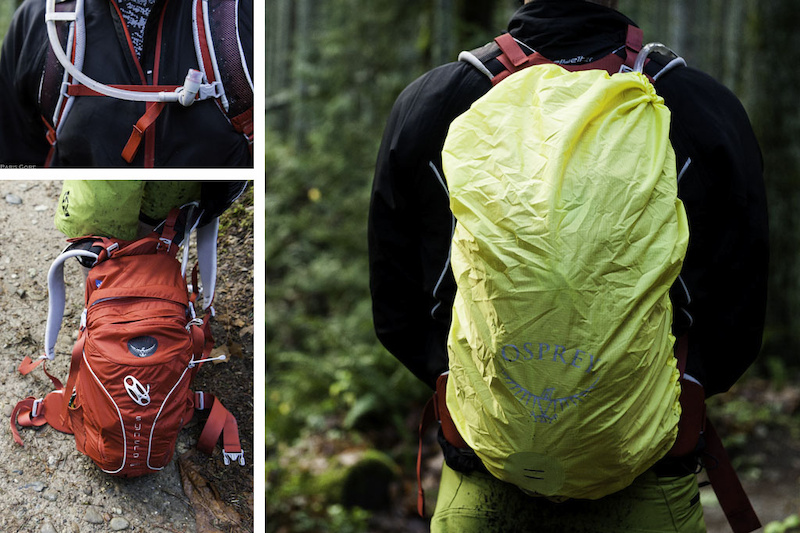 Definitely a pack for wet weather! Osprey's rain fly works well, and the pack itself is capable of swallowing as much gear as you are willing to carry.
The Syncro 20 is a great fitting, great performing pack. It swallowed all of my regular riding gear and begged for more. However, for such a voluminous pack, it didn't present itself as large or unwieldy. Rather, it fit snugly to my back. The rain fly kept the contents of my pack dry during multi-hour rides. It deployed quickly and easily, yet it still allowed ready access to the pockets when needed. The magnetic bite valve holder works surprisingly well - I kept expecting the hose to break free and start flopping around on aggressive trails, but it never did.
I used this pack in the sun-drenched deserts of the American Southwest as well as the rain soaked forests of the Pacific Northwest and in all conditions, the biostretch harness and airspeed suspension worked to keep me well ventilated. I deliberately stuffed the proverbial kitchen sink into the Syncro and found the harness up to snuff, even when charging more aggressive trails with ledgey drop offs or extended root lines. I can only make two nitpicks on this pack: First, the 20-liter version will be too much pack for most riders. The 15-liter version is a much more practical pack as the 20-liter offers the kind of cargo space typically required for adventure racing, overnights, or for trail-guides on an all-day gig. Secondly, Osprey offers convenient stash pouches on its Zealot pack's shoulder straps that are missing from the Syncro. A similar stash-pouch would allow access to tools and food without removing the pack - and would make an otherwise great pack into a nearly perfect one.
Osprey
---