Lizard Skins Bearclaw Lock-On Grip
Riders who want the thinnest lock-on grip possible will want to take a look at Lizard Skins' Darren Berrecloth signature model. The Bearclaw grip comes in black or white and measures 29.5 millimeters in diameter. The Claw's grippy diamond pattern surface is designed to feel good with gloved or bare hands. The minimalist-looking, low-profile grip is secured to the bar by two Allen screws that clamp sweet-looking red-anodized aluminum rings Bearclaw grips sell for $29.99 USD.
lizard skins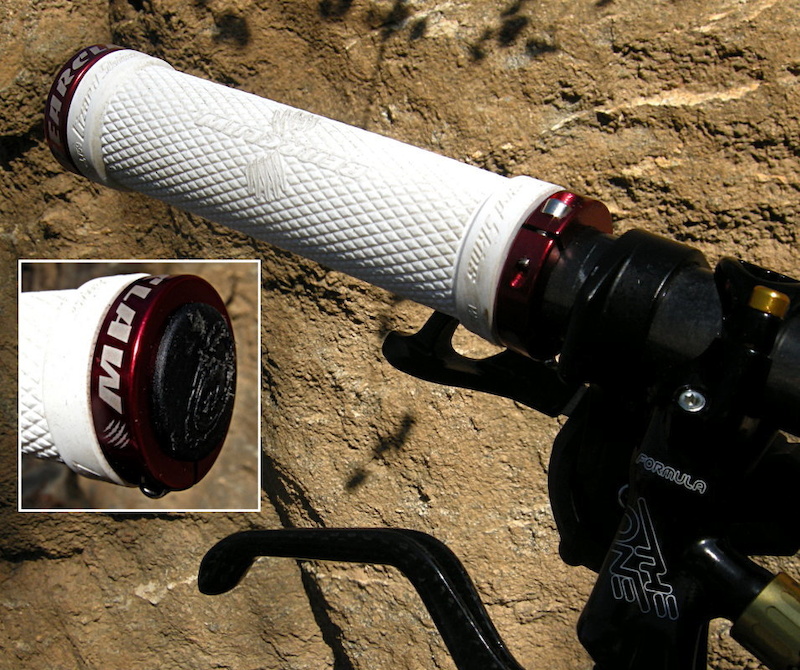 Bearclaw signature grips measure only 29.5 millimeters in diameter and are intended for riders who want a firm, tactile feel at the bars, Lizard Skins' plastic end-caps snap into the locking aluminum collars.
Pinkbike's take:
| | |
| --- | --- |
| | Riders who use thin gloves or opt for bare hands will need to toughen up to enjoy the Claw's favorite grips on extended rides. The minimally padded grips do little to mute the sensation between the front tire's contact patch and the rider's hands - which is a good thing for those who want to know exactly what their tires are doing and where they want the front wheel to go at any given moment.The grip's surface feels super secure with gloved hands and surprisingly, the diamond pattern doesn't tend to chafe unprotected hands.That said, however, the thinly padded grip can beat your hands up on a long, rocky descent.- RC |
---
Syntace Vector Carbon High 10 handlebar
Few component makers are as innovative as Syntace - even fewer still sweat the details as thoroughly as the designers and engineers do at the small German manufacturing facility. Syntace's Vector Carbon High 10 handlebar is designed around the oversize, 31.8-millimeter center section and is reportedly constructed with a number of exotic carbon fiber blends that give the low-rise design bar downhill strength at a weight that comes close to cross country. At 219 grams, the 740-millimeter-width bar passes Syntace's
VR-3 downhill stress and fatigue testing
, which, in keeping with its laboratory-of-pain reputation, is more rigorous than the industry's baseline standards. Vector Carbon High 10 handlebars feature a low, 10-millimeter rise, with either an eight or a 12-degree sweep-back angle. The slightly unusual rise and sweep-back gives the user a greater range of adjustment. The bar's clamping area is reinforced with titanium webbing, primarily to protect the bar from galling and also to provide more grip for the stem. Syntace insists that the Vector Carbon High 10 handlebar be paired with a four-bolt stem, and a graphic in the center section reminds users of this. A lighter, 680-millimeter bar is also offered (189-grams). Vector Carbon High 10 handlebars are sold in natural carbon with an MSRP of $220 USD.
Syntace
Syntace's Vector Carbon High 10 handlebar in the 12-degree sweep-back angle takes a little getting used to, but once you get the bar rotation right, it is quite comfortable.
Pinkbike's take:
| | |
| --- | --- |
| | Some may complain that the Vector Carbon's 740-millimeter width is far too narrow for their manly needs, but those who can live with a mid-width bar will be pleased to discover that Syntace has found a sweet balance between low-vibration comfort and big-hit rigidity. Most commercially available handlebars use a sweep-back between five and eight degrees and we'd expect that many Syntace customers will be ordering the eight-degree option of the Vector Carbon High 10 bar. Paired with a 60-millimeter Syntace stem, the 12-degree bar feels a bit weird at first, but after experimenting with different angles, we found that a bit more upward angle produced a good feel for technical riding without giving up climbing comfort. The test bar in the pics is the second Vector Carbon High 10 bar we've ridden. The first was baptized by boulders on the first weekend and it's still looking good. The up-side of a more swept-back bar is that it releases tension on the wrists and arms while descending. The possible downside is that the grips are farther back in relation to the stem, so a 60-degree stem feels more like a 40 on the bike. Bottom line is that Syntace's Vector Carbon High 10 handlebar is a good call for aggressive AM/trail riders searching for a lightweight carbon bar designed and manufactured by people who understand what aggressive riding actually means.- RC |
---
Syntace Megaforce 2 Stem
Big and boxy-looking, Syntace's Megaforce 2 stem began life as an experiment to see if it would be possible to make a lightweight stem that could flourish in the freeride environment. Forged from aluminum alloy, the Megaforce 2 stem is rectangular in profile to put the most metal along the Vertical axis without reducing its torsional strength. On the subject of torsion, the clamp is 31.8-millimeters, and its two slim clamping arches are widely spaced to counter stress at the most optimum points on the stem. Turn the stem to the side and notice that the handlebar is supported well beyond 180-degrees by the body of the stem, so the centerline of the bar is actually inside of the strongest part of the structure. The bar pops into place as the stem is tightened. A look down the hollow stem extension reveals that the steerer-clamping area is not drilled, so that the stem makes nearly 100-percent contact with the fork's steerer tube at the clamping area. Syntace makes the Megaforce 2 stem in an impossibly short, 30-millimeter extension and in ten millimeter increments from there to 80 millimeters. Presently, only the 28.6-millimeter (1 1/8 inch) steerer size is supported. Weights range from 107 grams to 145 grams (our 60mm stem weighed 126 grams), and the MSRP is $97 USD.
Syntace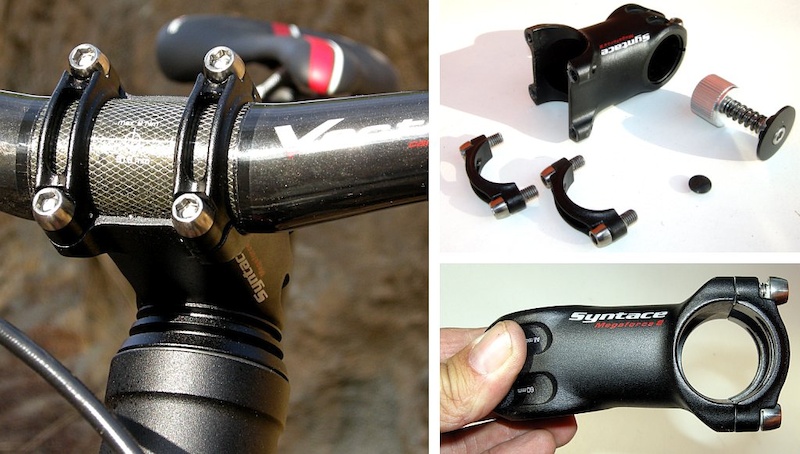 Syntace's Megaforce 2 stem employs a wide stance at the clamp area to maximize lateral rigidity without giving up an excessive weight penalty. A close look at the stem's profile (lower right) reveals that the handlebar's centerline is inset in order to direct more force into the body of the stem.
.
Pinkbike's take:
| | |
| --- | --- |
| | Syntace's products are on the expensive side, but for those who ride hard and are chasing grams, the Megaforce 2 stem represents a trustworthy purchase. The feel at the handlebar is rigid and precise and the fact that Syntace offers five extensions between 30 and 80 millimeters offers riders a lot of tuning options. Syntace was one of the first stem and handlebar makers to jump to the oversize 31.8-millimeter standard, and the Megaforce 2 offers those who are considering the big-handlebar upgrade a lab-tested and ride-proven lightweight alternative to the colorful CNC-machined aluminum bricks that proliferate the present marketplace.- RC |
---
Continental Mountain King 29er - 2.2-inch Tire
With Winter closing in, The spiky pattern of Continental's 2.2-inch Mountain King II tire promises 29er riders a grippy tread that can find traction in sloppy terrain without getting weighed down with mud and crud. The Mountain King wears a 2.2 inch badge, but it looks to be on the narrow side of the 2.2-inch scale. While the Mountain King may appear to be wimpy, its tall tread blocks are grouped nearer to the crown of the tire to take advantage of the 29er's longer contact patch. Continental blessed the Mountain King with its Pro Tection layer - an armor ply of densely woven cloth that wards of punctures and gashes, and the sidewall is checkered to add some abrasion resistance there. If you don't like tubes, the carcass and beads are designed to be run tubeless with the addition of sealant. The tread rubber is Conti's 'Black Chili' compound, which has proven to be quite durable while retaining excellent flexibility. Those who like the Mountain King tread pattern should know that 2.4 inch version is also made and both the 2.2 and 2.4-inch carcasses are offered in 29 and 26-inch wheel sizes. Surprisingly, our 2.2 -inch test tires weighed in almost 40 grams lighter than Continental's stated weight (740 grams, claimed). Expect to pay around $65 USD per tire.
Continental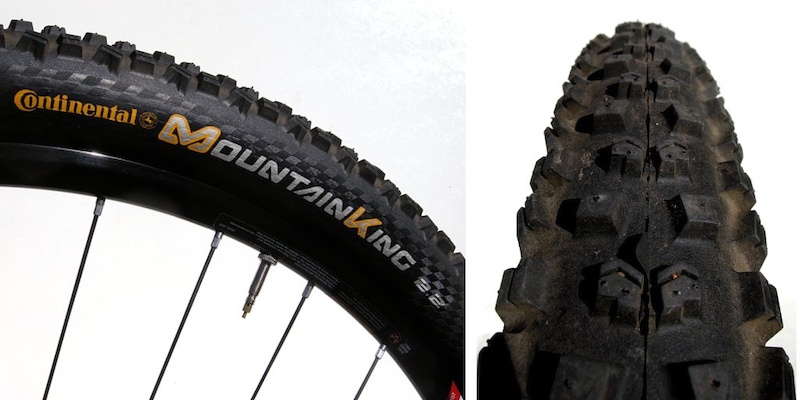 Conti's 29er Mountain King II is not intended specifically to be a mud tire, but it has all the right features to keep a big wheel bike moving in the slop. We mounted them tubeless with little effort.
Pinkbike's take:
| | |
| --- | --- |
| | Big wheel bikes already suffer from heavy rolling stock, so any weight one can remove from the tires pays huge dividends. Continental's Mountain King 2.2 inch tires are quite capable of scratching their way up technical climbs in both dry and wet conditions, and the reverse is true on the downs, where the Black Chili rubber and long-fingered tread pattern kept the bike under control when braking. Cornering on slick dry surfaces was good, but not as predictable as we experienced running larger-volume tires with similar-sized tread blocks, and hitting big rocks with small tires proved to be hard on the rims. Conti' bills the Mountain King as an all-'rounder, capable of thriving on hardpack, loose and loamy soil, and this proved to be the case. While its competitors may offer an advantage in a narrow range of conditions, the 'King could survive a Summer on Southern California hardpack as easily as it could manage a winter of slug-popping in the forests of the Northwest. Where the Trail King did best, though, was when we were rained out for a week. The 'King's grippy tread and relatively narrow profile tore through the soft sections, stuck in the corners, and rarely collected any mud. Given the fact that the Contis were on a big-wheel bike, loading the tires up with mud would have made those days unhappy slogs instead of celebrations of Autumn's first thunderstorm.- RC |
---
Choose any box that applies.
---