Zoic Highland Fleece Jersey
Zoic's more conventional-looking cold-weather long-sleeve jersey is made from super comfortable polyester micro-fleece. The Highland Fleece Jersey is constructed with a little stretch and is designed with a conforming fit so it can be used as an inner or mid layer for frigid conditions, or to be worn as a single garment to break the chill of a ride in more favorable weather. A printed tag ensures that the the half-zip collar will not abrade the neck and a single zip pocket in the rear of the jersey has rubberized tabs on either end for ease of operation with full-finger gloves. Music listeners will appreciate Zoic's addition of an i-Pod pocket on the left arm, with an internal wire port.
Sizes are available
in small, medium, large, X-large, XX-large and XXX-large, and in Orange, Blue, Black or Castle Gray colors with collar, stitching and sleeve accents. MSRP: $65 USD.
Zoic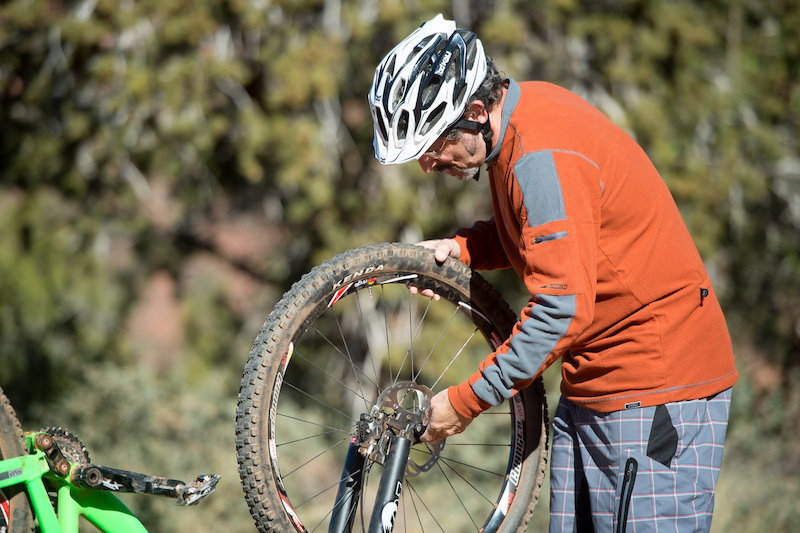 Zoic's Highland Fleece Jersey is breathable enough to be worn all day should the sun come out, and warm enough to keep a rider comfortable in the mid-40's. Pair it with a wind-proof vest or shell and it could become your favorite jersey this winter.
Pinkbike's take:
| | |
| --- | --- |
| | Zoic's Highland Fleece Jersey feels ultra comfortable against the body and when worn over another garment, like a performance T-shirt, it doesn't bind or pull during any type of riding conditions. The fit and look are stylish enough to be used as a pullover warmer for a trail run, or a trip to town. The material seems to wick away moisture quickly and it doesn't broadcast body odors like some synthetic materials do. The Highland jersey performs best on the bike in temps ranging from 38 to 45 degrees as an inner layer and solo from 45 to 60 degrees Fahrenheit. If there is a downside to the pajama-like comfort of fleece, it is that the fluffy micro-fibers can snag brush and are a magnet for thistles and barbed seeds. That said; when cold snaps hit, it sits at the top of the jersey pile - the first choice for the next ride. We highly recommend it.- RC |
---
Camelbak Lobo Hydration Pack
Camelbak's military contracts dwarf its presence in cycling, but the first name in hydration packs has not let numbers sway its commitment to the sport from which it was born. Camelbak's 2013 rendition of the popular Lobo may be the perfect compromise for mountain bike riders who want the most hydration possible in a compact pack which has been reduced to its most useful functions. The Lobo's list of features begins with the new 100-ounce (three-liter) 'Antidote' hydration bladder, with its quick-release hose and 1/4-turn oversize filler cap. A zipper behind the pack's upper pocket reveals the fill cap, and the bladder may be refilled without removing it. Ports on both corners of the pack allow the drink-hose to be routed left or right, and a handy plastic clip keeps the hose stowed. Both of the Lobo's cargo pockets have mesh and fabric organizers to keep important items at the ready and the upper pocket is i-Pod friendly. There is a pump holder in the right-hand side of the pack and a compressible pouch tucked behind the lower pocket to stow a wind-shell or elbow pads. An upgrade from earlier version is the Lobo's breathable 'Air Director' back that promotes ventilation. For those who climb without a helmet, or who like to stash a helmet to the pack during transport, Camelbak designed a pair of plastic hooks that securely capture the helmet by its straps. This means it can secure both full-face or half-shell type helmets with equal ease. Lobo hydration packs come in orange, black or blue and cost $85 USD.
Camelbak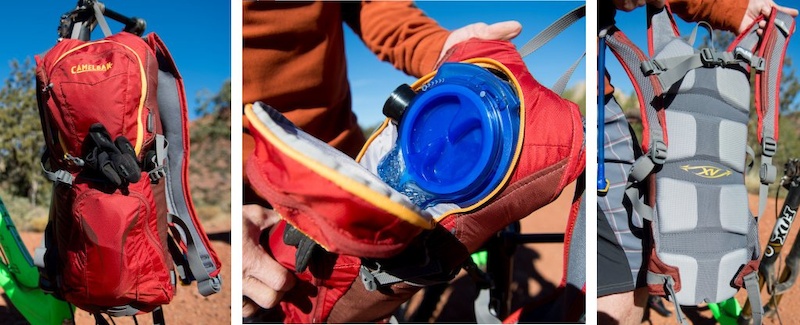 Camelbak upgraded technical aspects of the Lobo hydration pack without stealing from its standout features - its compact size, useful pocket layout and generous water storage. A look at the quick-fill Antidote bladder system (center) and the well-ventilated back.
Pinkbike's take:
| | |
| --- | --- |
| | We had an opportunity to test a variety of Camelbak's hydration packs this winter and it was no surprise that the the Lobo became one of the most favored when we turned up the volume. Its compact size and secure fit made the pack virtually imperceptible on our backs and did not hamper bike handling. The pack's external pump loop secures average-sized mini-pumps quite well and there is room enough in the pockets for all the necessary basics: tools, a shock pump, two spare tubes, Co2 implements, car keys, a wallet and a mobile phone - but not much more. A soft pair of elbows will fit in the overflow pocket, but that would be a tight fit. Construction is top notch and all the zippers and do-dads can be manipulated with gloved hands. Another plus is that the chest strap can be raised or lowered on a sliding track, which should afford a reasonable fit for both men or women. Consider the Lobo as a summer pack or plan wisely for winter rides, because insulated gloves, zip-off leggings and other cold-weather standards will quickly overwhelm its limited storage space. Technically speaking, the Lobo's only bothersome negative was that the stow-clip for the hose, located on the chest strap, will pinch off the flow of water if you attempt to drink without unhooking it. We liked it before - and we like the Lobo even more now. - RC |
---
Kali Avana Enduro Helmet
Kali Protectives enters the Enduro market with a lightweight, carbon fiber reinforced half-shell helmet named the Avana. The Avana is more ventilated than many of its competitors, so to maintain a high degree of crash protection in the frontal area where intrusion of the vents is greatest, Kali in-molds a carbon fiber shell. The rear section of the Avana, where the vent exits are smaller and more closely spaced, is molded from poly carbonate material. To offer the maximum protection, the rear of the Avana drops much lower than a typical XC helmet, and the in-molded shell has
two layers EPS foam
, each with a different density to dissipate energy. A third layer of energy spreading technlogy is the application of visco-elastic material between the EPS shell and the helmet padding. Retention is handled by a dual-sided adjustment band at the rear of the lid, in addition to replaceable/washable inserts, Kali insiders say that the Avana required considerably more development time than previous half-shell helmets to bring to market because the intensity of Enduro racing can approach that of downhill competition. Kali's Avana helmet passes EN 1078 and SPSC standards and is available in
three shell sizes
to fit X-small/small, small/medium, and medium/large. Colors are black, red or white with subtle contrasting graphics. Claimed weight is 300 grams and the Avana's MSRP is $139 USD.
Kali Protectives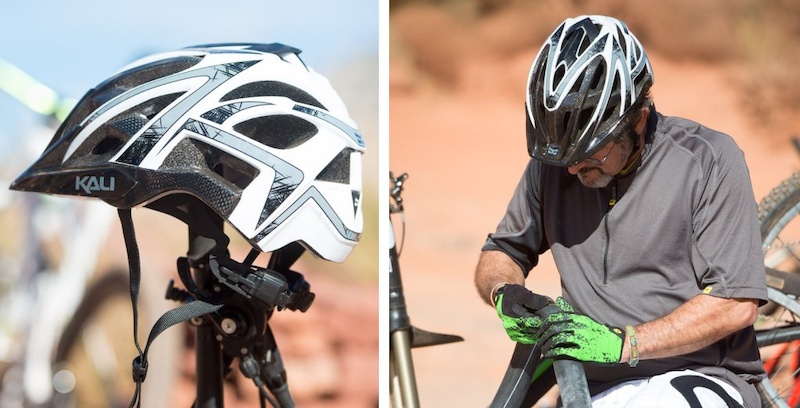 Kali threw every technology it had into its first dedicated Enduro helmet. The Avana's maximum-coverage shell is reinforced by a carbon fiber forward deck and protected by an in-molded, dual-density foam liner.
.
Pinkbike's take:
| | |
| --- | --- |
| | Kali replicated the light and airy feel of its XC/trail helmets with the Avana, so there is no loss of comfort to pay for the extra coverage in the rear and at the forehead. The adjustable head band has a latch for each side, so it takes two hands, more time and some fiddling to achieve a perfect fit when compared to more common, one-handed-dial systems. You must get the fit correct too, because the Avana's non-adjustable visor sits low on the brow of the helmet and that can be bothersome should it rock forward during a techy part of a descent, which it did more than once. Once you get the fit right however, the Avana Enduro helmet is a lightweight, super-ventilated, very convincing alternative to the heavier hard-shell lids made popular by POC and Urge.- RC |
---
Click the boxes that apply.
---