Syncros FR Flat Pedal
Syncros has been stepping it up on the gravity side of its range, and the FR Flat pedal is a good example. The slightly concave body is exactly like Syncros' Crux model - 15 millimeters at its thinnest point and 18 millimeters at the extreme edges. Heavy CNC machine work gives the extruded aluminum pedal a lightweight, open face with which to shed mud and 12 wicked spikes on each side promise to keep your foot securely in place. The removable spikes have Syncros' trademark 'fish-mouth' flutes instead of the single-point spikes found on virtually every other flat pedal worth riding - which gives two aggressive gripping points to each spike and promises that the points will last longer than slender spikes do. Syncros advertises four bearings in each pedal, which caught our attention. So, we disassembled one to see for ourselves. The main loads are carried inboard by a DU bushing that is close to 20-millimeters long. A caged needle bearing supports the pedal at the center and a pair of tiny ball bearings support the loads on the outboard end of the pedal axle. Dust and water are fended off by a small rubber lip seal at the inboard side of the shaft. Colors are anthracite or black and we weighed the Syncros FR Flat pedals at 440 grams a pair - close enough to call it a pound. MSRP is $129.99 USD.
Syncros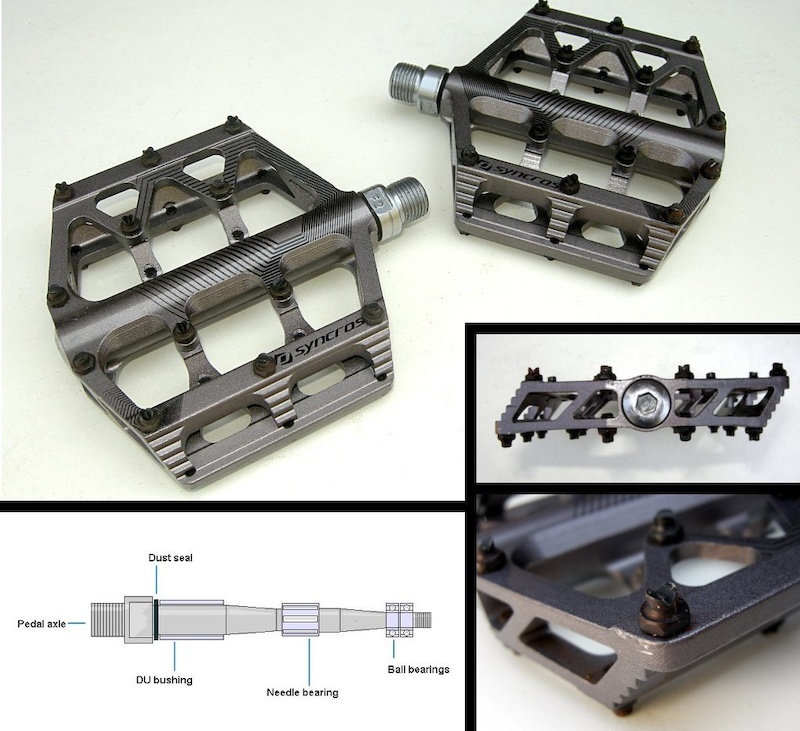 Syncros FR pedals are almost light enough for trail riding and proved to be strong enough to bash granite rocks daily without permanent damage. The fluted pins and concave body grip so well that proper foot placement is always a consideration. The pedal-axle graphic shows how Syncros arranged the four bearings inside the pedal body.
Pinkbike's Take:
| | |
| --- | --- |
| | Riders in search of maximum grip will find Syncros' FR pedals at the top of their lists. The fluted points and concave body will glue your feet into position with minimal downward pressure on the pedal. The upside is that the bike can be manipulated laterally with ease - the possible downside comes when you misplace your foot position and the pedal will not allow you to shift your shoe unless you completely remove it from the pedal body. Most riders, however, preferred the security of the grip over the slight nuisance factor. The pins are removable with a six-millimeter hex wrench, but we never needed to, as the pins are Herculean compared to wimpy single-point spikes. Wear shin protection. Syncros did not intend the FR pedals to be flesh friendly. Even a slight tap will draw blood from exposed legs. After getting bit a few times, we left the Syncros FR pedals at home when we didn't plan to pad up. Freestyle riders might like the drag afforded by the long DU bushing, which makes for a natural pedal brake. By using a heavier grease, additional resistance can be added as needed. On the flip side, the FR spindle never spins freely, so trail riders will either need to replace the stock grease with a much lighter viscosity type, or live with the slight drag of its hybrid bushing/bearing system. Bottom line for the Syncros FR pedal is two thumbs up on the performance, and one thumb up on the MSRP. - RC |
---
American Classic All Mountain Tubeless 650B Wheelset
We tested American Classic's All Mountain wheelset in the 26-inch version last year and reported excellent results for such a light weight set of hoops. The 650B version is assembled with exactly the same components, with the 28-millimeter
(OD)
medium-depth rim, rolled for the mid-sized tires. Axles are available in QR15 or 20-millimeter through-axle for the front and in either 12-millimeter through axle or quick release in the rear. American Classic's rim profile is designed to facilitate tubeless tires and conversions and it comes with AC's own rim- tape-system installed and a pair of tubeless valve stems in the kit. American Classic prefers the durability of a more traditional build, so you'll find 32 14/15-gauge, butted stainless steel spokes, screwed to aluminum nipples and laced three-cross on each wheel. American-Classic-designed, medium-flange hubs keep the wheel laterally rigid by maximizing the spoke angles. Inside the rear hub is a patented, cam-actuated, six-pawl ratchet system that double-engages the freehub 12 places with each click, the engagement is 15 degrees. The aluminum freehub body is protected by another AC patent - a trio of steel inserts that prevent the cassette sprockets from galling into the softer aluminum spline body. Freehubs are now available for SRAM eleven-speed XD cassettes as well as SRAM and Shimano nine and ten-speed types. American Classic offers a limited
one-year warranty
on its wheels. We weighed the wheels at 1640 grams for the set - 740 grams for the front and 880 grams for the rear. MSRP is $850
American Classic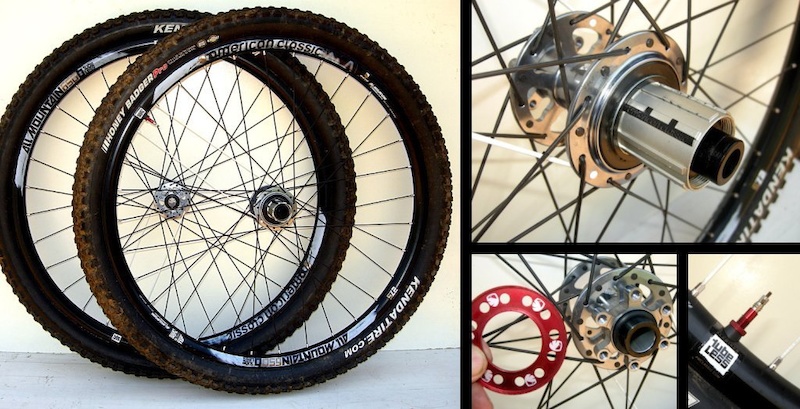 Mid-sized wheel users can add American Classic's AM Tubeless wheels to your wish list. The no-nonsense build is easily serviced and is among the lightest in its class. AC's aluminum freehub body (top right), is reinforced by three steel inserts to eliminate cog damage. Two reinforcement plates are included with the wheels to be used with brake rotors that are not connected by a continuous ring at the bolt interface. Use them. AC's tubeless valve stems have removable cores so that sealant can be added without unseating the tire.
Pinkbike's Take:
| | |
| --- | --- |
| | Members of the all-mountain/trail-riding community who want the lightest possible equipment that can still make the grade will like American Classic's take on wheels. The rims are wide enough to give a 2.35 inch tire plenty of lateral stiffness and greatly assist to prevent tubeless tire roll-over. With a surprising 1640-gram-per pair AC's wheelset comes close to some heady carbon hoops and, while you will ding them if you smash through rock gardens with conviction and regularity, the fact that you can buy a new wheelset for less than the price of a carbon rim should make the worst-case scenario digestible. Our wheels have put in a lot of miles over boulder-strewn trails and are still running at or better than one millimeter in true and with no significant dings. American Classic pre-fits its tubeless-designated wheelsets with its own sealing tape, and equips the customer with a pair of tubeless valve stems. We used a variety of tires from Hutchinson, Maxxis and Kenda, and all of them mounted up tubeless with a standard floor pump - in most cases, without removing the valve core to gain more air flow from each stroke. American Classic's aluminum valve stems are prone to break when manhandled with a hand-held pump, but we haven't snapped on in two wheelset tests, so perhaps AC has beefed them up a bit. We were warned in the instructions that came with the wheels, that some touch up should be done to true and tension the wheels after about 100 miles, but we are well beyond that mark without a the need to touch them with a spoke wrench. We recommend American Classic's AM wheels to anyone who wants a lot of performance from a lightweight and relatively affordable pro-level wheelset. - RC |
---
Globalbike Wipes
Most outdoor enthusiasts are familiar with or are frequent users of disposable body wipes. Globalbike is a brand of Athletix Products, that produces a range of wipes that are as environmentally friendly as a disposable item can be. The substances used are non toxic and biodegradable. In this feature, we review two Globalbike products: Chain Wipes, which are heavily saturated with a soy-based oil that cleans the chain and its surrounding components, and also helps to re-lubricate the chain. The second product is the Hand and Tool Wipe, which is a handy towel, saturated with glycerin, aloe vera, jojoba, vitamin E and wheat germ extract, that is used to remove greasy deposits after working on the bike. Hand and Tool Wipes come in a 72-wipe container and each towel is 12 by nine inches
(31 x 23 cm)
, with an MSRP of $18.49. Chain Wipes are packages with 30 nine-by-six-inch towelettes per canister for an MSRP of $13.99. The namesake of the wipes, GlobalBike.org is a non-profit organization that uses bicycles as a transformative medium to enhance the lives of communities in need. Athletix Products is a sponsor of
Globalbike.
Get Globalbike Wipes on line

Globalbike Chain Wipes (left) can cut through the big stuff, but have a hard time finishing the job. Hand and Tool Wipes do a very good job of cleaning up hands and grimy tools.
Pinkbike's Take:
| | |
| --- | --- |
| | Those who put a premium on convenience may find Globalbike products handy to use around the bike. We found the hand and tool cleaner wipes to be the best performers, with the chemicals lasting long enough to get five or six tools cleaned up, or one pair of very greasy hands and a few tools. The wipes clean most, but not all the dark stuff off of rubberized handles, which is their downside. When we buy a product for a specific task, we expect it to excel, not do a 'darn good job.' The up-side, however, is that canister is always at the ready in or near the tool box, so when the phone rings, nature calls, or a visitor drops in, you can get your hands clean in an instant. Chain Wipes were a less satisfying experience. The towels are very well saturated with the soy-based oil and this gives the towel penetrating action for greasy clean-up jobs like the crankset, the deralleur's jockey pulleys and of course, the chain. Chain Wipes get the first stages of the grease and grime off quickly, but then the towel is dripping with ugly grimy soy oil, which cannot be used to clean the components any further. The solution is a clean towel, which begs the question: Why should I need a second towel when I already bought this one? The cost of each Globalbike product is equivalent to a roll of blue lint-free towels and a spray-bottle of citrus based cleaner, so it's a tough sell. We could recommend the Hand and Tool wipes, specifically if you work with the public while you wrench and need a quick way to clean your hands before you proceed. - RC |
---
---