Chris Sugai: President/Co-Founder of Niner Bikes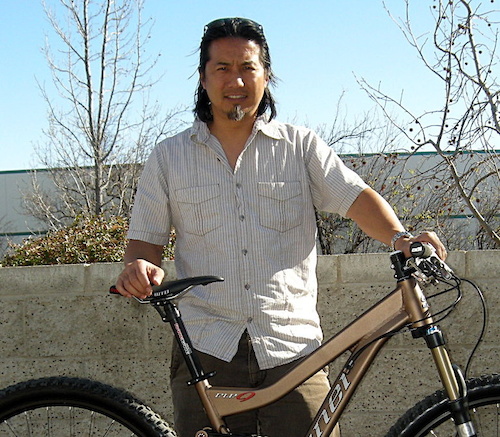 | | |
| --- | --- |
| | History has shown that speaking a non-truth will not hold up. Not just about bikes, but about everything. It may take a week, it may take years, but the truth will always come out. Larger wheels roll better over bumps - it's a fact. You can find it in textbooks." |



What are the advantages of a 29er over 26-inch wheels for DH and AM?


"Twenty nine-inch wheels are better for downhill for the same reasons that big wheels are better for cross country. The longer tire contact path creates more traction and better cornering. The larger wheel's roll-over performance is better in rough terrain. In an apples-to-apples comparison, the 29-inch wheel has less rolling resistance than a 26 inch wheel. It's a fact"



What design challenges does the 29er face in order to overthrow the 26er?


"Most people say that a comparable 26-inch wheel is stronger than a 29er, and I'd have to agree in theory that this is a valid point. In real life, though, top wheel builders like Gravy [Steve "Gravy" Gravenites] and well-known wheel companies like Mavic all say that the return rates of 26 and 29-inch wheels are the same, so wheel-strength is not an issue. When we have product meetings, we discuss materials, rim-widths and axle spacing. Wheel-strength is never a topic.

"Limited rear-wheel travel is often brought up as a barrier to long-travel 29er design. For bike designs that use a single-pivot swingarm, the only way to extend suspension travel beyond a certain point is to lengthen the swingarm, and that can create challenges for handling. Niner uses CVA [dual-link] suspension with a vertical wheelpath, so the only limit to how much rear-wheel travel we can use is the bottom bracket hitting the ground.

"Of course, you can build a shorter chainstay with a 26-inch wheel. Most of the design conflicts are due to a spacing issue that puts the front derailleur close to the 29er's tire. The fact that downhill and all-mountain designs use single or double-chainring cranksets, so Niner can match the present 26-inch chainstay standards."



Will the 29er eventually become the standard wheels size for DH and AM?


"Yes, definitely. History has shown that speaking a non-truth will not hold up. Not just about bikes, but about everything. It may take a week, it may take years, but the truth will always come out. Larger wheels roll better over bumps – it's a fact. You can find it in textbooks. We have all-mountain and downhillers riding our 29ers and on every course, in every case, the times are lower and the riders are faster on 29-inch wheels.

"For us, convincing riders that the 29er is better is an exercise we have gone through three or four times. First, it was that 29ers were only good for single-speeds, then only hardtails. Editors claimed that they were only good for riders five-foot, nine-inches or taller, and now it's: '29ers are only good for cross country.' In almost every case, the detractors had never ridden a 29er, or hardly rode one. We know how to make a bike with long-travel. All it takes is for people to ride it, experience what the bike can do and then they will see for themselves."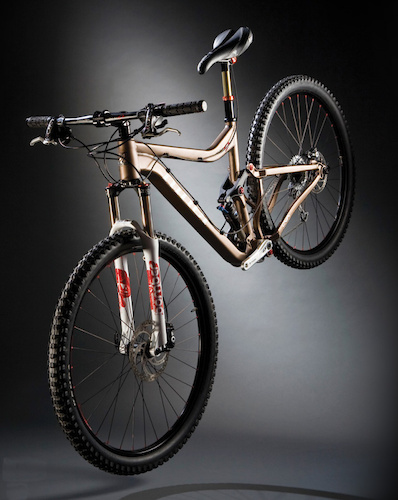 Niner's latest long-travel 29er, the
W.F.O 9
, is configured with a 150-millimeter rear axle and a DH shock to handle everything from all-mountain, to all-out park riding.
Owen Pemberton: Engineer/Designer at Norco Bikes
| | |
| --- | --- |
| | ...one major advantage, as far as ride characteristics are concerned, for the continued use of 26-inch wheels - maneuverability. Even the most agile 29-inch-wheel bikes will not match the maneuverability of a 26-inch-wheel bike." |



What are the advantages of a 26-inch wheel over a larger 29 inch size for DH and AM?


"Firstly, I don't feel you can group downhill and all-mountain together, as they are very different disciplines. However, they do share some common traits where I feel a 26-inch wheel makes a lot of sense, so I'll try to focus on those.

"For all of the advantages that 29-inch wheels bring to the table, there is one major advantage, as far as ride characteristics are concerned, for the continued use of 26-inch wheels - maneuverability. Even the most agile 29-inch-wheel bikes will not match the maneuverability of a 26-inch-wheel bike. A pretty bold statement, but let me explain. The optimal front-centre/rear-centre balance has been developed over years for 26-inch-wheel bikes to give the ideal ride handling. With the larger, 29-inch wheels, it is extremely difficult to get the rear centre (chainstay) length as short as we desire to give modern ride handling characteristics. 29-inch-wheel bikes are now approaching these rear centre lengths, but they are not quite getting there. Even when they get close, this often results in other compromises that affect the ride of the bike negatively (very slack actual seat angles, for example). If you also factor in the larger rotational mass of 29-inch wheels, which can give the bike what is often described as a 'sluggish' feel in tight turns, it is easy to see why 26-inch wheels have the edge in terms of maneuverability.

"For aggressive modern riding, the agility of a bike is extremely important. If we look at the terrain riders are tackling on modern World Cup downhill courses, it is often so severe that the rider cannot rely on the bike's suspension and just plow any more. Look at the fastest guys (and girls) on the planet and they seem to hop and skip their way down the hill, pumping and working the bike, taking to the air when the terrain gets too rough. Obviously we're not all world cup downhillers, but I'll wager most of us got into this sport because it's fun (I know I did). An agile/maneuverable bike is a fun bike!"



What are the technical advantages of the 26-inch format over the 29er?


"Here at Norco, we have had great success with our Shinobi 29er and we are really excited about the launch of the new 2012 Revolver 29er. One of the things we have discovered while exploring the boundaries of 29er full-suspension design is an inherent problem with wheel path and chain growth as we push for more travel. Simply put; if you design a 29-inch-wheel bike to have the same axle path that a 26-inch-wheel bike would have for the desired bump absorption, it will result in significantly more chain growth. This is a result of the bottom bracket on a 29er sitting much farther below the axle line of the wheels. Chain growth is a good thing to a certain extent, as it gives anti-squat characteristics that help the bike pedal efficiently. Too much chain growth, however, will have a detrimental effect on suspension performance and the bikes pedaling ability. Axle path and chain growth are both extremely important components of the suspension system of a bike. The success of the system as a whole is a balancing act of all these components. For longer-travel applications, the 29-inch wheel introduces too many compromises to the system."



What are the chances that 29er designers can match or exceed the potential of the 26-inch format?


"For downhill/freeride applications (180 millimeters - plus), the short answer is slim to none. The topics discussed above are just some of the more significant reasons why. There are other considerations, such as bike fit - big wheels and big travel mean increased stand-over height and handlebar height. Wheel-strength is also a big issue, but I do expect 29-inch-wheel technology will continue to improve. For trail and all-mountain applications (140 to 160 millimeters), it is less clear cut. 29ers can definitely bring some significant advantages to these disciplines, however, the agility of a 26-inch wheel is still what a lot of people want out of an all-mountain bike."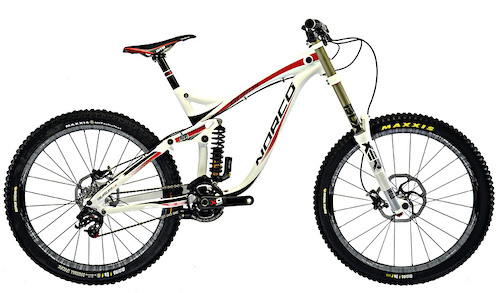 Owen Pemberton designed
Norco's flagship Aurum downhill racing bike
. The Aurum, is said by many, to have no peer in the Northwest's ultra-technical terrain.