Mike Levy Predicts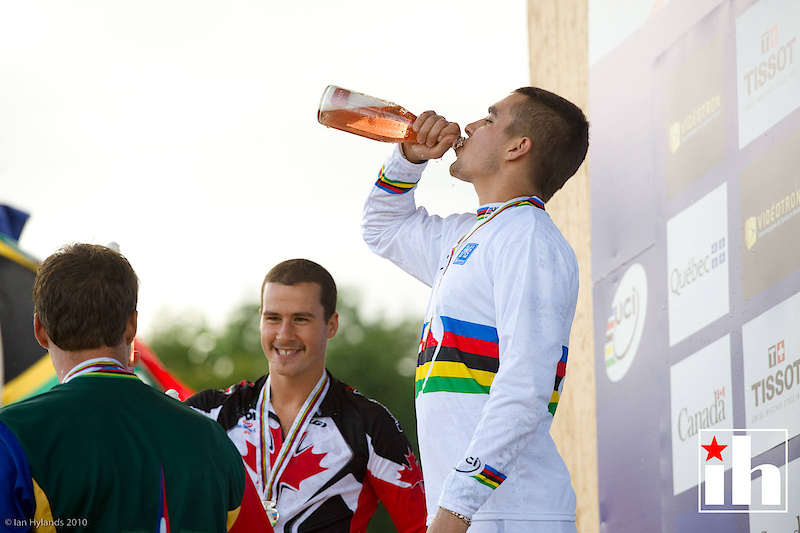 The Comeback: Sam Hill returns to the top
With a schedule of World Cup events held on some of the most challenging tracks, as well as a World Champs that was decided on the perilous slopes of Champéry, Switzerland, the 2011 season looked to be tailor made for Hill to reclaim the title of the fastest downhiller alive. Unfortunately for Sam, it didn't work out as he was no doubt hoping. There is no denying that Hill began the 2011 season not looking nearly as fit as the rest of the field, a fatal mistake when you consider the efforts that Gwin and company were making in the off season, but a shoulder injury was the final nail in the coffin of a year that really should have been his for the taking. It seems that half of the people I talk to feel that Sam's best days are behind him, and while I can't argue that the consistency of Gwin's race runs or the excitement of Danny Hart's World Champs win seems to have stolen some of Sam's fire, I'm still willing to bet that we'll see Hill on the top step of the World Cup podium once again. Yes, Gwin and the rest of the field have raised the game to a new level in Sam's absence, but an athlete returning to the top after an injury or off-year is the hallmark of a champion in any sport - many have already forgotten that Hill has done just that once before with his World Champs win in Canada, not to mention his 7th place at this year's Champs in Champéry after a season ending injury, a result that many people absurdly look at as a disappointment. Sam is often compared to Supercross' James Stewart, a rider who can often be too fast for his own good, but he also shares Stewart's drive to win - you don't put it on the line like Sam has in the past without a massive amount of pure desire. It's that fire that will have us fans see him start the 2012 season trim, fit and ready to shut down the doubters as only he can, hopefully wearing the loudest Troy Lee Designs gear that we've ever seen.
- Mike Levy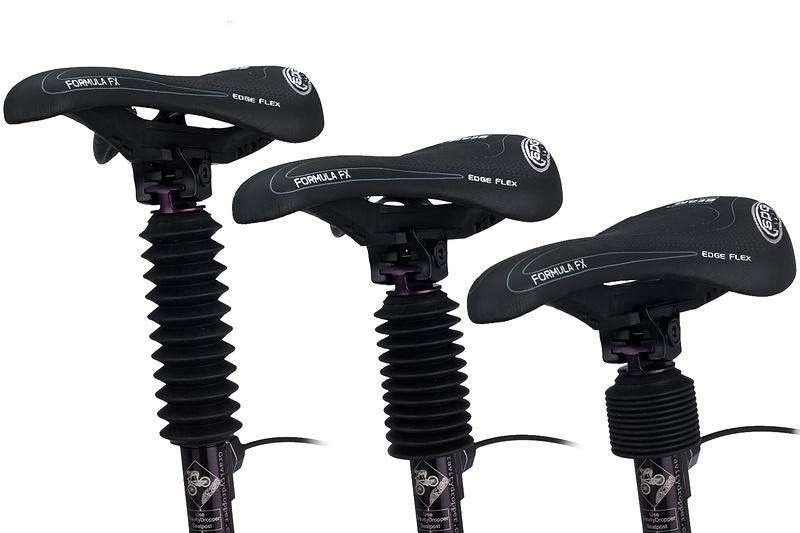 More Flow: Dropper posts drop on their own
No, I'm not talking about the already common issue of a failed dropper post that has a mind of its own. There are few locations around the world where a telescoping seat post won't benefit your trail ride, mainly routes that get all of the climbing out of the way right off the bat, but the large majority of riders will benefit from adding a dropper post to their bike. While the category still needs to improve on the reliability front, I believe that we'll soon see a telescoping post from at least one manufacturer that lowers at the press of a button
without requiring you to use your body weight
. This would eliminate that awkward moment when you are forced to sit for a split second before rolling into the gnar. I'm not going to pretend to have an idea of how the system would work (
maybe some sort of negative air pressure would be involved?
), but the technology is there to make it happen and raise the flow levels even higher. Is it a needed development? Nope. Would it be useful? Hell yes. You heard it here first, unless it doesn't happen, of course, in which case you can forget that I ever said it.
- Mike Levy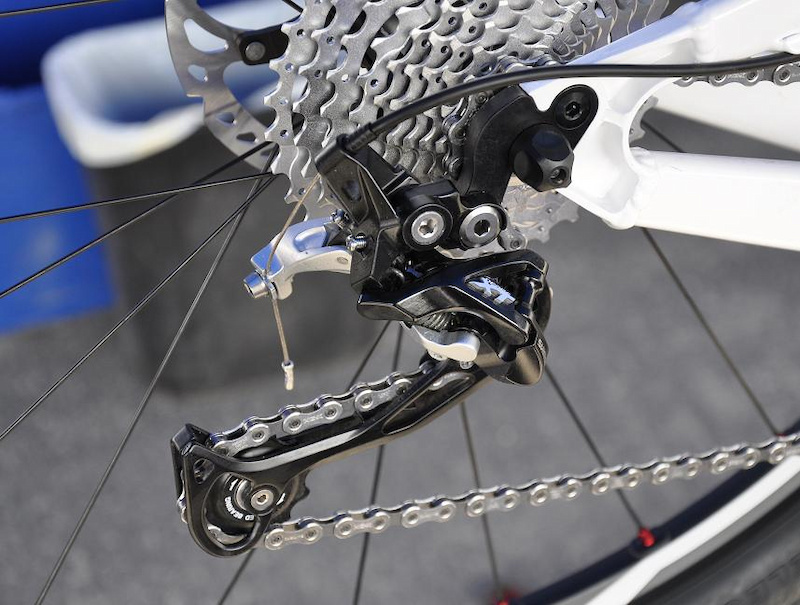 Hard to Beat: Derailleurs continue to rule
I'm likely not going too far out on a limb when I say that, from what I've seen so far concerning gearbox technology, derailleurs will continue to rule the drivetrain world. Sure, a story on a new gearbox bike seems to light up the forums and comment boards, but I've yet to see these bikes actually make any headway into proper day to day use by more than a few select riders. Some will point out that Honda's 'derailleur in a can' design reaped some success, or that a gearbox system should require less maintenance and shrug off abuse, but there are facts that will always hold the gearbox back from being accepted by the general public. First and foremost, as much as many complain about the current systems, derailleurs are pretty damn dialled these days. Even Shimano and SRAM's entry level kit is impressive, with the 9 speed Deore and 10 speed X5 groups offering more performance and reliability than you'd expect from parts that retail for such reasonable prices. There is also the issue of weight, which will likely always tip in the favour of traditional systems. While many riders, especially the downhillers out there, often claim that they would be happy to trade the added weight for a gearbox's theoretical advantages, the fact of the matter is that we're a fickle bunch when it comes to counting grams and even the lightest gearbox systems are currently quite a bit heavier than a derailleur setup. There are then the issues of the friction associated with most designs, or having frame manufacturers come to an agreement on how to attach them to the frame. But the most damning fact is that neither Shimano or SRAM seem to be behind the idea, despite both producing internally geared hubs for quite some time. The jaded and suspicious of you are likely to ask why they would bother, given their investment in standard derailleurs, but I'd counter that by saying that either company would love to get the jump on the other by releasing a lightweight and reasonably priced gearbox design. Will it ever happen? I'd love to say that I'm looking forward to having a go on a competitive gearbox bike, but I highly doubt that it will happen anytime soon.
- Mike Levy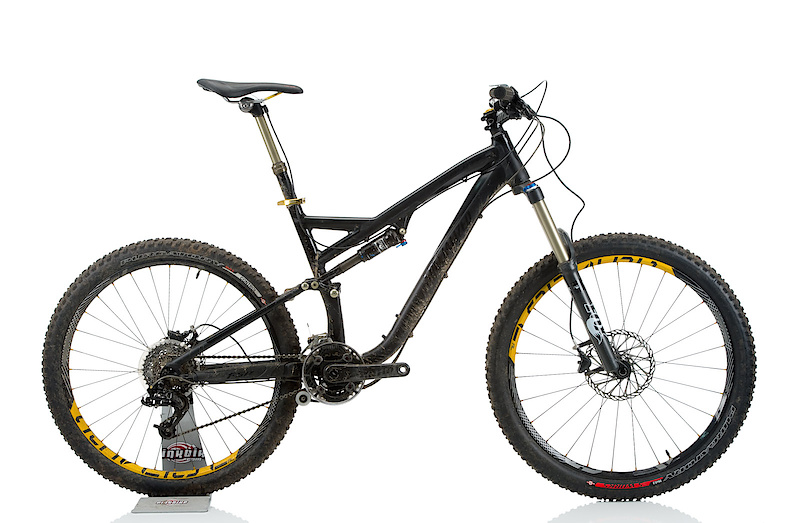 Less is More: More riders will use bikes with less travel
While I can't argue that a downhill bike lets you get away with mistakes and line choices that would spank you hard on a shorter travel bike, there is something to be said for mastering that same terrain on smaller rig. More and more riders who would have previously spent most or all of their saddle time on a downhill bike are discovering how much fun they can have on a shorter travel bike, but why? Part of if is a fundamental change in how many riders look at their riding. A trail bike, or whatever you want to call it, means that you get more saddle time instead of sitting on a lift or in the back of a truck. Don't take me the wrong way, racing and riding big bikes with buddies will never get old, but there is no way that those long travel beasts can give you the same bang for your buck when talking about amount of time spent on singletrack. Manufacturers are also waking up to the idea, with more and more designing trail bikes that agressive riders can feel comfortable on. The idea of such a bike is far from new, but we all win when big players like Specialized put out bikes like their 145mm travel Stumpjumper FSR Expert EVO, a mid travel machine with geo that allows you to charge hard. Many brands, both big and small, are designing similar bikes that allow a skilled rider to work the terrain more, with many discovering that they are actually faster in a great deal of places on their shorter travel bike. But here's the clincher: these progressive bikes are showing riders that it isn't about outright speed, but rather outright shits and giggles. And when are you having the most fun? When your bike is sliding around, loose and spraying dirt behind you, a point that is much easier to reach on a mid travel trail bike than on a full fledged DH sled. Slack and low geometry combined with short stems, suspension technology that lets you have your cake and eat it as well, and dropper posts that allow you to squeeze every last ounce of flow out of the trail are all factors that will ensure that these evolved trail bikes will continue to gain in popularity.
- Mike Levy
---
RC's Predictions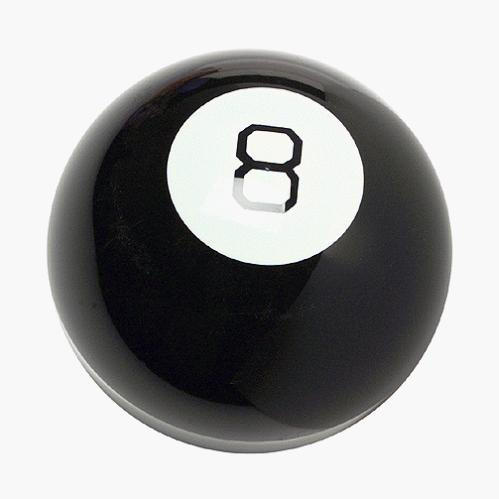 Before you read further, I must tell you a story that relates to every successful prediction that I have made for my brief 96 years in the bicycle industry. Once I was struggling to cross a wide sand wash on my Mantis Pro Floater. This was a hellish place where only I rode. Beyond a two half-buried washing machines, a doll head and four non-matching truck tires from the '30s, there was no visible evidence of humans for a half mile in any direction. You may understand then, why I was curious to see a Magic 8-Ball laying on a smooth sand bar next to an impact crater the size of a cantaloupe. The black sphere was a fresh addition to the wash, it glinted in the afternoon sun and the marks it made in the sand were distinct. I could clearly see that the orb impacted near vertically. The flares surrounding the crater radiated evenly in all directions and there was evidence that the 8-Ball bounced only once before settling window down, approximately seventeen inches from initial impact.

Given its remote location, Nolan Ryan could not have thrown the black missile high nor far enough to duplicate such a decidedly vertical impact. I ascertained that the magic 8-Ball must have been dropped from the sky by a pilot or passenger who, after losing spouse, home and fortune to an unforced 8-Ball error, flew to a god-forsaken place and heaved it out the window. I picked it up the ball, shook it around and asked an unspoken question: 'Did some jerk throw this ball from an airplane in disgust?' The floating icosahedral within slowly loomed up from the dark blue alcohol. The message read: 'It is decidedly so.' Intrigued, I asked a more subtle question: 'Am I the greatest living editor in the bicycle industry?' I shook it good and hard. It seemed to take forever for the ball to reply: 'You may rely on it.' Well, that was all the evidence I needed. I stuffed the eight ball into my Camelbak and to this day, I have used it to predict the future of cycling.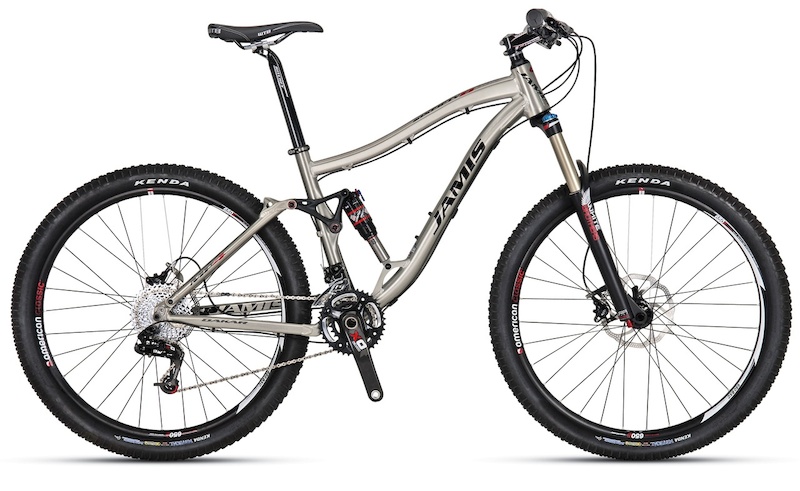 Will 650b Bikes Re-emerge in 2012? "Signs point to yes"
When 650b marched into the spotlight, 29ers were facing resistance from mainstream bike-makers and a mid-sized wheel format seemed to be a reasonable compromise that offered the benefits of the 29er's larger wheels while retaining the familiar handling qualities and component spec of a comparable 26er. The Momma-Bear wheel solution captured the imagination of riders, the press, and a number of tire and wheel makers, but the cycling industry was already having a tough time translating the benefits of 29ers. Explaining the benefits of 650b was more difficult because the mid-sized format appeared similar to its smaller 26-inch brother. With its clearly different profile and widespread support, the winds of change filled the sails of the 29er and 650b disappeared from the lineups of all but a few of bike brands. The re-emergence of 650b is already gathering speed, however, and insiders report that suspension makers are gearing up to produce 650b forks on the order of the biggest names in the bike biz. This indicates that 650b bikes are slated for future production.
Why? It's no secret that Specialized and Trek are locked in a heated battle to own the 29er business worldwide. Both brands have sharp design teams who are struggling to adapt the 29er to the longer travel AM/trail market which is the fastest-growing segment. After 120 millimeters of rear-wheel travel, squeezing additional suspension from a 29er becomes a bit of designer's nightmare as standard components crowd each other for space. On top of that, reinforcing the frame to counter the additional forces generated by big wheels and more aggressive riders heaps on weight - an issue that 29ers already suffer from.
Those who have continued to develop 650b
know that the harder those designers try to cram 29er wheels into a 160 to 180 millimeter chassis, the better 650b will begin to look. Plus, riders who are feeling pressured to jump over to big wheels might choose a mid-sized format if it makes sense, simply because it isn't a 29er. The reasons for 650b may still be the same, but the circumstances are far more compelling.
- RC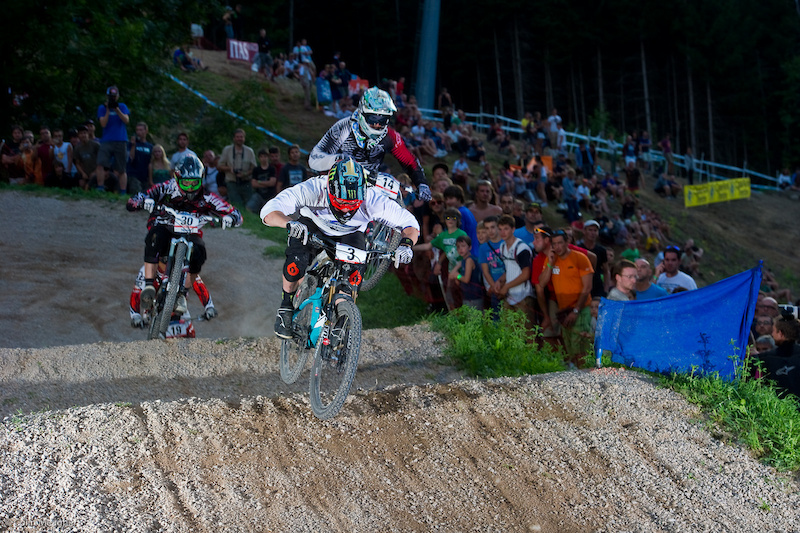 Will Four Cross Return to World Cup Racing?
"My sources say no"
They say that when you are acting stupid that you get three chances to live before nobody can save you from inevitable death. Four Cross promised side-by-side action that was sure to wow spectators and attract television coverage that had been lacking from um-who-was-that-rider downhill and my-god-this-is-taking-forever dual slalom formats. What we got was a bunch of groomed big-boy-BMX courses that, on paper, were wide enough for passing, but in reality, offered only one line. On a smooth, banked course, there is only one fast line and if you don't claim it at the start, your only option for the win is to push the leader off the track. Rubbing is racing, but purposeful moves that take out the field in nearly every heat is unsportsmanlike conduct (unless its roller derby). Protests were rare and officials failed to respond to stop the foolishness. After watching their homeland heroes get taken out by jerk moves time after time, spectators started to thin out and top names began to no-show simply because winning an event staged at night after the big show was not worth a broken leg and a hundred bucks. Strike three was that you could win almost any four cross race on a hardtail - which is fine for BMX lovers, but kind of silly in front of a crowd that rides 140 to 180 millimeter dual-suspension bikes. It was sad to see worthy courses finally appear throughout the 2011season with serious terrain and line change-ups that actually offered passing opportunities - and gave the advantage to dual-suspension bikes. By then, however, the exorbitant cost of crafting a race course that only got used once by an abbreviated field of riders soured promoters to the point that most secretly wished for
the decision to be handed down by the UCI.
Had four cross began where it ended, it probably would have grown to a successful stand-alone series. Three strikes, and now it's dead.
- RC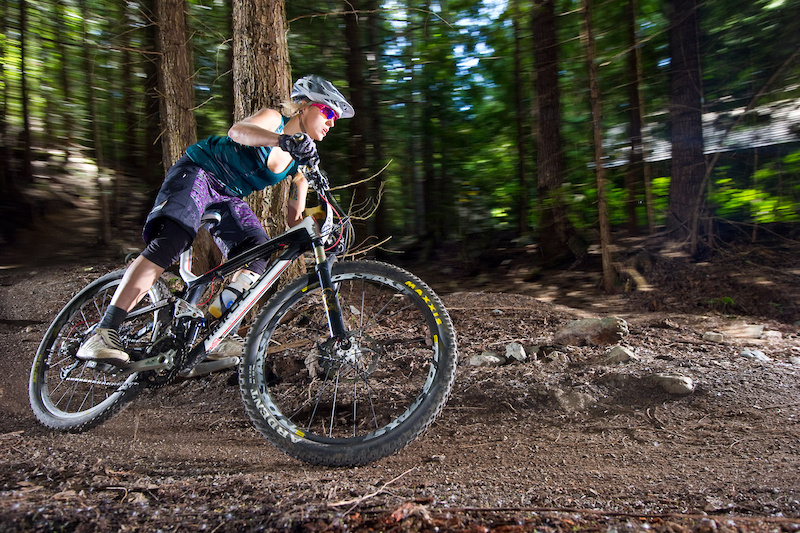 Will the Enduro Racing Format Gain Traction in North America? "Ask again later"
Already an established and popular series in Europe, Enduro racing is one of the few formats that allows us to race a normal mountain bike. Enduros have all of the pieces that AM/trail riders have been wishing for, like an emphasis on technical bike-handling skills and reducing the climbing component from dominating the odds of a podium finish. It's better than Super D because there a number of racers who compete side-by-side on course and Enduros offer multiple stages to highlight different skillsets. Where Enduro begins to falter is that North American racers tend to like uncomplicated events. Although the premise of an Enduro race is relatively striaghtforward - accumulated timed stages connected by un-timed uplifts and climbing sections - as long as an Enduro racer must translate his or her sport to convey its importance to friends, it will continue to be a slow growing event. Another block is that it is accepted practice in European events to cut the course to gain an advantage. Much of their pre-race ride-arounds are spent searching the courses for cheats. The excuse is that if there is no tape on either side of the course, then it is OK to ride wherever you can to gain an advantage. US racers abroad have followed Enduro stars down secret routes that have gained the leaders 15 seconds or more. Antics like that are rare in North American racing, even in 24 hour events, where there is virtually no supervision and racers enjoy the cover of darkness. Enduro racing has great potential in North America, but it needs to be repackaged to lure trail riders out of the woods and onto the race course.
- RC
Will the UCI Continue to Impose Dress Codes on Downhill Racing?
"As I see it, Yes"

The UCI is all about making rules and you can bet that, now that downhill racing is on the radar of the international governing body for cycle racing, that more rules are in order. The UCI knows a lot more about kits than courses. Reverse logic suggests that if Olympic teams run the same kit, and ProTour road racers ride the same kit, and Pro XC teams all wear the same kit, that Pro DH teams should follow suit. Downhill is one of the last mountain bike race venues where the individual looks like an individual. When rain pours down and contestants are muddy, it's still possible to differentiate racers by their kits. Plus, DH is a timed sport - one man or one woman laying it all on the line against nature and the clock.
Mick, Neethling and Minnaar
Ian Hylands photo
Why should a downhill racer conform to ANY dress code beyond appropriate safety gear? I would love to see an up-and-coming pinner smoke the pro field in double low-rise stretch jeans and a T-shirt. Of course, it's a pro sport, so sponsor logo placement and country flags are part of the deal, but what individual team members wear should be up to the team and the racer. With money tight, racers typically contract with gear and clothing sponsors outside of the team's and it is doubtful that additional dress codes will give this valuable income source a workaround. Brace yourself for some UCI meddling near the end of the 2012 season.
- RC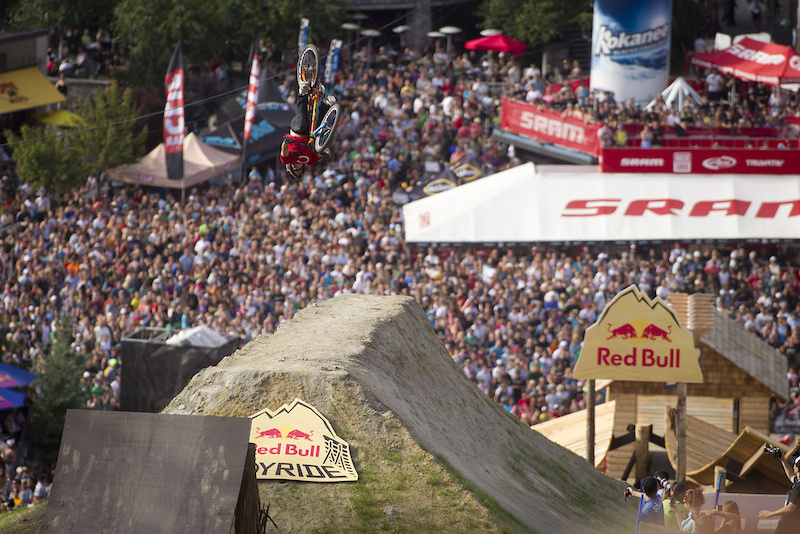 Will Slopestyle Events Hit a Plateau? "Very Doubtful"
Throughout 2011, it appeared that slopestyle events were won by the same tricks, just a lot bigger and a lot more of them. By the end of the year, however, the focus seemed to take a turn. We are seeing more tricks launched from natural features and at contests, the moves are becoming larger and more graceful. Instead of cramming as much as possible in two and a quarter seconds between lips, riders are creating a flow, sewing together huge arcing tricks with lighting-fast moves. There is a new aesthetic emerging that seems to be transforming the sport. One of the new-school guys is Anthony Messere, who at 15 years, placed a convincing third at the Kokanee Crankworx Red Bull Joyride. Watch this Aaron LaRoque video and notice how Messers seems to have a clear vision of how he'll execute his routine and at the same time, what it will look like from an observer's perspective. It's a beautiful style, and he's just getting warmed up.
- RC
Anthony Messere's Redbull Joyride Run
.
There are 20 answers inside the Magic 8-Ball:
---