I came across a beautifully decked out Zerode G2 at the Otter. Zerode took 300 grams off the original G1, reduced the G2's travel from 9.25 to 8.3 inches and relaxed its head angle to 63.4 degrees. A lot of chassis improvements have also been made. Most visible is the new rectangular down tube, but the rockers have been beefed up, the tire clearance has been improved and there is a better bash guard to protect the chainring. Zerode G2 frames are available in small, medium or large sizes, and in a number of anodized colors for $3500 USD. A number of graphics options allow customers to further customize their G2s.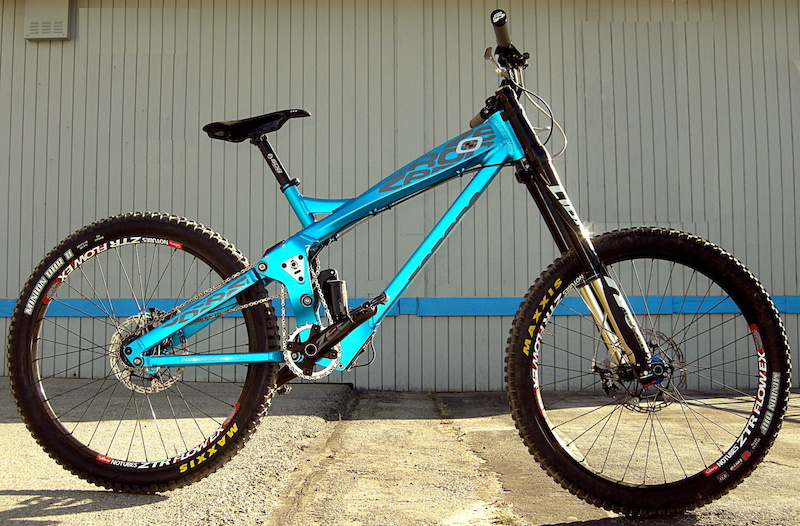 Zerode's G2 cuts a stunning profile. A number of anodized colors are available with contrasting graphics kits.
Zerode gearboxes are modified Shimano Alfine planetary hub transmissions. The crankset drives the hub transmission, which then in turn, drives a single sprocket at the rear wheel. The G2's high-pivot swingarm would normally create massive amounts of chain growth, but the frame's jack-shaft arrangement allows Zerode to use the placement of the gearbox hub to all but eliminate it. There is a chain tensioner near the rear sprocket that handles the small amount of slack created by the suspension. Another benefit of the gearbox is that the chain-line remains straight as an arrow - which takes stress off of the drivetrain and prevents mid-course derailments.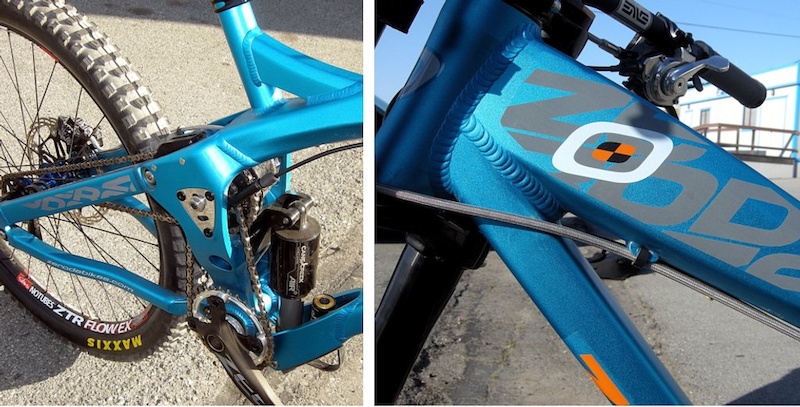 The location of the Shimano Alfine gearbox redirects chain tension where it won't interfere with the Zerode G2's suspension action. A look at the new rectangular down tube that tucks nicely beneath the hydro-formed top tube structure.
The big-bump and square-edge impact advantage of the G2's high-pivot swingarm design is almost impossible to duplicate with a conventional rear suspension. The wheel-path and strike-angle of a high-pivot swingarm requires an anti-chain-growth strategy - one that the G2 shares with a handful of DH designs that are based upon the
Balfa BB7.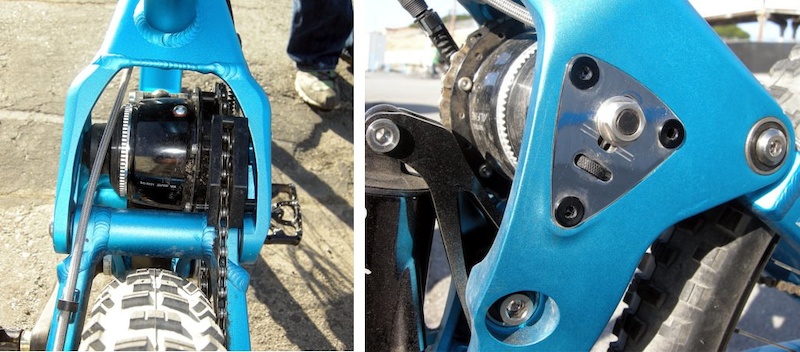 Two views of the G2's gearbox placement, showing the chain tension device for the primary drive.
Zerode offers two shifting systems: the stock Shimano Alfine system and a modified SRAM shifter. Both are included with a frame purchase so the customer can choose which works best. Zerode recommends the 2012/13 Fox DHX or Cane Creek Double Barrel shocks for the G2, saying that the G2's very linear suspension curve does not seem to work well with Fox's new 2014 DHX RC4 damper. All things considered, the Zerode looks to be a frontrunner for DH riders who don't want to wait for the first big-name bike brand to enter a 12-step program and end its addiction to the rear derailleur.
Visit Zerode USA to see more of the G2