Syncros
has expanded its range from wheelsets and cockpit accessories to include some impressive-looking tools. The FP1.0 floor pump is the best of three such items in the Syncros lineup and it is one of the better-made pumps we have come across in a long spell. The shaft is polished stainless steel, while the handle, cylinder and base are aluminum. The handle is a rounded, triangular shape that fits the hands well. A large, three-inch-diameter dial-gauge dominates the base, and it reads both in BAR and PSI. The gauge reads to 14 atmospheres (about 200 pounds per square inch). I did not take it up to the redline, but if you forget your shock pump, it is good to know that your Syncros FP1 could stand in for it. The dual-sided valve head threads onto either Presta or Schrader stems, and the head rotates inside its carrier so that the user can easily thread it onto the valve stem by spinning the free end of the pump head. The head seals similar to a shock pump, in such a way that allows the user to unthread it from the valve stem without losing air pressure. Syncros FP1.0 floor pumps come in anthracite silver and cost around $130 in better bike shops.
Syncros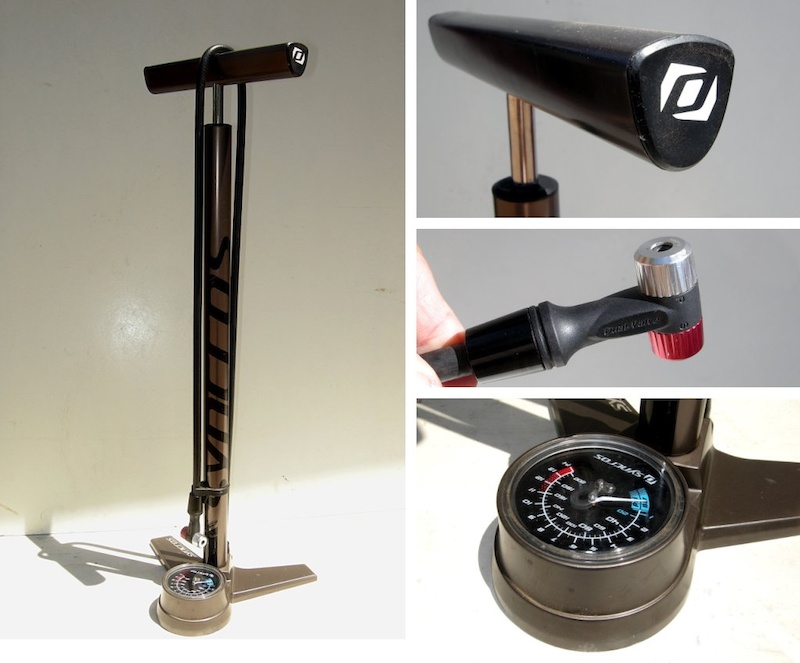 The Syncros FP1.0 pump is built tough, with all metal construction, a comfortable handle and a large, easy to read gauge. The base is cast aluminum, which also helps it to remain upright.
Syncros FP1.0 Floor Pump Features
• Purpose: Home and shop use
• 1.25-inch (31.8mm) cylinder moves a lot of air
• 50-inch (127cm) hose allows easy access while bike is in work-stand
• Thread-on, double valve-head fits Schrader and Presta stems
• High-pressure sealing head can double as suspension pump
• Large, easy-to read gauge indicates both BAR and PSI
• Shop-quality all-metal construction
• MSRP: $130 USD
Performance
I am not the suicidal type, nor would I normally entertain the slightest thought of taking another's life, but I experienced moments, using the Syncros FP1 pump, when both actions, however unspeakable, seemed reasonable and just. By all respects, the Syncros pump seems like a perfect tool. It is beautiful to look at, comfortable in the hands, intelligently designed, sturdily manufactured, and it incorporates the contemporary favorite, thread-on valve head. To its credit, I used it for nearly a month with great satisfaction on both Schrader and Presta-type valve stems.
During that brief honeymoon, I successfully inflated various tubeless and tube-type tires, filled a couple of shocks and forks, and fixed a flat on my Volvo station wagon. The generous diameter of its piston and cylinder moves a large enough volume of air to get a tubeless tire seated with little effort – or get a car-tire up and running with a reasonably short stint on the pump handle. Before the beauty of this tale swings toward darkness, I will go on record to say that if all the valve stems in your stable are Schrader types, I could recommend the Sycros FP1.0 as your go-to pump.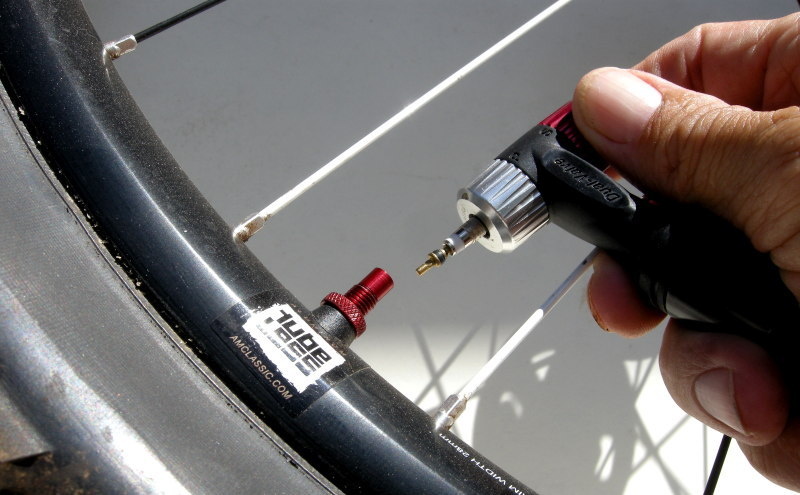 Internal friction created by the O-ring in the seal, is one contributor that causes the user to accidentally unscrew the replaceable valves from Presta stems when removing the pump-head.
My unicorn died however, and my rainbows faded to black when I showed up at a photo shoot, whipped out my new Syncros FP1.0 uber-pump and proudly offered it to a local hotshot who needed to top off the air on his big bike's wheels. Each time he unthreaded the pump-head, it unscrewed the removable valve from his Presta stems and released all the air (and a measure of his Stan's sealant) from the tires. After three unsuccessful and very public attempts, the lad handed me the FP1.0 in silence, walked a considerable distance back to his car, produced a beater hand-pump and finished the job. Shamed? Oh yeah.
From that moment, I too was cursed by the FP1.0 floor pump, which managed to remove two out of five Presta valves that I came across – regardless of the fact that I had tightened most of the little buggers in anticipation of future trouble. I finally snapped while I was racing darkness to get a ride in on a test bike. I had forgotten my hydration pack, which contained my backup hand-pump and the tools required to tighten a valve stem. Standing in darkness beside my bike at the trailhead, with two nearly flat tubeless tires that could not be inflated with the magnificent looking floor-pump that had once shown so much promise, I vowed to take the life of the person at Syncros who decided that thread-on Presta pump heads were a great idea.
Pinkbike's take:
Imitation, they tell me, is the sincerest form of flattery, but when Lezyne first introduced the contemporary thread-on Presta pump head, Presta stems with removable valves were quite rare and the merits of tubeless tires were still being debated. The copycats, Crankbrothers and now Syncros, cannot claim such ignorance on that issue. Lever-head or Silca style push-on Presta heads have proven to be very reliable and, with one exception, thread-on heads are not an improvement over either of the old standbys. The one situation is when the valve stem is too short to get enough purchase for a flip-type or push-on head to seal. Beyond that, thread-on pump heads can only be defended as a vain fashion exercise.
Now that that is off my chest, I very much like the all-metal, no-nonsense construction of the Syncros FP1.0 pump, and it gets high marks for its shop-length hose. The action of the pump is smooth and it has never felt sticky over time. Ergonomically, the pump also earns our respect - for the handle's shape and for its ratio of height to pump-stroke. (Some pumps can feel like back breakers.) I probably will purchase a lever-type pump-head to replace the stock thread-on item and call it good. For Schrader valves, the Syncros' FP1.0 pump gets two thumbs up. Presta users, however, should shop for an alternative design. - RC