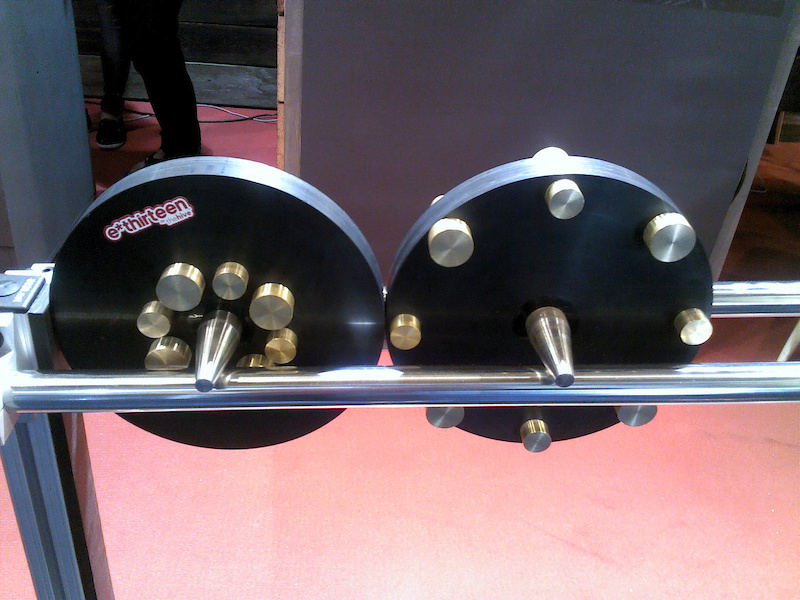 E-thirteen built its rotational-inertia demonstrator to assure its wheel customers that the slight amount of additional weight of its Chubb hubs is easily offset by the use of a lighter-weight spokes and rims. Their science experiment, however, has greater ramifications.
Almost every cyclists
insists that, if two wheels weigh the same, the one with the lighter rim and tire will accelerate faster - but where is the proof? Every wheel review worth reading either states or implies that there is a noticeable difference when accelerating a lighter or heavier wheel, but just how significant that effect may be, or whether it is largely a figment of the test rider's imagination has been cause for an endless round of debate. Add the wheel-diameter war to the equation and the discussion becomes less scientific and more emotional. Until now, however, the argument has been an intellectual one.
Because the tire is wheel's heaviest component, by nature, a 29er wheel should be the worst offender of the three diameters, yet the 29er's popularity among XC racers, where quick acceleration and climbing are of paramount importance, suggest that some of the advantages that big-wheel users espouse as scientific fact would be better classified as cycling religion. Evidently, e-thirteen has provided a definitive answer and, while the conclusion should not come as a surprise, when the results are physically demonstrated, arguments to the contrary are laughable.
Watch and Learn
E-thirteen, came to Eurobike 2014 with a simple science project, inspired by a hands-on display at the San Francisco Museum of Science and Industry. The experiment consists of two identical wheels of equal weight and diameter that roll down a steel track. The plastic wheels are weighted with brass cylinders. One with the cylinders positioned at the outer extreme of the wheel and a second, with the brass inserts positioned near the hub. If you don't want to bother watching the 15-second video, the wheel with the mass situated near the hub accelerates dramatically faster than the one which is configured in the opposite way.
Draw your own conclusions, but the results of e-thirteen's demonstration suggests that proponents of 26-inch wheels should not be discounted as the sport's angry villagers, reticent to accept any sort of change. The past two World Cup XC races were won on mid-sized wheels, which further undermines the once solidly held belief that big wheels are destined to rule that category. Perhaps the wheel debate deserves a less emotional and a more scientific re-evaluation.