Shimano photo
Today,

Shimano officially released the mountain bike industry's best-known secret. Di2 electric shifting for XTR has been anticipated since the Di2 first appeared on its Dura-Ace road racing transmissions over five years ago. Why cycling's dominant drivetrain maker waited half a decade to adapt its push-button shifting system to its premier off-road component group will be self-evident the moment PB commenters begin to weigh in on this news release. Shimano won't be surprised.
ProTour road racers and their doppelgängers who visit retail establishments to purchase matching bikes and kits are traditionally the most reluctant members of the cycling community to commit to new technology. Before Shimano released Dura-Ace Di2, extensive testing had proven without a doubt that Di2 shifted better than its cable-actuated brother and that it was more reliable, more stable in adverse conditions, more ergonomic, and easier to operate. Shimano also knew that, in spite of Di2's measurable improvements, there would be massive pushback against any sort of electric shifting from established know-it-alls in the elite road community. Testing trials, however, proved that, once riders had become accustomed to Di2, they wouldn't want anything less, so Shimano waited the naysayers out. Five years and three Tour de France wins later, Dura-Ace Di2 has proven to be everything that Shimano claimed it would be and more.
Widespread acceptance of Dura-Ace Di2 is Shimano's assurance that its new eleven-speed XTR M9050 Di2 drivetrain will overcome the inevitable resistance it will receive from mountain bikers. Di2's electronics are now well understood by retailers and mechanics. Bike shops and cross-over roadies who are sold on Di2 will become entry points for electric XTR into the mountain bike market, and it's a given that Shimano-sponsored cross-country racers will be sporting push-button shifting for the remainder of the 2014 World Cup season. In short, Shimano's timing could not have been better.
XTR M9050 Di2 Overview
Di2's digital electronic shifting moves the derailleurs in much the same way as a mechanical system does – overshifting slightly to ensure a speedy gear change and then centering the derailleur over the intended sprocket to eliminate chain rub. Where mechanical derailleurs are yanked around by a cable that is controlled by a rather complicated shifting device which metes out or takes up its length, Di2's derailleurs are programmed to remember where each cog or chainring is and when asked, the derailleur simply drives the chain exactly where it needs to be to make the shift. The Di2 rear derailleur communicates with the Di2 front mech, so it can automatically compensate for chain angle when the system is in the cross-over gears – a mechanical system can't do that. Select Synchronized mode and Di2 will make sequential shifts, operating both the front and the rear derailleurs, by pushing only one button on the right-side shift module. In recovery mode, Di2 can readjust itself and resume normal shifting after a crash or impact has compromised its original settings.
How Di2 Works:
Shimano's Di2 system drives the front and rear derailleurs with powerful digital-proportional servo motors. The servo mechanisms are built into the derailleurs and each contains its own micro-processor, so if one part fails, the others can continue to function. The sealed and waterproof electronic components are connected by a single "E-Tube" wire that conducts power from a centralized rechargeable battery and communicates signals from the Firebolt shift buttons. A small, handlebar-mounted display indicates battery life gear selection and your choice of shifting mode. Shimano's Di2 system is intended to serve professional athletes in all conditions, and its near-instant shifts require powerful motors which draw heavily upon the battery, so Di2 is designed to hibernate between actions. When a shift is called for, Di2 turns on, remembers which cog and chainring the transmission was in, shifts to the next gear and then shuts down. Hibernation greatly extends Di2's battery life. Most owners enjoy months of riding between charges. More importantly, you never have to turn the system off. Just pull the bike off its peg and ride, the same way you'd treat a bike with a cable-operated derailleur system.
Based upon M9000 components:
Shimano's XTR M9050 Di2 front and rear derailleurs are exactly the same in operation and configuration as the
mechanical M9000 items
, with the exception of their servo-motor modules. The Di2 system is designed to sync with all of Shimano's new 11-speed components, including single, double and triple chainring cranksets. As expected, M9050 requires the same Sil-Tech HG 11 chain that the mechanical XTR group uses, as well as the new 11 x 40, M9000 cassette. Basically then, the XTR M9050 Kit constitutes an electronic front and rear derailleur, a pair of Firebolt shifters, a handlebar-mount system display, a battery module, an E-tube wiring kit and a battery charger/computer interface device.
How much will Di2 cost?
No MSRP has been set at this time, but it will be pricey. Shimano officials state that the up-charge for electronic shifting will be about the same for XTR as it has been for its Dura-Ace road ensemble. Expect to pay 40-percent more than the cost of the mechanical M9000 version, which also has yet to be priced by Shimano.
How much weight does Di2 add?
Because cables and housings are steel, they weigh more than most would give credit. Mechanical shift levers are also weighty. Because of Di2's wiring is lightweight, and the fact that the Firebolt shift button assemblies are 36 to 136 grams lighter
(you only need one Di2 shift module to run both derailleurs – more on that later)
the two-by Di2 drivetrain weighs the same as its mechanical M9000 brother, in most cases, however, Di2 is slightly heavier. The weights of Di2 M9050's key components are as follows: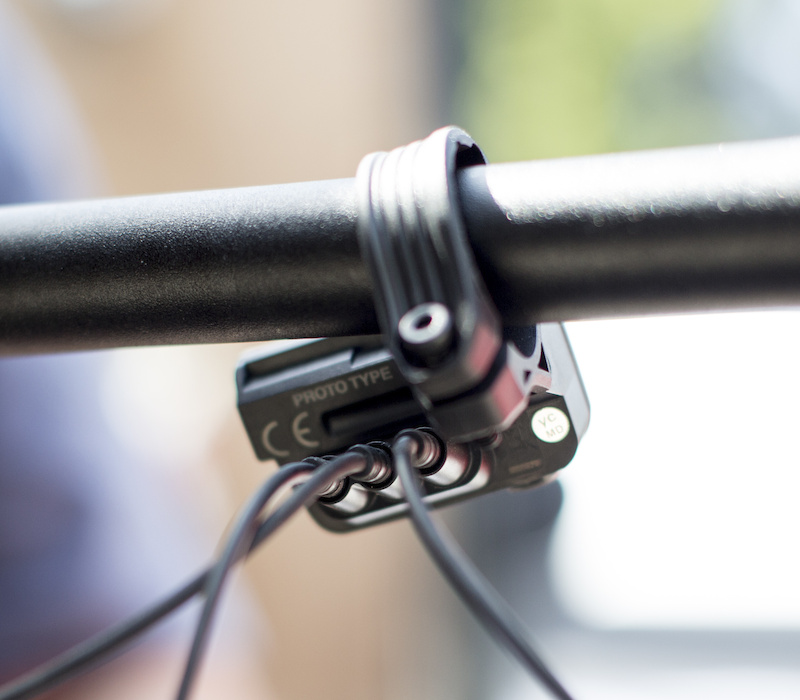 Irmo Keizer photo

---
Di2 M9050 Component Weights:
• Front derailleur (D-type): 115 grams
• Rear derailleur (GS): 289 grams
• System display: 30 grams
• Shift switch: 64 grams
• Battery Module: 51 grams
How Di2 Components stack up against Mechanical M9000 XTR:
• Front derailleur: M9050 is 5 grams lighter
• Rear Derailleur: M9050 is 68 grams heavier
• Shift lever: M9050 is 36 grams lighter (if you just use one, it is 136 grams lighter)
• Battery Module: 51 grams (extra item)
• System display: 30 grams (extra item)
Learn more about the mechanical XTR M9000 in PB's First-Look article
---
Di2 Special Powers
Reportedly, Di2 M9050 owners can use Shimano-supplied software to modify the speed that the system shifts and reprogram functions of the Firebolt shift paddles. For example; you could program the left side paddles to downshift and the right-side paddles to upshift, with the upper buttons operating the front derailleur and the lower ones, controlling the rear changer. What is more likely, though, is that owners will want to program the sequence in Synchronized mode to customize where the front derailleur kicks in for the double shift. Two pre-programmed shift modes are built into the system. One for high-speed work that keeps the chain on the larger chainring until the rear derailleur reaches the second largest cog in the cassette before it shuffles down to the small chainring, and another mode, which favors climbing, that shuffles to the smaller front sprocket earlier in the sequence to eliminate the distraction of the double shift while suffering is taking place.
Another Di2 exclusive is that the system will continue shifting as long as you hold down the shift paddle. That means you can get from one side of the cassette to the other with a single push of a button – or in Synchronized mode, you can sequence through every gear selection in one direction just by holding the button down. Di2 knows where the overlapping gears hide and will automatically skip them as it progresses through the available ranges.
Of course, you can shift Di2 conventionally too, and traditionalists who prefer a front derailleur may opt for a Firebolt shifter on the right and left side of the bars, but anyone who has adapted to a one-by transmission will no doubt, opt for Syncro mode and do away with the left shifter altogether. The display allows you to toggle back and forth from normal to Synchro modes, so you always have the option. While we are on the subject of one-by versus multiple-chainring drivetrains, Shimano's sequential shifting option, may offer the best of both worlds – one shift module on the right handlebar, like SRAM XX1, but with the extended gearing range of a two-by configuration, and the added benefit of the front derailleur playing a second role as a chain guide.
Video: Shimano XTR Di2 Shifting in Synchronized Mode
XTR Di2 Firebolt Shifters
Because Di2 Firebolt shift modules are essentially electric switches, Shimano was able to engineer the them to be far more ergonomic than its mechanical XTR trigger shifters could have been made. The contoured and textured paddles rotate concentric to the handlebar and are positioned to match where an average rider's thumbs would normally rest. The paddles are individually adjustable and the module can be rotated around the handlebar, so there is a perfect fit for every rider. Firebolt shifters take up very little real estate on the handlebar, and they should be compatible with every brake lever made.
Shimano photo

In addition to controlling Shimano's XTR Di2 shifting, Firebolt shift modules can also operate
Fox Racing Shox iCD remote lockout suspension
system, and there are hushed conversations that a Di2-compatible dropper seatpost control is in the works. Fox partnered with Shimano to use its E-Tube wire and processing technology for iCD and the possibility that the left shift module could be programmed to simultaneously drop the saddle and open up the suspension could be a huge side benefit to Di2.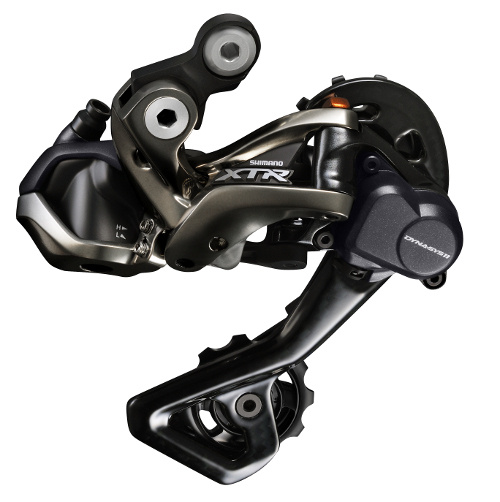 Shimano photo

XTR M9050 Di2 Rear Derailleur
Unless you noticed the M9050's servo motor tucked behind the derailleur, you may easily mistake the Di2 mech for the mechanical item. The E-tube wire traces the same path as the M9000's cable housing does and it enters the mech' in about the same spot. The drive module is angled inwards and behind the derailleur body to keep it safe from harm and its internal processor communicates the derailleur's position with the front changer and the display module each time a shift is called for.
Unlike a cable actuated mech, there is no return spring in the XTR Di2 derailleur – the servo motor drives it in both directions. Because of this, if the Di2 electronics should fail, or if the battery gives up the ghost, it will stay in the last gear selection it was in – and the mech can also be shifted by hand to line up anywhere in the cassette. This means that you can comfortably ride out of any situation without being forced to suffer in an impossible gear combination. Shimano will offer the M9050 Di2 rear derailleur in a medium or long-cage version for use with its eleven-speed cassettes only. The medium cage version is reported to weigh 298 grams.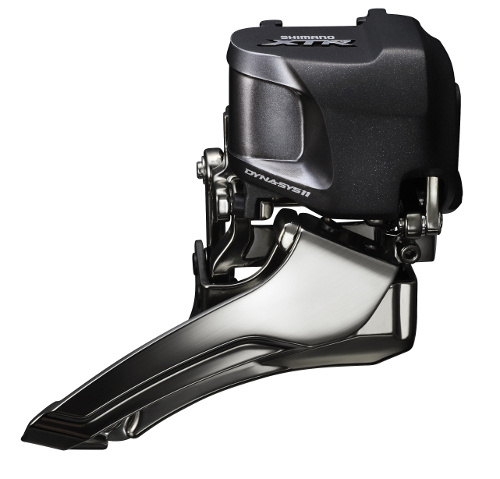 Shimano photo

XTR M9050 Di2 Front Derailleur
Shimano already owns the rainbow jersey for front derailleur performance, but if its claims are true, the new XTR Di2 changer will raise that bar significantly. The M9000 front derailleur chassis that the Di2 version is built upon has a monstrously stiff cage that forces the chain against a barrage of lifting ramps and pins that bristle from the back of the middle and large chainrings. Shimano says that the motor-driven cage pushes over 20-percent harder than the mechanical version – which we can believe after riding the prototypes earlier this year. XTR Di2 front shifting is more instant that elegant. Push the shift paddle and "crunch," it's done. There is no time lag when the Di2 changer is shifting under power either.
Shimano shortened the cage to clear big tires and reconfigured it to keep its shifting action the same regardless of chain angle, which is always changing when the transmission is mounted to a dual-suspension bike. As mentioned, the mech's Di2 processor keeps in touch with the position of the rear derailleur and when it hears that the chain is nearing the outer extremes of the cassette cogs, the front derailleur automatically trims right or left to ensure there is no chain rubbing in the cross-over gear selections. Like the rear mech, if the Di2 system fails, it also stays in place. Accessory mounts are available that adapt the XRT Di2 changer to high and low clamp-type frames, or high and low-type direct mount applications. In the lighter direct-mount configuration, the XTR Di2 derailleur is reported to weigh 115 grams.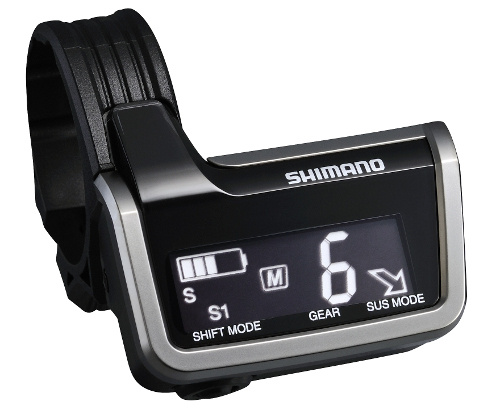 Shimano photo

XTR SC-M9050 Display
XTR Di2's small handlebar-mounted LCD display reads out the gear you have selected, remaining battery life, and which shifting mode is being used. Of course, if you are actually riding on the dirt, the chances of being able to read that information on the fly are slim. More importantly, the display is where the derailleurs are remotely adjusted, a convenient port from which to charge the battery, and where the user would add functionality, like plugging in the E-tube connections for Fox suspension controls. Three extra E-tube ports are included for accessories. The display also has an audible warning that signals when the front derailleur will be switching chainrings in each of the two pre-programmed Synchronized modes. Claimed weight for the display is 30 grams.
XTR Di2 Battery System
The cylindrical lithium-ion Di2 battery that Shimano chose for XTR is designed to slip into a seat tube, where the E-tube wires would be routed internally to their respective components. The SM-BTC1 case that comes with the system is used to mount the long, slim battery alongside a water bottle, or to a pair of bottle mounts anywhere it will fit on the frame. The nature of Di2's single-wire system allows any component to be plugged into any available port, and as long as everything is connected, the system will power up and shifting commands will be communicated correctly. Six ports sprout from the battery, which shortens the distance necessary to connect to the derailleurs and, if called for, to an electronically controlled shock. The battery can be charged directly, or through a port in the display. Weight is reported to be only 51 grams.
Shimano photo

---
First Impressions:
Shimano's addition of Di2 shifting to its premier off-road racing drivetrain was a given. Now that XTR M9050 exists, there is no doubt that it will be popping up everywhere that mountain bikes are sold for ten thousand dollars or more. The effortless and instant shifts that Di2 has proven to deliver will be an easy sell for cross-country racers, but the application makes even more sense for downhill and enduro competition, where its one-touch shifting could ease the workload of negotiating technical terrain at mach speeds – and where its expandable E-tube system could be used to make mid-course suspension or saddle adjustments. Most riders, however, will perceive and probably reject XTR Di2 as a luxury item, and its expected retail cost is assurance that it will remain so for the near future. Shimano has not yet posted the MSRP of XTR Di2, but all indications tell us that it will be the most expensive drivetrain that the mountain bike world has been served to date. That said: when Dura-Ace Di2 was released a bit more than five years ago, it was the most expensive road ensemble of its time, but its indisputable benefits eventually led to its acceptance. Presently, Shimano offers electric shifting at three price points on the road and we can expect a similar progression for the mountain bike version.
Speaking purely about the ramifications of Shimano's XTR Di2 as it applies to its most conspicuous competitor, SRAM's XX1 ensemble, we'd have to take a wait and see attitude. It's safe to say that both SRAM and Shimano's top component groups will be reliable performers. Both are priced stratospherically beyond the reach of rank and file riders, so the game hinges on ideology alone. At this level, your purchase can affect the future, like investing in the stock market. Do you subscribe to SRAM's simpler-is-better idea, and pop for a proven-but-maybe-dated mechanical one-by drivetrain; or do you throw in for Shimano's scientific approach and purchase a new, yet-to-be-accepted, shift-by-wire transmission? In the end, a relatively small group of enthusiastic investors will decide the fates of these divergent technologies.
As far as riding impressions go, I had the opportunity to ride rough prototypes of XTR Di2 at Shimano's headquarters in Irvine, California, and the system was very promising. I was most impressed by the synchronized, sequential shifting feature, which I believe will become its key selling point to retail customers. I also have extensive experience riding Dura-Ace Di2 and have tested one of the custom Di2 mountain bike conversions made by
Fairwheel Bikes
in Tucson, Arizona. There is no arguing that Di2 electric shifting is better than its mechanical predecessor – it is – and there is no arguing that Di2 will gain acceptance among the elite riders that it was designed to impress – it will. The only question worth considering at this point is how Shimano's decision to manufacture an XTR version of Di2 will affect the landscape of mountain bike technology in the coming years.
- RC