Pinkbike Product Picks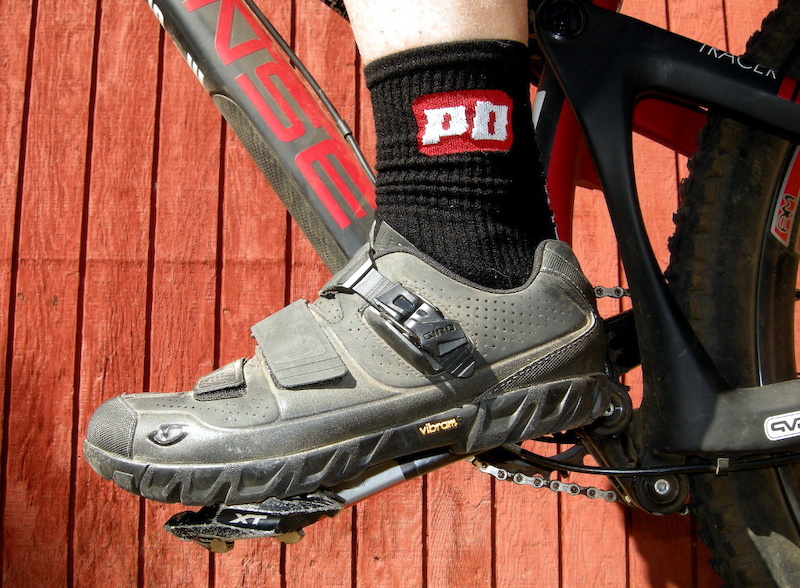 Giro's take on the ultimate trail shoe has a performance-oriented profile, moderated for walking by a more flexible area ahead of the cleat and a grippy Vibram sole.
Giro's Terraduro
is an SPD-compatible shoe that was designed to give the performance benefits of a dedicated cross-country racing shoe, while affording a much larger degree of toughness and flexibility for riders who need to be able to walk, scramble or dab a foot during a ride. Developing the Terraduro was a multi-year process that included input and testing by enduro racer Adam Craig and indeed, Giro bills it as a worthy racing shoe for enduro competition. The heart of the Terraduro is a stiff, molded Nylon sole that conforms to a more gentle "S" profile than a traditional racing shoe's. The forward third of the sole is designed to flex slightly and it is also shaped with a pronounced 'rocker' to make the shoe more comfortable to walk in. The uppers are a tough, synthetic microfiber material that is vented and the foot is retained by a micro-adjustable ratcheting buckle with a one-touch release and a replaceable strap - and backed up by a pair of hook-and-loop straps. Brilliantly, Giro offsets the buckle of the center strap to eliminate the pressure point created by side-mount types. The business end of the Terraduro is a molded Vibram rubber out-sole that has plenty of traction in reserve via a radiating lug pattern that is intended to dig into soil, yet slide easily over an SPD-type pedal when engaging the mechanism. Inside the Terradura is a molded antimicrobial footbed that forms nicely into the shoe's comfortable heel cup. Those who have any rough-terrain experience using XC racing footwear will appreciate the final features in this description: a moderately wide toebox that is stoutly armored with a rubberized nose. Giro offers the Terraduro in sizes from 39 to 48, with half-sizes available between 39.5 and 46.5. Color options are black and Glowing Red. Weight is stated at 420 grams per shoe in size 42.5
(our 42.5s weighed 430g)
and the MSRP is $179.95 USD. Giro also offers a
Terradura
model for female riders.
Giro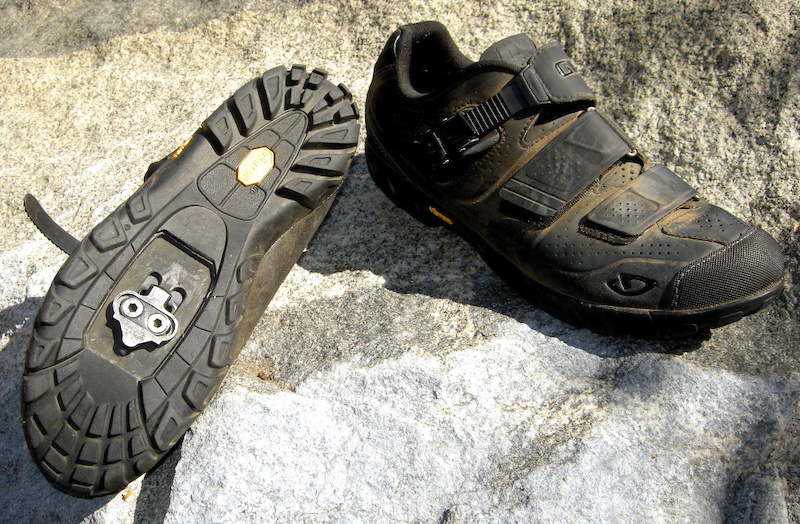 Terraduro shoes use long-wearing Vibram rubber soles, molded with a tread pattern that doesn't hang up on the pedal's engagement mechanism.
Pinkbike's Take:
| | |
| --- | --- |
| | Five Ten skate-style shoes have become the Harley-Davidson 'Hitler helmet' of the high-volume mountain bike crowd, and while there are some good reasons to ride with flexible, flat-soled, heavy hunks of rubberized cloth strapped to your feet (flat pedals, for instance, are good reasons), much of the popularity of flat-soled DH type shoes is just bro-fashion. The Giro Terraduro offers clipped in riders a more efficiently shaped shoe for pedaling, without sacrificing the essential foot-dabbing and drifting capability of a skate-style shoe. It looks pretty good, it is scented to repel spandex and it is easy enough to walk on that pushing uphill to session descents is an experience comparable to bro-fashion footwear. The Terraduro can be used with flat pedals in a pinch too, as its Vibram sole is very grippy material, molded flat over a large enough area to ensure that you contact the pedal squarely - most of the time. All this means is that you can still sprint out of corner should you miss the engagement after dropping a foot. On the subject of comfort, it took a couple of rides for the shoe to conform the feet, after which, the Terraduros became daily drivers. There is more room in the toe-box than a traditional racing shoe - which is a must for serious dirt work, and the shoe is just flexible enough to feel like the feet are comfortably planted on the pedals when jumping. Having a good deal of experience riding roadie-boy man pumps, as well as skate-style DH slippers, I would give Giro two thumbs up for making a true performance cycling shoe that handily bridges the chasm between the two. If you ride AM/trail or (dare I say the word?) race ENDURO events, and you ride clipped in, you will appreciate Giro's take on the ultimate trail shoe. - RC |
Check out Giro'sTerraduro Video
---
---