Industry Nine
hails from Asheville, North Carolina, where the small crew of devoted wheelbuilders and machinists there manufacture every part of their wheelsets, with the exception of the rims and bearings. We picked up a set of Industry Nine's Gravity 29 wheels for a long-term test last autumn, and if you want the short version of the following review, they rocked. Our test sled was an Intense Carbine and we subjected the wheels to everything from XC/trail rides to jump sessions and DH trails with a handful of riders aboard. PB Tech editor Mike Levy reviewed the 26-inch version of the wheel on a DH bike and also reported excellent durability and performance. We normally would not post a second review of a similar wheel, but we made an exception after we discovered that the addition of Industry Nine's Gravity series wheels to a long-travel 29er trailbike could make a substantial improvement in its steering and handling. That was a story worth telling.
Construction and Options
Gravity wheels feature Industry Nine's widest rim, measuring 33.5 millimeters outside and 28.5 millimeters inside, the tubeless ready design weighs a claimed, 580 grams. The beautifully finished, 32-hole Torch hubs are made at the Industry Nine factory. Hub bearings are imported from Japan and double sealed, and the trademark Industry Nine freehub ratchet manages only three degrees of engagement delta. Both conventional ten-speed and SRAM's 11-speed HD drive systems are supported. Visually and mechanically, the feature that sets Industry Nine apart from the pre-built wheel crowd is their reversed spoke configuration. The hub's straight-pull spoke flanges are threaded to accept oversized, 2.8 by 3.0-millimeter, 7000-alloy, butted-aluminum spokes. The spoke heads seat into the inside of the rim where flanged heads of conventional spoke nipples would normally rest. The hub end of the spokes are threaded, and to ensure that the treads will not be a weak link in the wheel, they are made significantly larger in diameter than the spokes. Truing the wheels is done conventionally, with a 15-gauge spoke wrench, but directly on the flats forged into the spokes near the rim. Bold, anodized colors are a hallmark of Industry Nine's wheel range, as is the hissing sound that the six-pawl, 120-point freehub ratchet makes when the rear wheel is coasting. Standard colorways are all red or all black anodize and the weight of the pair hovers very close to 1950 grams, depending upon your choice of axle and freehub. The base price for a Gravity 29 wheelset is $1210 USD, but if you want to go wild and pick special color combinations, or chose an alternative aluminum rim, prices can range upward of $1500.
Industry Nine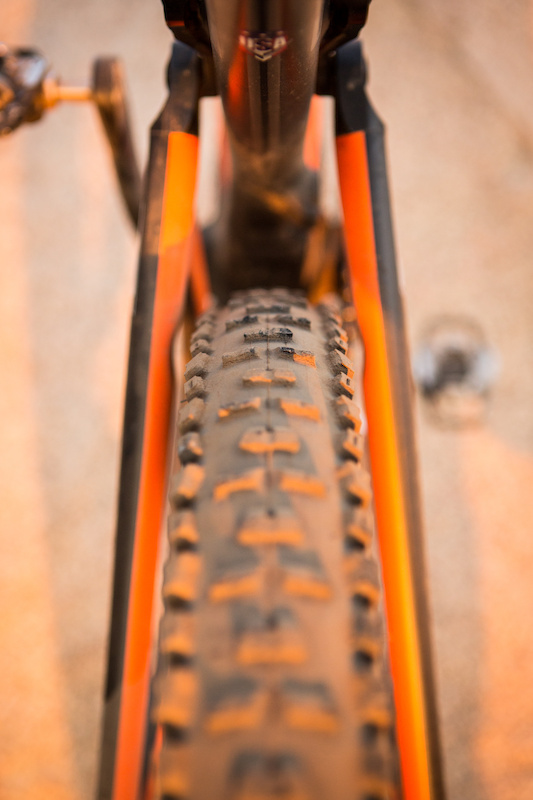 The 28.5mm inside width of the Gravity rims adds
volume to the tires and slightly flattens the tread
pattern.
Erik Eilers photo

---
Details:
• Purpose: Gravity racing, enduro, all-mountain, aggressive trail
• Rims: Aluminum, tubeless ready profile, 33.5mm outer/28.5mm inner width
• Rim weight: 29"- 580 grams each
• Front Hub: Machined aluminum, 2 bearings with external o-ring seals, 100mm QR, and 9mm, 15mm, or 110x20mm through-axle options
• Rear Hub: Machined aluminum, 4 bearings with external Teflon seals and a silicone freehub seal. All axle standards are supported from 135-QR to 12x157 through-axle
• Driver: 9/10 speed or SRAM XD1 - 120 point, 3º engagement, 6-pawl ratchet
• Spokes: 7000-alloy, butted aluminum - 2.8 x 3.0mm diameter
• Standard Colors: All red or all black hubs and spokes with black rims (mix and match color options available)
• Weight: 1950 grams/pair (varies, depending on bearing and axle specification)
• MSRP: $1210 USD
---
| | |
| --- | --- |
| | Industry Nine recommends re-tensioning the wheels after the first four to six hours of use. We put six months of hard riding on our Gravity 29 wheels without seeing any significant changes in spoke tension, rim-trueness or bearing play. |
Riding impressions
Industry Nine recommends re-tensioning the wheels after the first four to six hours of use. We put six months on our Industry Nine Gravity 29 wheels without seeing any significant changes in spoke tension, rim-trueness, or bearing play. Of course, one should expect such performance from a $1200 wheelset, but 29ers are tough on wheels and that kind of longevity speaks volumes about the wheel-builders in Asheville. Our test wheels were fitted with a SRAM HD driver and were configured with 15-millimeter front and 12 x 142-millimeter rear through axles. Tires were 2.3-inch Maxxis High Roller II on both ends of the bike and run tubeless. As mentioned, the test bike was an Intense Carbine decked out in all-mountain components.
Wider is better:
The wide, 28.5-millimeter ID Gravity rims slightly flattened out the tire's tread pattern, which gave the bike more edging grip in the turns and also supported the tires in the lateral directions to the extent that they tracked with razor-sharp precision. The added lateral stability afforded by the wider rims kept the tubeless tires from wallowing when pressed hard in the turns and off-angle landings. At 1950 grams, Gravity 29 wheels still hover near the lightweight end of the all-mountain segment, and as such, offer aggressive riders and enduro competitors the option to ride a rugged, DH-width rim without sacrificing much acceleration and climbing performance.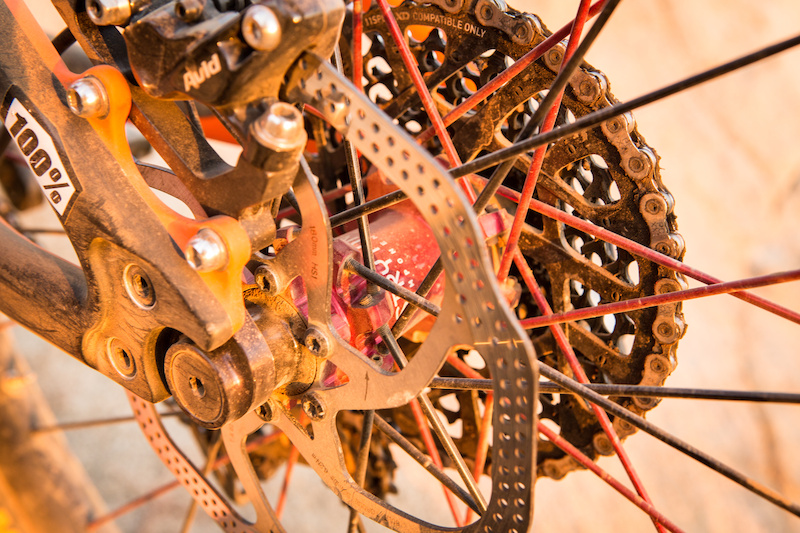 Industry Nine's Torch rear hubs have a larger flange on the drive
side to help even spoke tension.
Erik Eilers photo

Stiff and straight:
Pre-built wheels are on average, quite good these days, so for our trio of test riders to be able to easily to perceive the Gravity 29's higher level of stiffness and steering stability indicates that there is something special about Industry Nine's design. Switching back to the bike's original DT Swiss wheelset, which was no slouch, further supported test riders' claims. When pushing fast and hard over rough ground, the bike remained much more calm and held a better line. The majority of riders familiar with big-wheel bikes will agree that flexible wheels and suspension components are a common theme. Gravity 29 wheels seemed like a prescription cure, with only one side effect - a weight gain of about 150 grams over some of its lightest
(and more expensive)
competitors. A penalty that, in light of their sweet ride, is easy to accept. The stiffness of the Industry Nine hoops is not all unicorns and rainbows though, and the trade-off is a measure of harshness that translates through the wheels into the suspension. Throw a set on a heavy DH bike and you'd probably never notice the harshness, because it will be damped by the mass of the bike and its heavy rubber, but a lightweight bike can't mask it.
Loud and proud:
While you may not need only three-degrees of engagement, having such a tiny lag between pushing on the pedal and having the freehub locked in and driving forward will quickly spoil even a tech-calloused Luddite. Getting used to the loud hiss of the ratchet's six, double-toothed pawls, however, takes some time. The possible upside of Industry Nine's screaming ratchet mech is that it makes your bike sound like a dive bomber in the air - way more effective than cards in the spokes. It turned out to be quite an attention getter when test riders were sessioning jump lines.
Durability:
Everything on a mountain bike can be broken, but if it is the fault of its materials or its construction, Industry Nine's warranty covers the Gravity 29 wheels for three years. So far, so good. We have yet to bash a flat spot into the aluminum Gravity rims, and our wheels are still running straight in both axes. The bearings spin smoothly, with no discernible lateral play.
Pinkbike's Take
Industry Nine's Gravity 29 wheels give big-wheel riders the precise, sharp-feeling steering and line-holding power that we have come to expect from the most admired small-wheel bikes. If you are looking for an alternative to carbon, and subscribe to the wider-is-better theory of wheel design, Industry Nine has micro-engineered a durable and very elegant looking solution in aluminum. There are lighter weight options for all-mountain 29ers available from Industry Nine, as well as from its competitors, and we have ridden many of them, but there is some sort of magic in the Gravity 29 wheels that makes them standouts. Those willing to overlook a handful of grams in exchange for a heap of high-speed stability should get their hands on a pair.

- RC
Read more about Industry Nine Gravity wheels in Mike Levy's review
.