Jason Steris
recently took the helm of Troy Lee Designs as Chief Executive Officer. Steris has been on the TLD board of directors and is fresh off of a 23-year stint that propelled him from salesman to CEO at Volcom, a successful lifestyle brand. He's the second CEO to come from outside TLD to lead the famous protection and apparel label since the private investment firm Spanos, Barber, Jesse & Co
purchased a controlling interest in 2016
and put Dave Bertram in charge.
Bertram came from the motorcycle end of the business and was also a success story, helping to build the Cycle Gear brand into a powerhouse parts and accessory retail chain. Under Bertram, TLD gained some traction in the moto and mountain bike segments. From an outsider's perspective, however, the brand maintained its momentum, but did not seem to flourish as anticipated under the new management team.

Now, all eyes are on Jason Steris - avowed surfer, moto-rider and recreational mountain biker - to see if he has the magic touch to blend an efficient corporate structure with the organically grown technical lifestyle brand that bears the name of an artist who founded the TLD empire painting helmets in his father's garage over 30 years ago.

---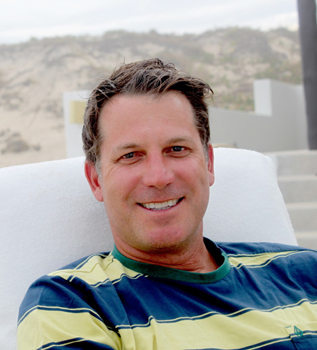 Meet Jason Steris:

CEO Troy Lee Designs

Tell us a little about who you are and where you came from...
I'm 48 years old, born in 1970 in Laguna Beach, California.
I spent most of my career at Volcom. My background was in sales, and I eventually moved into operations before joining the executive leadership team.
I'm a big fan of functional products and I love working with passionate people. Being honest and transparent is very important to me, and I see myself as someone that can lead the troops through the good times and also challenging times. It's important that everyone is having fun and progressing as individuals, otherwise it becomes monotonous, which creates a stale work environment. I place a very high value on my team and the hard work and commitment everyone puts into the business. You can't take stuff this for granted. If you have good people, you don't want to lose them.
I grew up in Laguna Beach and still live there today with my awesome wife and two young kids. I grew up surfing, skateboarding, skiing/snowboarding, riding motocross and BMX. Action sports have always been a huge part of my life. My first love is surfing and I surf as much as I can while having a full-time job. Early morning sessions and surf trips a few times a year is mandatory. My kids love surfing too, so it's fun to take them out on the weekends and teach them about the ocean.
I was more of a recreational two-wheeled guy growing up, but always loved the sports and continued riding dirt bikes through my adulthood and more recently picked up on mountain bikes. So, I have a passion and deep respect for the sports that TLD represents, which makes it much easier to come to work every day.
One thing I really enjoy is working with the athletes and making products to better serve their needs. During my time at Volcom, we spent many years developing some of the best outerwear for snowboarders, which was heavily influenced by our riders. I see many similarities at TLD for this same approach in both moto and bike. Getting to meet some of the TLD athletes so far has been inspiring and I value these relationships and the importance of what they do for the brand and sports.
Board and bike share some cultural characteristics. Surfers, snowboarders and mountain bikers lust after the dream trips or the rush we get from pushing our personal boundaries. Tapping into the elements of Mother Nature and chasing the next session is always on our minds.

What was the attraction for you to leave a large board/casual business at Volcom to run a smaller, technically-oriented brand like Troy Lee Designs?
After 23 years at Volcom it was time for a break and ultimately a new challenge. Post Volcom, I spent two
Troy Lee:
I have known Jason for a little bit because we both live in Laguna Beach; he is a partner with Laguna Surf and Sport, which is down the street from our TLD store. He has been a good guy to get to know, and I told the board we should have a guy like Jason on the board, who has built a brand and knows how to lead.
So much is changing with bikes and the bike industry that we needed someone with his expertise to keep us on track. He respects the art of TLD, the athletes, and knows what it takes to make killer product, so it only seemed right to bring him on as our CEO. I am still loving going into work more than I ever have and plan on doing this for a long time. It's bitchin' to have someone I can trust running the day-to-day for us.
and a half years to work on consulting projects and to spend quality time with my family. I also joined a few companies as a board member, with TLD being one of them.
In terms of taking on a new chapter, my favorite time at Volcom was when the company was private and about the same size as TLD. It was a family atmosphere and we did things for the love of the sports and just lived the lifestyle and made products that we liked. I see TLD in the same light as it sits today. It's a family environment with passionate people running the business for all the right reasons. I personally reached a point where I wanted to get back to work and be a part of a team again. Working with a world class brand and great people were the two most important factors for me.
The timing was really good and it just sort of came together. Also, with Troy being so involved in the day-to-day business, it gave me confidence to jump into a new space. For a company that has been around for multiple decades, it's rare to have an active founder, and that honestly drove my decision to join the company. I figured if Troy was here, I could partner with someone that knew the history, bleeds the brand, and collectively, we could pave the future.

How did your relationship with Troy Lee Designs build to the point where you joined forces?
It really just happened organically through the TLD board of directors relationship. When I originally joined the board I was getting into mountain bike riding and thought it was a great opportunity to learn more about the moto and bike industry. In hindsight, that allowed me to develop an understanding of the business and also get to know the people, which was a helpful step before joining full-time.

One of the recurring stories from within the cycling business is that the injection of sophisticated corporate leadership from outside industries most often ends in disaster. How do you protect Troy Lee Designs' organic vibe and, at the same time, aggressively grow and reorganize the business?
That's a great question, I have seen this first hand in the surf industry and I believe there is validity to this point. For starters, I'm not going to pretend to be a moto or bike expert and I don't see myself as a corporate leader. The spirit lives and breathes with Troy and the entire TLD crew. I'm not here to make big changes to the brand or make TLD something it's not.
Preserving the core brand DNA while evolving is critical to any brand's future. The TLD brand foundation is solid and we cannot alienate our existing consumer while looking for growth. It's my job to listen to the experts and guide the company in a way that everyone is part of the journey and believes in the direction we are heading. Safety, art, paint, the athletes, and the race team are key ingredients that make up our DNA and those will never be jeopardized.
The culture of any company is only as good as its people and how they work together as a team. Bringing everyone together with a shared vision and executing at the highest level is our priority. If you do the right things over and over and stay focused on the brand experience, the business will thrive.

Is there a perfect size for a business like TLD, or is there always the potential that a strong brand name, combined with good products and serendipitous timing can lead to Red Bull status?
We are not going to get ahead of ourselves. We have room to grow by elevating our efforts and becoming more efficient with our existing categories and global wholesale partners. The long-term future is dependent on how well we execute over the next few years. TLD is a special brand with unique DNA that may open up unchartered opportunities, but for now, we are focused on everything right in front of us.

Historically, the bike side seemed like a secondary business for TLD, but lately, there seems to be a focused effort towards our market. What are your thoughts?
Absolutely. TLD is very focused and committed to bike. The progression of the sport is mind-blowing and we are very inspired. Our Bike division is an important part of the TLD brand and overall business that has been with us since the early downhill period of the 90's. We see continued focus on this division through product innovation and we remain focused on helmets and tech gear for both genres. We have an amazing group of athletes that we look to for guidance and product feedback. These guys and gals are living it and we are stoked to be working with everyone. Stik has put together a great bike program that we are all very proud of and fully invested as we look to the future.

With the millennials maturing and melting into day to day life, there seems to be a new wave of athletes coming into bike and moto who are displacing them – a group that Volcom seems to have successfully connected with. Is that a realistic statement? Will this drive stylistic changes for TLD?
Focusing on the next generation was always a hot topic at Volcom. Put it this way, brands have to
Stikman
: I think it's been about three months since Jason (and our new COO Dutch Schultz) came on board and the change here has been refreshing. Everyone is bringing their A-game to work. Jason seems like a leader that empowers us 'experts in the field' to make good decisions that are for the greater good of our customers, the brand and our community, and this ultimately makes us better people. Tariffs, ebikes, supply chain challenges, new protection innovations, how our customers are getting the product - a lot is changing in the bike business that requires us to be smarter. I think this next chapter will make us better listeners.
Company culture is back to focusing on bicycles and motos and having a good time on them. We needed that. The topper in all of this is to see Troy stress free, riding his mountain bike more than he ever has and his creative juices are really firing right now. He keeps it fun and that makes this more than just a job!
evolve and generations do change. This can be style preference or customer behavior - where they shop and how they shop. What we know is things change over time and if we don't evolve, we will either be passed by or age out.
With that said, we cannot alienate our core consumer looking for new business and chasing trends. That's the beauty about knowing who you are and what you stand for, and being realistic about how much business is really out there. You can't be everything to everybody. It's important to listen to the younger generation and also teach them the history along the way. Mountain biking is still relatively new, and the history isn't as deep as other sports. It will be fun to watch the market develop into a multi-generation sport and watch the progression of riding and style. It's our responsibility to stay in tune with the consumer and be relevant as the demographic widens.

Are you having fun? TLD must be like stepping out of limo and getting behind the wheel of a Lambo…
Interesting analogy. I'm having a blast and learning a ton every day. The TLD family has been very supportive and given me the best onboarding experience. The people that I'm meeting have been great, it reminds me of the surf and snow industry. The common thread is passion and commitment. Action sports bring us all together with mutual respect and the love for riding.…
---