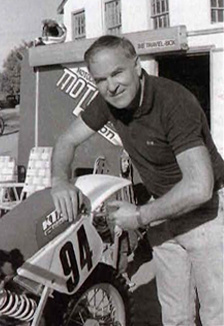 The AMP B2 is unique among mountain bikes because every aspect of its frame, fork, and suspension was designed and manufactured by AMP Research in Laguna Beach, California.
This story begins with
Horst Leitner
, a young engineer and motocross racer who left his home in Austria to set up shop in the Unites States. He founded AMP Research and among his many endeavors, he invented a motorcycle rear suspension that removed braking and acceleration torque from the suspension action, which led him to design and manufacture ATK motorcycles in the 1980s - one of the first competitive four-stroke motocross racing bikes.
Most of us, however, know of him in reference to the "Horst Link" dropout, which is ubiquitous today, but was an important invention in the early 1990s, when dual-suspension mountain bikes were in their infancy.
By 1993, Horst Leitner was still racing motocross every week, but his new passion was riding mountain bikes on the trails near his Laguna Beach home. It didn't take long for the inventor to come up with an
improved mountain bike. Initially, Horst developed a simple rear suspension for Specialized, and it marked the brand's entry into the dual-suspension arena - well, kind of.

Leitner was convinced that rear suspension was going to revolutionize the sport, and quickly became frustrated with the boys at Specialized, who, in his words, "Seemed like they wanted to make a suspension bike, but were screwing around and going nowhere." Patience is not one of Leitner's virtues, so before long, he had assembled a small factory that began churning out aluminum-framed dual-suspension bikes, the likes of which, the bicycle industry had never seen before.

AMP B2 1993:
• Use: cross-country / trail
• Aluminum double down tube frame, 4-bar suspension, 3" travel
• AMP F1 linkage fork, aluminum upper, chromoly lowers, 2.5" travel
• AMP through-shaft hydraulic coil-shocks, front and rear
• Head angle: 71 degree, Seat angle: 73
• Brakes: cable-actuated cantilever
• Sizes: Small, medium, large
• Manufactured in Laguna Beach, California
The model B2 featured here was Leitner's first production model and a benchmark for light weight and simplicity. Its seat stays drove the shock directly and were not laterally supported by a rocker link. To facilitate this suspension configuration, Horst designed a hydraulic through-shaft damper that mounted directly to the seat stay strut. With a bushing on either end of the shock shaft, the damper could handle lateral stress without self-destructing like a traditional shock would.
His compact F1 linkage fork is still a bit of a marvel today. Horst designed it to emulate the axle path of a telescopic fork, while keeping all the moving bits up top, so he could still use cable-operated rim-brakes. The fork was suspended by a stiff steel spring tucked under steerer tube, while damping was handled by a pair of impossibly small through-shaft shocks, pinned to the sides of the linkage arms.
Leitner had no problem with bucking tradition or arguing with unsympathetic press. His made-in-the USA ATK motorcycles had polarized both the media and top motocross racers against his off-center engineering solutions and alternative suspension concepts.

After weathering that storm, Leitner was unfettered by a fresh-faced mountain bike industry infatuated by cross-country racing and titanium hardtails, whose illuminati preached that rear suspension was a laughable folly. He aimed for the heart - to create a dual-suspension XC bike that could prove them wrong.

His engineering approach was unique in that he took nothing for granted. Simplicity was his religion. He challenged every aspect of traditional design to discover a better solution or a more effective way to manufacture it. For example: in place of a conventional shim stack and a mechanically-valved damping piston, his shock damping circuit used a $1.25 square-seal that shuffled back and forth over a series of holes to control rebound and compression flow.

The Build:
Stem:
Ringle Zooka Quill
Headset:
Chris King Threaded
Bottom Bracket:
Shimano Cartridge Bearing
Handlebar:
Answer Hyperlite
Shifters:
Shimano XTR M900 w/ Grafton Perches
Front Derailleur
: Paul 409
Rear Derailleur
: Paul Power Glide
Brakes:
Grafton Re-Entry levers, Speed Control cantilevers
Crankset
: Grafton Speed Sticks, Shimano XTR 26=36-46t
Pedals
: Shimano XT 737
Wheels:
Ringle Super Bubba hubs, Mavic 217 rims
Tires:
Ritchey Z-Max Hard Drive 1.95
QR:
American Classic
Seatpost
: Ringle Moby
Saddle
: Selle Italia Flite
Grips:
Scott AT
Cogs:
SRP Titanium 7-speed
Bar-ends:
Titanium (from Dave Wiens)
Horst's approach to creating the lightest possible bicycle was to begin with prototypes that were intentionally too weak to survive and then reinforce each aspect that failed during testing until the product evolved to its optimum strength-to-weight ratio. To that end, the B2 was crazy light for its time. At 23 pounds, it rivaled elite-level rigid XC bikes. Leitner's quest for the lightest possible suspension bike, however, would eventually become a liability.
The B2, with its F1 linkage fork, its twin down tubes, simple rear-suspension profile and bare-aluminum finish, was a complete concept at a time when most suspension designs still appeared to be college science projects. They handled well, and as advertised, the suspension did its job without interfering with the rider's pedaling action. When pushed hard, however, the B2 was too fragile to hold up under aggressive trail riders, and it was too flexible to convert pro-level cross country types over to the dark side.
The legacy of the B2 was living proof that it was possible to build a dual-suspension mountain bike at a competitive weight and with comparable pedaling performance of the generic '90s era hardtails. Horst continued to progress the design. Successive models had additional travel, linkage-driven shocks, bolt-on seat masts, and improved shock technology. Horst also developed an ingenious bonding technique, used to assemble both aluminum and carbon fiber sub-frames, many of which were sold under the Mercedes brand.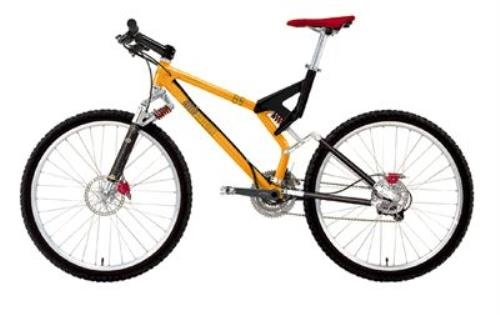 By the end of the 1990's, AMP Research halted its mountain bike manufacturing business with the B5. It was a beauty, featuring an aluminum main frame; a bonded-carbon, linkage-driven rear triangle; a 3.5-inch-travel F4 fork with carbon blades and dual dampers; and AMP's cable/hydraulic
4-piston disc brake
system. I had one for a couple of years and, contrary to many reports, it was one of the most reliable bikes I owned in the '90s. But, it was the simple-looking B2 that still captures my imagination.
The B2 was the first lasting blow dealt to the cross-country hardtail and an example of the level of ingenuity that would be necessary for future designers to bring the dual-suspension mountain bike to where it is today. Ultimately, Horst Leitner's aptitude for invention and his courageous insistence to manufacture every key component turned out to be the downfall of the B-series bikes. Stranded without a source for replacement parts, relatively few rideable examples survive today.
---
---