Product development was back in full swing for 2014, with accessory, drivetrain and suspension makers racing to show prototypes in summer of '13 and the production versions of their masterworks as early as February of this year. Product debuts were announced weekly, which made the spring and summer months the busiest travel season on record for Pinkbike editors. As we compiled our list of worthy candidates, however, we noted that many of those first-ride and first-look firework shows were staged for items slated for 2015 - which begged the question: "Which products actually released in 2014 stood head and shoulders above the crowd?" Pinkbike's selections for "Product of the Year" were chosen from five different product categories and if one casually scans the list: a tire, disc brakes, cycling shorts, a floor pump, and a wheelset; he or she could be excused for yawning. Riders who have experienced our five nominees, however, will no-doubt be excited to discover which will earn top honors, because each became an overnight success at the moment of its release.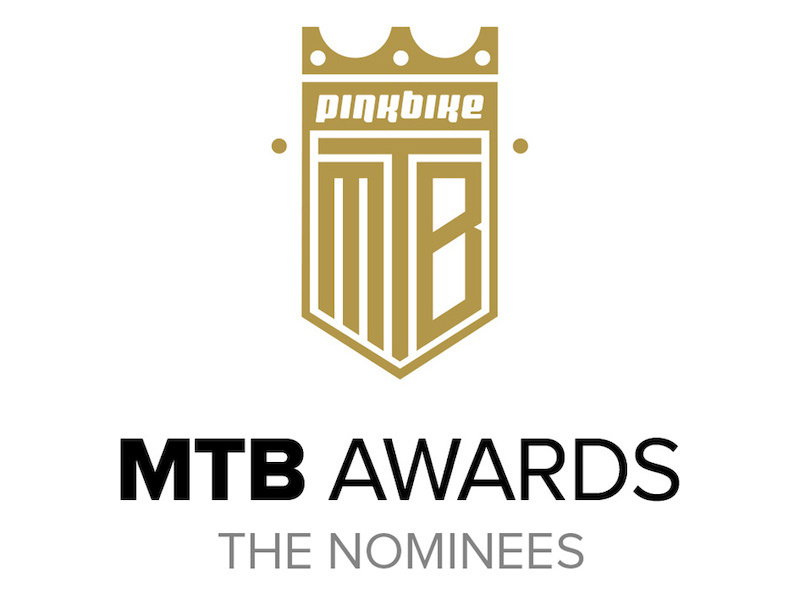 Schwalbe Magic Mary Tire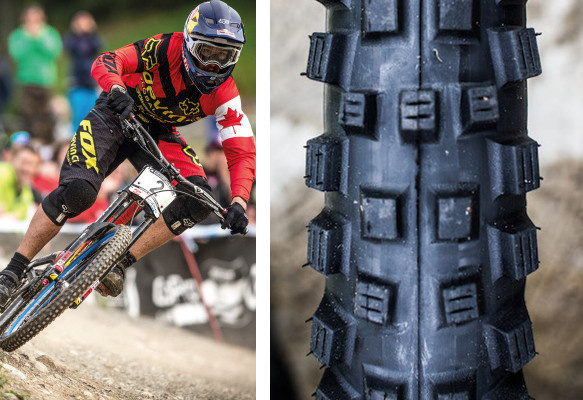 Schwalbe's Magic Mary isn't a fast rolling tire, but it certainly rolls fast enough to win races. Its pointy, soft-compound tread is sculpted to blend the qualities of a wet-weather spike with the edging performance of a dry-condition downhill racing tire, and its casing is tough. Regardless of what Schwalbe's original intentions were for the Magic Mary, it instantly became the first choice for downhill and enduro racers' front tires and history may prove that it was the most blacked out product ever used in mountain bike competition. We joked with Schwalbe's design team that the German tire maker should have either left off its large white hot-patch labels, or included black, wide-tip Sharpie pens in the Magic Mary's shipping boxes, so teams who were sponsored by competing tire brands could more easily conceal them. Are they that good? Would you risk your paycheck to win a race? If you count the number of EWS and WC DH competitors who ran Magic Mary tires in 2014
(We did)
, the answer is a resounding, "yes." Magic Mary's performance is undebatable.
SRAM Guide Trail Brakes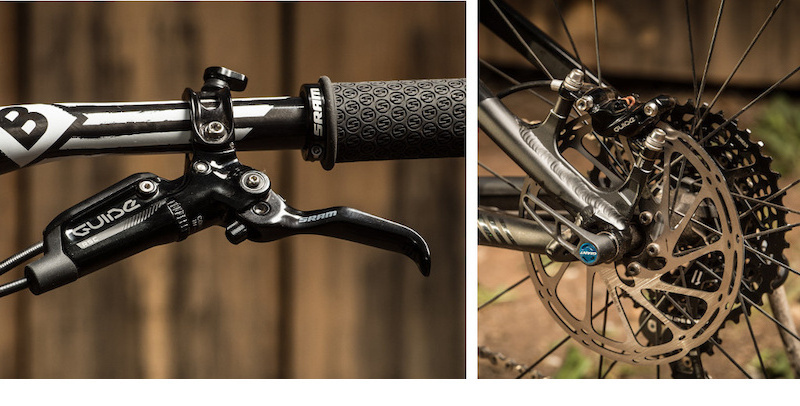 SRAM's response to the industry-wide consensus that Shimano's XTR and XT Trail brakes with Ice-Tech heat control were head and shoulders above all of their competition was to set their disc brake design team to work developing a new system that could equal or surpass the performance of their Japanese rivals.
Guide Trail brakes
represented a return to the basics, in that the master cylinder used the tried and true side-port engagement strategy instead of Avid's proprietary Taperbore system. The rest of the Guide story is about listening to feedback from top riders and addressing their needs with technological improvements. In short, a lot of hard work and design revisions took place before the team signed off on the job.
The result was an all-new brake that had impressive power; best-in-class feel and modulation; the easiest reach and contact adjustments we've experienced; and enough fluid in the reservoir to ensure that you can confidently run the pads to their wear limits without pumping air into the hoses. Guide Trail brakes are the first SRAM-branded stoppers, and a braking system that can stand as tall as its industry leading XX1 drivetrain.
Specialized SWAT Bib Shorts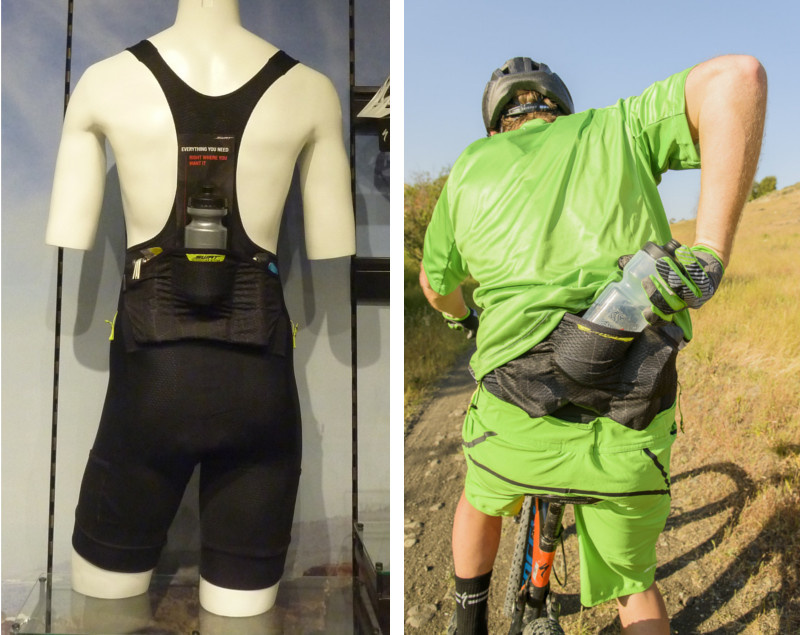 Spandex bib shorts as Product of the Year may seem like a stretch
(had to say that)
, but nevertheless, Specialized has integrated the storage capacity of a small hydration pack and the stash pockets of a short into one very functional, padded undergarment that can be concealed by a conventional baggy short and jersey. SWAT stands for "Storage, Water, Air and Tools" and that is what PB's editors have been stashing in the slim vertical pockets which are sewn into the rear of the bib shorts. There is room for up to three water bottles
(admittedly, three bottles is not all that comfortable, but it's possible)
, or one bottle, some food, a tube, an inflation device, a small wind shell and your mini tool. Jersey pockets have never been a secure enough place to stash heavy or bulky items, and hydration packs, with their confining straps, have been a love or hate accessory for many riders.
Specialized's SWAT bibs
get the nomination because they integrate storage close to the body in a comfortable, cycling-specific garment that many riders already prefer over conventional short liners. SWAT bibs have spawned a new wave of alternative stowage strategies among clothing makers.
Bontrager TLR Flash Charger Pump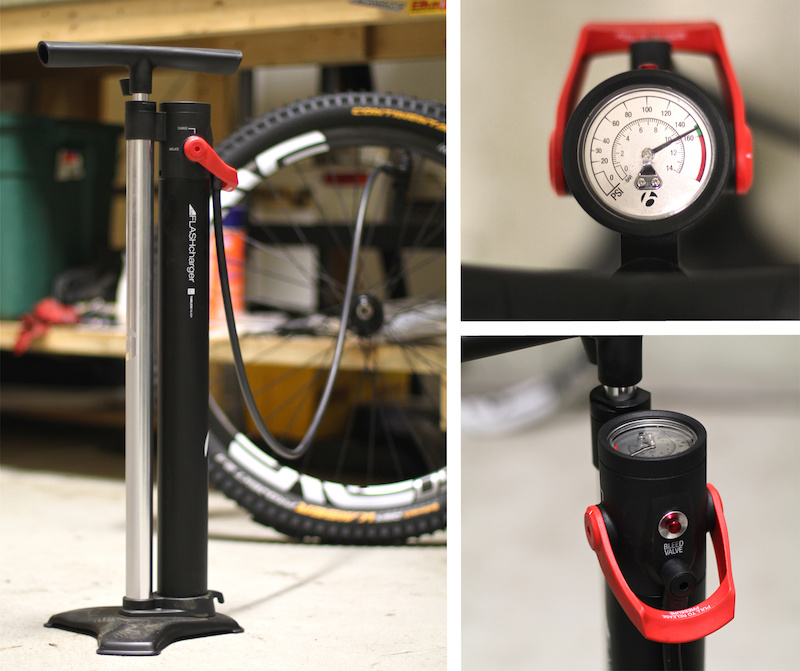 Eco-friendly, human-powered, and brilliantly conceived, Bontrager's
TLR Flash Charger floor pump
has a reservoir that can be pressurized up to 160psi and released to seat the beads and air up fussy tubeless tires. Nearly all tubeless tire reviews mention whether or not the reviewer required an air compressor to finish the job. Those who have wrestled with tubeless installation without compressed air at hand have probably been scarred by the frustration. Many home mechanics have electric compressors and some resourceful ones fill cheap compressed-air storage containers with hand pumps to accomplish the same task as the Flash Charger, but after using Bontrager's solution, both alternatives seem frivolous. Pump up the reservoir, flip the red handle and boom - the tire is seated. If more pressure is necessary, the hose is already hooked up to the tire and some additional pump strokes will top it off. The Flash Charger is quiet, it needs no electrical outlet, it stores in the same space as any floor pump, and it can be a huge timesaver at the races or on a road trip. Bontrager's TLR Flash Charger is one of those simple; "Why didn't I think of that?" ideas that is sure to find its way into most mountain biker's workshops.
Ibis 741 and 941 Wheelsets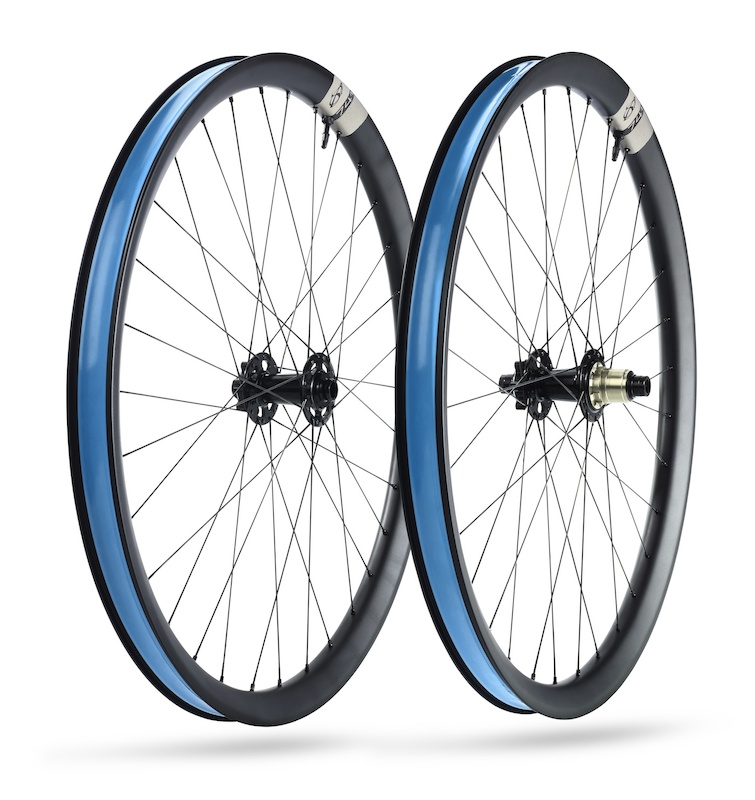 Ibis entered the wheelset business with a powerful statement: a carbon fiber rim that measured 41 millimeters wide with an inside dimension of 35 millimeters. Its tubeless ready bead design incorporated a hookless flange that allowed more carbon to be concentrated there to add a measure of impact protection - protection that Ibis claims to be up to 500-percent greater than at least one of the premium carbon rims that it tested for comparison. Truly lightweight, super-wide rims for trailbikes were first introduced by Syntace in aluminum, and the concept has earned a growing following for the lateral support and cornering stability that they give to the tire.
Ibis earns this nomination for embracing the concept, first by co-sponsoring Derby rims, the start-up company that developed much of the
technology that went into its 741 and 941
designs, and second for introducing the concept to mainstream mountain bikers by producing a durable wheelset that weighs only 1650 grams, at an attainable MSRP of $1299 USD. While the most recognizable brands timidly offer wheelsets with "wider" rims, which are arguably improvements over the 23-millimeter inside-measurement de-facto standard, Ibis courageously offers what it and many others believe will eventually become the go-to for mainstream riders: the 35-millimeter-inner-width trailbike wheel.
---
Stay tuned for more PB MTB Awards nominees all month.