When
the guy who invented the bicycle encountered the man who was riding the second bicycle ever made, at that moment, the first World Championship cycling competition was staged. Cycling
is
racing. Every solo ride is a time trial. Two riders always becomes a match race. Three or more is at least a regional championship. Look no further than Strava for proof - for what is the value of a personal best if only to soothe the sting of being a sorry loser who can't post a KOM? Pretend it's not true if it makes you feel better. Hug your trees, profess your yogic, universal at-one-ness, and hump unicorns all you want, but if you ride bikes, you race bikes. No amount of convincing can refute that fact. Which begs the question: How, when and where will professional fatbike competition be staged?
World Rally competition takes place during all four seasons - something that fatbike racing can bring to the sport of mountain biking. More practically, venues can be held in spring and fall months when traditional mountain bike racing venues are rarely staged due to the probability of foul weather.
Sickening thought? Perhaps, but before you reach for a barf bag, you may consider reaching for your credit card instead, Face it, there are only about two hundred paying jobs for professional mountain bike racers worldwide and all of them have been taken. Historically, the only time additional slots appear for pro cycle racers is when a new venue is born. If you are an aspiring racer seeking professional employment and have been passed over, it probably happened for a reason. If you are an experienced pro who has "overstayed your welcome" you are not going to get any faster sitting on the bench. A new racing venue can be a meteoric career booster for young losers and fast geezers who jump in early and start racking up victories before more talented pros who can't break into the top-ten spots of traditional mountain bike venues smell the money and move in for the kill. The last such opportunity for mountain bikers was the Enduro World Series. One needs to look no further to witness how the equation plays out. Before fatbike racing picks up steam, I suggest that all you hopefuls
(you know who you are)
buy a fatbike, start training in earnest and make some important phone calls. Specialized has a carbon fatbike, so Trek can't be too far behind.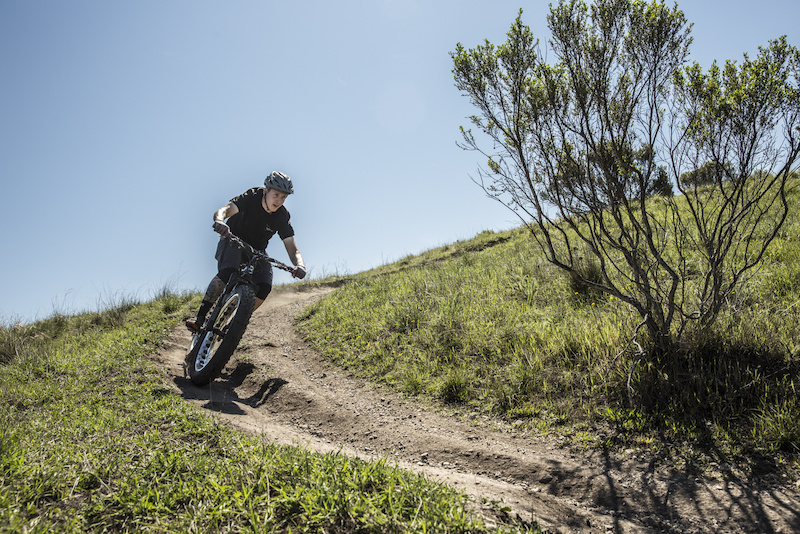 Unlike traditional mountain bike races, fatbike courses do not necessarily require a trail - or even a traditional race course - something that the promoters are actually counting upon. Mike Levy puts the RockShox Bluto fatbike fork through its paces.
Already in the Planning Stages
Molding an appropriate racing venue around the fatbike is already well into the planning stages, and while I am sworn to secrecy as to who is involved and where the series will be scheduled to take place, I can write about it in general terms:
Multi-stage race courses:
Fatbike races will be staged like enduro events over one to two days, and accumulated times will determine the winners. Each stage will be kept secret until race day and there will be no practice allowed. Competitors will be furnished with sealed GPS units that, in addition to providing assistance to guide competitors to each checkpoint, will record their movements and ensure that each stage is completed under sporting regulations. GPS monitoring was originally instigated as a means to prevent racers from seeking short cuts through sensitive wilderness areas that are deemed to be out of bounds.
Could fatbike racing be the venue that finally showcases the advantages of sealed gearbox transmissions? Nicolai already has one ready to rock.
Two-person teams:
Male/female, two-person teams were originally proposed, but the UCI has been historically "less than supportive" of females in professional competition - beyond podium appearances in very short, green, yellow, and red polka-dot dresses. It was ultimately decided that men and women will race separately in two-person teams. The team format was chosen because it has been a hugely successful formula for simulated-survival television reality shows, and also because most fatbike competitions will take place in terrain where trails are either unmarked or nonexistent, and having another brain on board should greatly assist the navigation and decision making process.
Primitive venues:
Taking a lead from the short film, "Where the Trail Ends," the promoters unanimously decided that fatbike venues will be staged in pristine, primitive landscapes with limited trail networks and few, if any roadways. Venues are likewise slated to take place in both summer and winter conditions. Taking advantage of the fatbike's wide, floatation tires and all-terrain capabilities, the routes between stages will not be marked nor indicated in any manner. Racers will employ GPS and other navigation skills to race to each consecutive check point. Ingenuity is encouraged, as competitors are expected to deviate from existing trails and set out across virgin territory, crafting the fastest, most direct route to each destination. Visual assistance to competitors in the form of twenty-meter illuminated flags marking each checkpoint is expected to inspire all-out, to-the-wire efforts from teams as they converge on each goal.
Fatbike racing isn't about rogue mountain bikers popping toads and skidding up endangered habitat. These are modern-day Lewis and Clarks, navigating through untracked landscapes on bicycles that tread lightly, pitting themselves against nature and man in a contest that is a true adventure race.


- Quote from promoter's presentation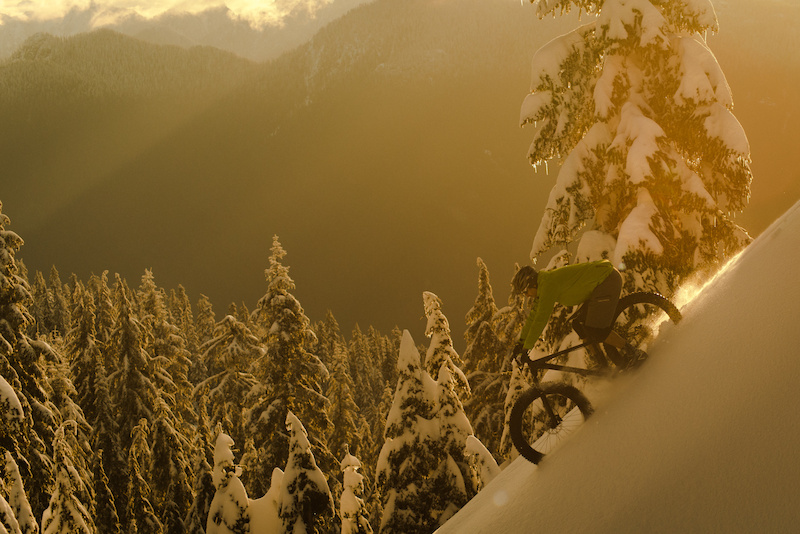 Wade Simmons drops in on a Rocky Mountain Blizzard. Contrary to popular belief, fatbikes don't pedal all that well on snow, unless it is a prepared surface, or has a supportive crust. That said, fatbikes perform better than any other mountain bike on the stuff, so races could be staged in Alpine snow and descend to finish in more rideable terrain.
Made-for-media event:
Fatbike teams will be required to wear POV cameras and a POV camera will be mounted behind the number plate of each bicycle. The timing system's telemetry will automatically switch the recording devices on and off as teams start and finish each stage. Downloads will be used to enhance video coverage of the event. In addition, telemetry will be used to broadcast real-time footage of riders at speed on course, and to capture the emotional and personal moments that will inevitably occur as teams battle against nature and the clock. One of the three promoters said during the meeting: "For the first time, television viewers will get to experience the raw essence of mountain biking - man versus nature - as the saga unfolds in the context of head-to-head competition. Can mountain bike racing be better than that?"
Pinkbike will keep you informed as the series moves forward. Until then, all we can add is that the first professional fatbike race in the history of mountain biking will most probably take place in Iceland, and while the promoters have made some big claims about the venue, if it goes off even half as well as we are led to believe, fatbike competition could become a very popular event. We shall see, but in the meantime, we'd like to know how you feel about fatbikes and fatbike racing in general.
---
---
---