Oral tradition
and the written word states without question, that experienced cyclists pedal in perfect circles, and that doing so ensures every muscular contraction which occurs in the braided musculature of the rider's legs is efficiently converted into forward motion. The analogy of a smoothly balanced piston engine is often used to describe the cadence of professional cyclists in action. Inexperienced cyclists, those who have not attained such mastery, are jeered because they "pedal in squares."
Cycling science, as it presently stands, supports the sacred circular stroke, but before we believe every sports doctor's advice and take their revered training manuals as gospel, we should consider that most of the research which upholds the perfect pedal circle was generated by old-school cyclists who were established believers. Have presumptions poisoned the science of cycling? Could it be possible that after seeking the perfect pedaling circle for one and a half centuries, that cycling got it wrong? Could there may be a more efficient method of pushing pedals around a crankset?
With practice and determination, a healthy human body can be successfully taught to master a wild range of physical activities and repetitive motions. Those who need proof need only to watch Eddie Van Halen play guitar, attend a circus, or take in a Bikram Yoga competition. Pedaling in perfect circles should seem laughably easy after that trio of performances – so, why is it so hard?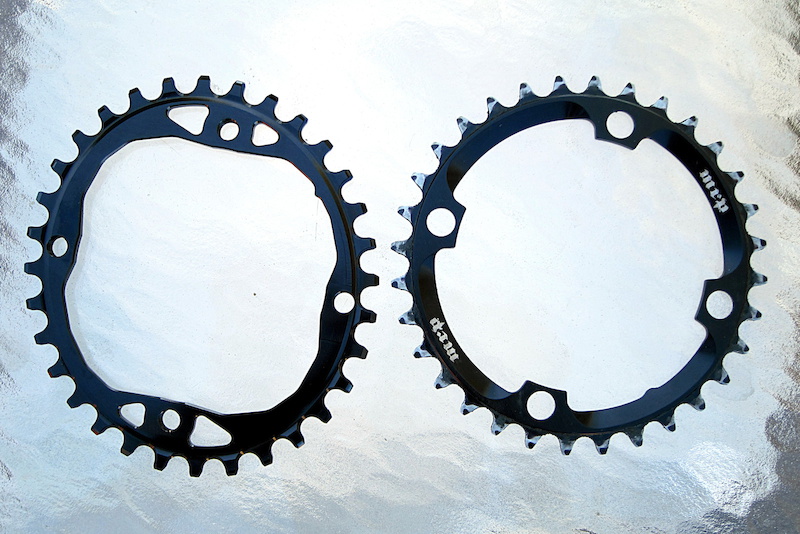 Both are 32-tooth chainrings and both will drive the bike forward at the same speed at a given RPM.The Absolute Black Oval sprocket can actually smooth out your power stroke during high watt efforts.
The answer may be hidden in the first paragraph of this intro. Perhaps the reason that newbie cyclists pedal in squares is that the human body was not designed to pedal in perfect circles. Perhaps today's most elite cycling professionals could benefit by deconstructing their "perfect" circular pedaling and adopting a motion that favors human kinematics that evolved over millions of years for walking and running upright. As it is with all idealized forms and philosophies, reality and truth can always be found somewhere in the middle.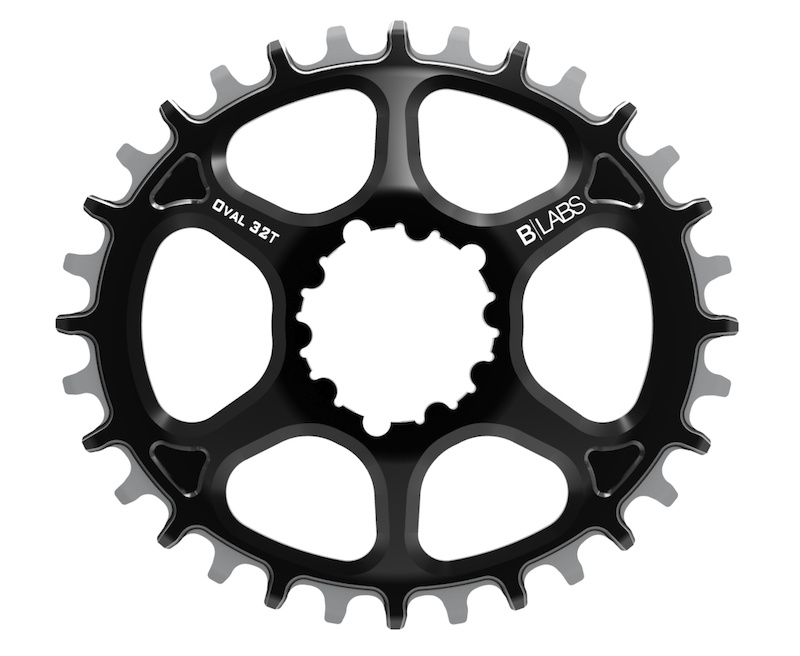 Bionicon's B Lab oval chainring uses a less exaggerated
oval shape. The narrow-wide tooth profile is a must.
Widespread acceptance of one-by drivetrains has created an opportunity to re-evaluate conventional pedaling logic. There are a growing number of riders and component makers who believe that oval or cam-shaped chainrings should be used to better match effort required to turn the cranks with the kinematics of the human skeleton and musculature. Asymmetrical and oval chainrings have been in use for quite a long time and have earned victories in every form of cycle racing with the possible exception of DH.

OEM drivetrain suppliers, however, have not participated, primarily because reliable shifting is a struggle for even the best front derailleurs when the diameters of the sprockets are constantly changing. But, the recent domination of one-by drivetrains and their companion, the SRAM-developed narrow-wide tooth profile, have eliminated the need for a front changer and also paved the way for OEM drivetrain makers to experiment in earnest with asymmetrical chainrings.
The concept of optimizing a mechanism to operate in a non-linear mode that more closely mirrors human kinematics has been successfully employed in other areas. Cam-driven weight machines and high-power compound archery bows are two examples that pop into mind. I counted a half-dozen aftermarket drivetrain suppliers that offer asymmetrical chainrings for road - and beyond Rotor, the Spanish pioneer that has been the point of the spear for their development - at least four more brands have jumped into the mountain bike arena with oval or asymmetrical rings.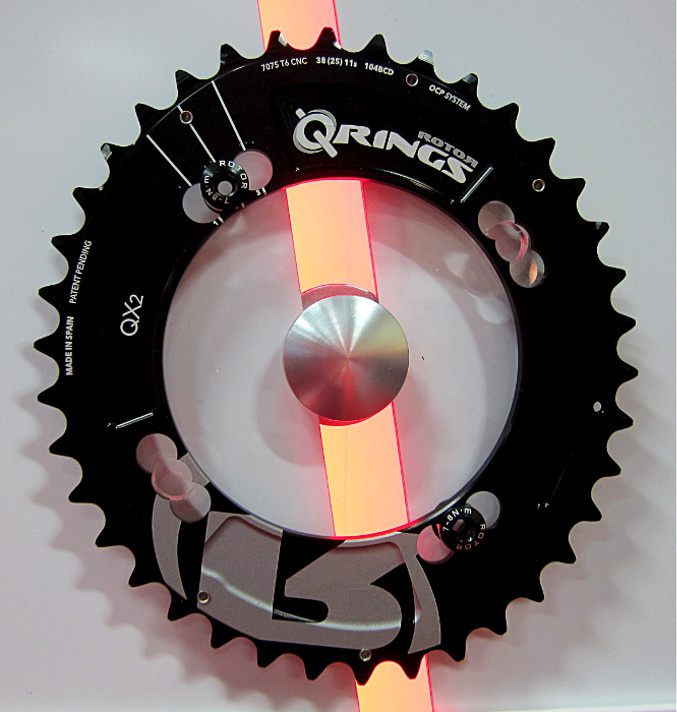 Rotor learned that adding timing options to its chainrings
was an essential tool which allowed riders to tune the
sweet spot to their pedaling styles.
Mountain bikers, haunted by the ghost of Shimano's asymmetrical Bio-Pace chainrings which plagued early mountain bikes will no-doubt resist the mere mention of a chainring that is not round, but times have changed. Powermeters and other devices that track and measure riders' watt outputs and real-time cardio-vascular data are commonplace, and cyclists regularly use those tools to personally evaluate performance items. Seeing is believing. Presumably, the popularity of asymmetrical chainring among elite road racers is also directly related to the fact that most race and train with power meters, so they can measure results and eliminate guesswork and presumption from their performances.
At present, most offerings for mountain bikes are simple ovalized sprockets, a handful of which, Pinkbike is presently testing. Initial impressions are that the concept is not perfected, but it has legs. There is a learning curve required to time your cadence to the pulsing effect. Speed remains about the same - the bottom line is that, round or oval, one revolution of a 32-tooth sprocket still advances the cassette by 32 teeth. The difference felt is in
how the legs mete out pressure on the pedals
through the crank circle, and it seems to help most when laying down lots of torque.
Ultimately, the basic oval will probably evolve into a more optimized shape - which is what the more experienced players, like
Rotor
and
O,Symetric
, are already doing. Ironically, the evolution of the asymmetrical chainring is leaning towards a slightly rectangular profile – which suggests that the human body actually is designed to pedal in squares.
So, the question for today's Pinkbike Poll is: If it could be proven without a doubt that using an asymmetrical chainring would improve your pedaling output or efficiency, would you switch over from round rings?
---
Where to look for asymmetrical chainrings:
Rotor Bike,
Absolute Black,
Bionicon B-Ring Oval.
---