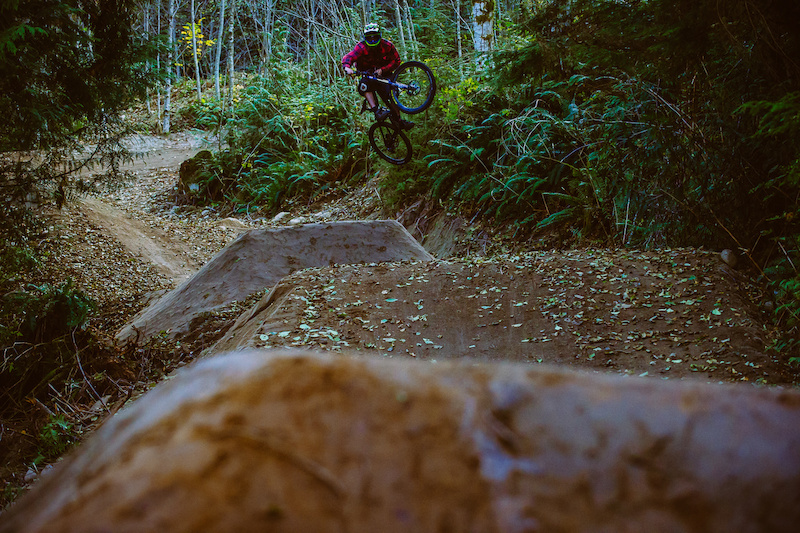 Stunning creations in our minds, but to an influential minority, our trails are viewed with contempt. So far a tenuous treaty has worked in favor of mountain bikers. - Margus Riga photo
Having lived
in the country for many years, I have learned to live with the local wildlife population. Some of my furry, winged and scaled neighbors are welcomed additions to my outpost in nature, but there are a number of them which, though not welcome, are grudgingly accepted. I do not despise any living thing. I believe that everything on this planet of ours has a purpose and also has the right to live and be happy - and, yes, my list includes top predators, poisonous spiders, snakes, mosquitoes, leeches and ticks. I invite nature to share everything on my property on her terms - with the exception of that which exists within a small perimeter around my house.
Like most good and well-meaning people, I can ignore a few mounds in the yard. When I start seeing them pop up in more than one place, I may become concerned. When I start losing plants, I negotiate a balanced agreement: I'll lay some traps around the plants and, even though I am getting tired of digging rodents, I'll let the outliers live and just smooth off the mounds they make where they are unsightly. At some point in this give-and-take game, I reach a tipping point. Maybe I lose a cherished cactus. Or perhaps I return from testing bikes in Europe to discover that there are mounds everywhere. At this point, concern becomes anger, my tolerance becomes resolve, and I eliminate every digging rodent within the line.
(Complain about my bad attitude towards nature here)
Conflicts with unauthorized building led the Washington State Department of Natural Resources to destroy one of the better trail networks in the North Fork area near Bellingham, Washington. - Brad Walton photo
(Read about the
good end to this story.
)
I claim no high or low ground here. It is human nature to avoid conflicts until they grow so large that drastic measures must be taken to solve them. Both governments and criminals exploit this inertia to tax or steal from others because time has proven that, until people reach a tipping point, we will grudgingly put up with almost any sort of threatening or illegal behavior - and if clever planning can keep the level of angst just below our tipping points, their exploitations can continue indefinitely. Most diggers are operating under that same rules. Call it "unauthorized trail construction" or "user-built trails," but when you dig on public or private land, you are wagering that dissention and disapproval created by your project will remain at levels low enough to ward of action by land managers and conflicting user groups. If you have made your jump line or trail somewhere where it evokes a minimal reaction, it may remain long enough to be forgiven - even adopted. The more likely story, however, is that other diggers will be inspired by your handiwork and move in - adding new lines and attracting more riders and diggers, until one day, after one too many helicopter rescues or encounters with angry residents, your zone will push the landowner or manager past the tipping point.
Where is the tipping point? You would have to be brain dead to believe that your secret trail is secret. Whoever he or she may be, it's a safe bet that the person who owns or manages the land you built upon knows or will soon discover that your creation exists. Localized zones have and will continue to be
shut down by land managers
who are fed up with diggers, but that is a given. Consider the big picure. Is there a mounting angst nationwide? Surely large land-holders, foresters, park directors and open space conservancies have been watching the trend, and while there are billions of acres of land where a builder could dig unnoticed, it could be argued that all eyes are now focused on the high concentration of trails that are popping up in and around populated areas. The perceived danger is that a very large and conspicuous entity will eventually pop, and rule heavily against mountain bikes and unauthorized building - and if that occurs, others who have been quelling their anger and concern will follow suit. If such a thing occurs, history indicates that all of us will be driven off, not just the builders. So, today's poll is:
---
---