Specialized
officially adopted the mid-size wheel standard, two years after it sent out a memo to the press that the pioneer mountain bike brand had no intention of producing a 27.5-inch-wheel bike, stating that they were convinced that the 26-inch format was fine the way it was, that the 29er was a far better choice for a bigger wheel bike, and that the mid-sized wheel "...represented the worst of both worlds." Specialized also covered their butts, writing that they would consider producing 27.5-inch bikes if there was sufficient consumer demand. Well that day has apparently arrived, and Pinkbike was invited to Hood River, Oregon to test ride Specialized's 2015 S-Works Enduros: The Enduro 29 and its direct descendant, the Enduro 650b. The plan was to ride the two bikes back to back on the eight stages of the
Oregon Enduro Series
event, held on the spectacular Post Canyon trail network.
About the 2015 Enduros
Speaking very candidly about their decision to build a 27.5-wheeled version of what may turn out to be the best performing mountain bike that the brand has produced in a decade, Specialized said that the primary motivation was market driven – there is massive interest in 27.5 – and also, after evaluating the potential benefits of the mid-sized wheel, that, while the great majority of riders at Specialized are sold on 29ers for trailbikes, that the 27.5-inch wheel can outperform the 26-inch to the point where there is no reason to continue to develop new models in the original mountain bike wheel size. Without putting it in writing, Specialized stated that 27.5 is the new 26 – and that said, they were now tasked with building the best-performing 27.5 bikes made.
Is the Enduro 650b a ground-up design based upon 27.5-inch wheels?
No, in fact, the new chassis uses the 26-inch-wheeled Enduro front section, paired to a new chain stay, seat stay, and shock extension design. When Specialized engineers did the math, they realized that, once they adjusted the steering geometry to be slightly slacker for the slightly larger wheel, that using a 160-millimeter-stroke fork would still fit almost exactly in the same space. To achieve the correct bottom bracket height and also to take advantage of the larger-diameter wheel, while keeping the new bike's chainstays short, the team designed a new swingarm and seatstay strut, thus creating a "new" chassis for the Enduro 650b.
Compare the geometry of the two bikes below, but before you get hot about the fact that the 29er and 27.5-inch Enduros do not share the exact numbers, it must be so. To achieve similar steering and handling qualities between two different wheel diameters, the head angles, fork offset, chainstay length and other minutia must be tweaked. Smaller wheels, for instance, require slacker head angles. Some numbers, like the Enduro 650b's shorter chainstay length
(422mm)
, however, are benefits endemic to the smaller diameter wheel. Shorter stays give the Enduro 650 better weight transfer for climbing and the smaller wheels allow for a more compact wheelbase for crisp handling.
That said, being restricted to using a front section predesigned for a 26er to come up with a competitive 27.5 bike presupposes that compromises were made in the Enduro 650b's numbers – geometry tweaks that could or may be addressed with a dedicated mold in the near future. Recent history shows that every brand who has adapted an existing bike to a new wheelsize has returned shortly thereafter with a dedicated design. To Specialized's credit, however, the Enduro 650b absolutely shreds in its present form.
What's new about the Enduro 29?
Aside from some cosmetics and new upper shock mount that saves some weight, the 2015 Enduro 29 chassis is carried over from model year 2014 – which is a good thing, because it remains one of the most outstanding AM/trailbikes available in any wheel size. Rear-suspension travel sits at the same 155-millimeters, and it uses a 160-millimeter-stroke RockShox Pike Solo Air fork. Most of the Enduro 29's upgrades for 2015 are in its components, which are duplicated in the Enduro 650b range.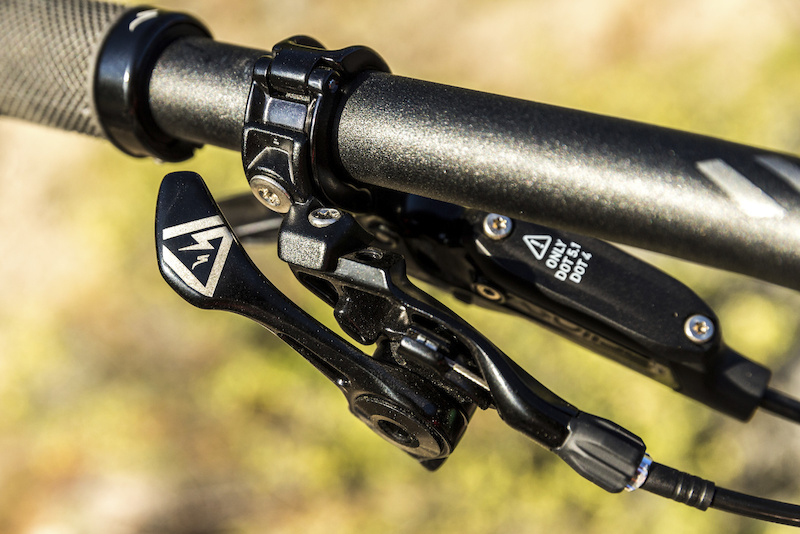 Specialized's SRL dropper post lever is brilliantly
simple and effective. We hope that they intend to
offer it as an aftermarket item. It should operate
any cable type post.
Twin Component Specs
Four Enduro models will be offered in each wheel size, with the same spec at each level. The S-Works and Expert have carbon frames, while the more affordable Elite and Comp have an aluminum chassis. Drivetrains are SRAM XX1 for the top-drawer S-Works, SRAM X01 for the Expert, SRAM X1 for the Elite, and an single ring drivetrain for the Comp. The entire lineup gets some version of RockShox's highly touted 160-millimeter Pike fork, and Specialized offers its top three Enduros ready to race, with Cane Creek's DB Air in-line shocks, and internally routed Command Post IR dropper posts that showcase Specialized's, sweet new below-the-handlebar remote lever called the SRL
(Single-Ring-Lever)
. The S-Works gets and Specialized's carbon 30-millimeter inside-width Roval Traverse Fattie SL wheels, while the Expert, Elite and Comp share the aluminum versions. All models feature the new Slaughter Control rear tire, with a Butcher Control up front. https://www.pinkbike.com/news/specialized-slaughter-tire-first-ride.html. The entry-level Comp sport lacks a dropper post and its rear suspension is powered by a Fox CTD Evolution shock.
Sizes offered for the Enduro 650b are different, because of the 27.5-inch wheel frame's lower stand-over height
(10-millimeters)
and its average, 38-millimeter shorter wheelbase. Enduro 650bs come in small, medium, and large, while the longer and taller 29er chassis comes in medium, large and X-large. Prices for the Enduro 29 and Enduro 650b, however, are the same for each level, with the S-Works at $9300, the Expert at $6600, the Elite at $4900 and the Comp at $3600 USD. Weights for each bike were not given, but a look at last year's Enduro 29 models should get you within 100 grams plus or minus. Specialized says that the Enduro 650b is about a half pound lighter than its 29er kinfolk.
---
---
FIRST RIDE:
S-Works Enduro 29 vs
S-Works Enduro 650b
Riding with the folks at Specialized is not to be taken lightly. Every ride begins with light conversation and then quickly evolves into a World Championship. Curtis Keene was our guide – calling for two ride sessions each day, repeating key stages of the Hood River Enduro so we could get our game on as quickly as possible. Stages varied from bike-park type flow trails, to thin forest tracks littered with steeps and rocks. With good line-of-sight on much of the course, speeds were as high as courage would allow on many descents. It was easy to find trouble in the heavily wooded sections, though, as thick dust hung in the air and forced trailing riders to fly blind into chunky sections. Keene was loving life. Enduro was his job and the Specialized S-Works Enduro 29 was his office. The eventual race winner was intent on giving us a crash course on both.
---
The Enduro 29:
I won't give a blow by blow on how the S-Works Enduro 29 rides, because PB Tech Editor Mike Levy covered the very similar 2014 version in depth a few months ago in this
excellent review
, and I would report a much similar experience. On the Oregon dirt, and armed with Specialized's super grippy Butcher Control 2.3-inch tire up front and the speedy, Slaughter Control 2.3-inch rear tire, the latest rendition of the carbon fiber S-Works Enduro 29 was a weapon. I had not ridden one in over a year, and thus expected that I would need few miles of trail to adapt to its handling. Nope. It fit me perfectly, and the initial setup for the Cane Creek DB Air shock and RockShox Pike Solo Air fork proved to be spot on. Beginning on a bike that felt familiar, I spent over six hours on the S-Works 29er before switching to the Enduro 650 – enough time to get pretty confident with its handling and power transfer.
Enduro 29 strong points:
It is rare to ride a 29er with 155 millimeters of suspension travel that changes direction with relative ease and responds lightly to steering inputs. Its climbing is efficient as long as one can maintain a minimum speed and flow. Specialized has developed an offset 30-tooth narrow-wide chainring for its S-Works carbon crankset that works with a 104mm bolt circle. The 30 makes long climbs livable, compared to the typical 32-tooth ring that cranks with a similar BCD are limited to. Finally, the more obvious strength of the 29-inch Enduro is its ability to carry speed when the track is bumpy or rock-strewn. Add the stabilizing effect and smoother ride that the Roval Fattie rims give to the tires, and its already stellar performance in the rough get one level better. Summed up, the new S-Works Enduro 29 is strong in every corner of the all-mountain/enduro performance envelope. It requires very little from a rider to cover semi-technical terrain at pace – up or down.
Enduro 29 weak points:
Get too slow on a climb and the Enduro 29's extra rubber and heavier wheels will start to tax your legs. The S-Works model that we rode had lightweight carbon Roval Fattie SL wheels and the lighter tire casing option, but as the day grew longer, the legs were reminded that there are flywheels attached to the bike when hitting punchy climbs. The faster roll-over of the 29er S-Works plays a larger role at slow to moderate speeds. The force of impacts grow exponentially larger with an increase in velocity, so there reaches a point where the moderate reduction of the 29-inch-wheel's strike angle cannot mask the fact that the fork and shock only move 155 millimeters. As we adapted to the race course and speeds increased, so did the occurrence of flat tires. Everyone who returned on a 29-inch-wheel Enduro did so with the O-rings glued to the fork crowns and pushed to the end of the shock body. Not so much with the longer legged Enduro 650b. The Enduro 29 also requires more time to set up for a turn, and its 780-millimeter handlebar slows steering input further. It take little time to get used to – especially if one is coming off a super slack AM bike or a DH sled, but the Enduro 650b sets up quicker and easier.
---
---
Enduro 650b:
During the launch, Specialized officials made it clear that, given their druthers, they would not be having the 27.5-inch launch at all and that, "Everyone here chooses to ride an Enduro 29." This actually made the Enduro 650b better, I believe, because the engineers, marketing staff and test riders were honed on a damn good big wheel bike, so when the time came to crank out a mid-sized wheel version, they tuned the new Enduro 650 to emulate the best qualities of their Enduro 29s. Had Specialized followed the more predominant trend and modeled the new bike after the well-evolved, but perhaps dated traits of a 26-inch wheel bike, I don't believe it would possess the high-speed stability and easy handling qualities that make it a stand-out performer. In short, Specialized's first 27.5-inch-wheel AM/trailbike may prove to be the best of both worlds – not the worst, as predicted.
Enduro 650b Strong Points:
As mentioned, there is much parity in the handling qualities of the 29-inch and 27.5-inch Enduros – to the point where, once I became at home on the Enduro 650b, I sometimes had to question which version that I was on. The 650 turns into a corner more aggressively. I first noticed this on flatter turns or when setting up for a berm, where I would sometimes slide the front tire momentarily because I was steering into the turn more than necessary. The 29er requires more steering input to get the same results – so when I first switched to mid-size wheels, I was over correcting. Once you commit to your line or set up for a turn, the Enduro 29 will want to stay the course. The positive side of the 650's sharper steering is that the bike can be moved around in a turn and it is easier to make mid-course adjustments should your original plan go wrong. For a trail rider, that could mean safely riding out of an otherwise untenable situation – for an enduro racer, it could be a real time saver.
Enduro 650b Weak Points:
Argue all you want about wheel diameters, but the Enduro 29 will roll faster than the 650 over most of the race course. Back to back riding illustrates this well enough so that no other conclusion can be reached – but the margin is much less than 29er advocates will likely admit. In an enduro situation
(you can substitute 'shuttling' or 'lift access' here)
, where climbing is minimized and descending can approximate the speed and technicality of DH racing, having the 650's extra measure of suspension travel, more agility and lighter, sturdier wheels could win the day – and often does. On Post Canyon's varied tracks, and without the pressure of timed competition, I would choose the Enduro 650b, because it felt more like an extension of my body when I was pushing hard or hitting an unknown feature. That said, if I was looking for seconds on a timed stage, I may find myself wondering if I was giving up something to an unseen Enduro 29 rider.
First Impressions:
| | |
| --- | --- |
| | As most of my riding is testing bikes, and I rarely enter races, I would choose the Enduro 650b because it is a more playful feeling, easier bike to ride than the 29er version. Physically, there are men and women who simply will not comfortably fit on the Enduro 29, and for them, the 650's handling and performance are so close to the 29er's that the efficiency afforded by the better fit and measure of control should boost or at least match the performance of that same rider uncomfortably patched onto the big-wheel version. Granted, there is a lot of speculation in this first ride report of Specialized's latest S-Works Enduro 29 and 650 that only a definitive long-term test or metered comparison can sort out. For now, I can wholeheartedly say that Specialized's first 27.5-inch-wheel bike is a sweet ride - and worthy of its namesake. - RC |