Rossjiggler619
Member since Nov 3, 2019

Male / 29
Thousand Oaks , California
Block user
Recent

Dec 23, 2022 at 12:23
Dec 23, 2022

Sep 7, 2022 at 22:50
Sep 7, 2022

Selling
Sep 7, 2022 at 22:44
Sep 7, 2022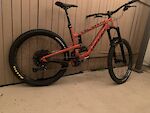 $3800 USD
Selling my loved Nomad 4. Swapped frame bearings with fresh ones from Santa Cruz last month when I was getting the bike ready to sell. Had the replacement bearings so they were installed. Rockshox zeb select fork, bought it 9 months ago and have had the lower leg service done recently. Rockshox superdeluxe ultimate rct air shock, burgtec ti shock bolts, this is the original shock that came on the cc frame in 2019. I ran it for a while then replaced with a coil shock. The shock was fully rebuilt (damper and all) by lone wolf suspension in Santa Barbara just for this sale, only did one day of riding on it after service to make sure it was all good, then threw the coil back on. Hung brand new take off parts from a 2023 Santa Cruz nomad on the bike, brand new take off sram NX drivetrain, everything is brand new not ridden except for the gx cranks. Brand new raceface arc 30 rear wheel. Brand new sram guide RE brakes with new 200 mm sram centerline front and rear. Brand new Santa Cruz wtb Silverado saddle. Brand new e 13 cockpit, can swap a raceface sixc carbon bar if wanted, but it is used and only 10 mm rise, 35 mm e13 bar is a better fit on the bike but am happy to swap. Frame is in awesome shape despite it being ridden. No cracks or anything that can be mistaken for a crack. Limited rub and wear marks as the frame was 3m taped in high wear spots. The dropper post on the bike is a Ks lev that runs external as there is some old dropper cable housing lodged in the frame's tube in tube routing. I am sure a bike shop can get this out easy, I just never got around to it because this post works great and has been maintained. Brand new cable and sdg tellis dropper remote installed as well.

Aug 2, 2022 at 19:33
Aug 2, 2022

Selling
Aug 2, 2022 at 19:32
Aug 2, 2022

Jun 10, 2022 at 14:09
Jun 10, 2022

Jun 1, 2022 at 17:45
Jun 1, 2022

Selling
Oct 26, 2021 at 19:29
Oct 26, 2021
$123 USD
Need a sram eagle gx or xo1 rear derailleur. Please let me know if you have one to sell!
Load more...