Shach0rye
Member since Aug 5, 2020

Male / 24
Los Angeles , California
Block user
Recent

Oct 16, 2020 at 11:36
Oct 16, 2020

Sep 18, 2020 at 12:29
Sep 18, 2020

Selling
Sep 18, 2020 at 12:26
Sep 18, 2020

Sep 15, 2020 at 16:30
Sep 15, 2020

Selling
Sep 15, 2020 at 16:28
Sep 15, 2020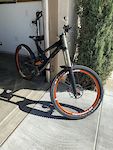 $3400 USD
Hi everyone! Up for sale/trade is my faithful DH Rig. I'd to trade a DH of equal/more value with cash on my end. Preferably looking for a YT and/or a bike with DVO components. Details are as followers: •2018 Large Intense M16 27.5"/650b Downhill Bike (covered w/Invisiframe and #2228 tape). Always stored indoors, cleaned after every ride that SAME day. •Bushings/Bearings constantly lubed & maintained (recent maintenance completed April 2020 - was hoping to ride it - never got a chance) •Fork: Fox 40 Performance Elite FIT4 (coil). 200mm travel. Fork is covered with black tape (I preferred a blacked-out look), stickers underneath show signs of wear, but, no damage to lowers. •Shock: Fox DHX2 240mm travel (gold coating - not sure if it's Cashima or not). 475 SLS spring w/Roller Bearings installed (helps keep the shock spring from binding). Sanctions are 100% scratch free and only have maybe 20 hours of ride time. •Wheels = upgraded to Spank Spoon 32 aluminum wheels, less than 10 rides on them. •Tires = Maxxis High Roller II DH casing 2.4 (front), Maxxis Minion DHR II DH casing 2.4 (rear). 75% life left on both. •Shimano XT M8000 brakes (upgraded from SRAM Guide R). Recent bubble bleed completed/fluid topped-off. 200mm rotors. •Shimano Zee 10-speed drivetrain. •E13 LG1 chain guide / bash guard installed. •Crank boots (protectors) in place. •Stamp 7 flat pedals INCLUDED. •Renthal Fatbar DH alloy bar (original specs state 780mm width) •WTB Silverado Race saddle. Bike has very few hours and I'm looking for trades more than a sale. PS: I'm 5'7" and I don't notice a difference between medium and large. Willing to drive and meet up anywhere within a 10 hours driving radios of Los Angeles. I might be willing to drive further. Text me 818-590-9149

Aug 18, 2020 at 13:24
Aug 18, 2020
FYI, did a deal with Shach0rye in August... member is GTG!!! Don't hesitate.

Aug 5, 2020 at 10:19
Aug 5, 2020

Selling
Aug 5, 2020 at 10:17
Aug 5, 2020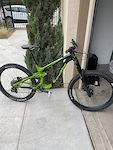 $2300 USD
Hey everyone up for sale is my 2018 Transition Patrol, I purchased her in July of 2019, ridden about a half dozen times in Big Bear and some local trails. Rockshox Yari in the front and Rockshox Deluxe in the rear. Raceface drivechain, WTB rims laced to Joyride hubs. COMPLETE SPECS HERE: https://www.vitalmtb.com/product/guide/Bikes,3/Transition/Patrol-NX-Complete,20425#product-specs There's some purely cosmetic scratches on the frame from putting her on the truck and a few spills. The rims are true, no flat spots, tubeless setup, pedals are included too! -Please note the adjuster to lockdown or open the suspension fell off but you can use a pair of pilers just the same. I'm sure Transition can send you a replacement part, I just haven't done it.- I'm also interested in trading for a DH bike with cash on my end. I have an extra set of gloves I'm throwing in with the bike just for fun. Willing to ship globally as long as buyer pays shipping.
Load more...