What is it:
One of Giro's 'DIRT' Series Helmets. Building on the popular ZEN helmet with a new fitting system, nylon enforced foam liner, coming in six colours and 3 sizes it will appeal to a variety of riders.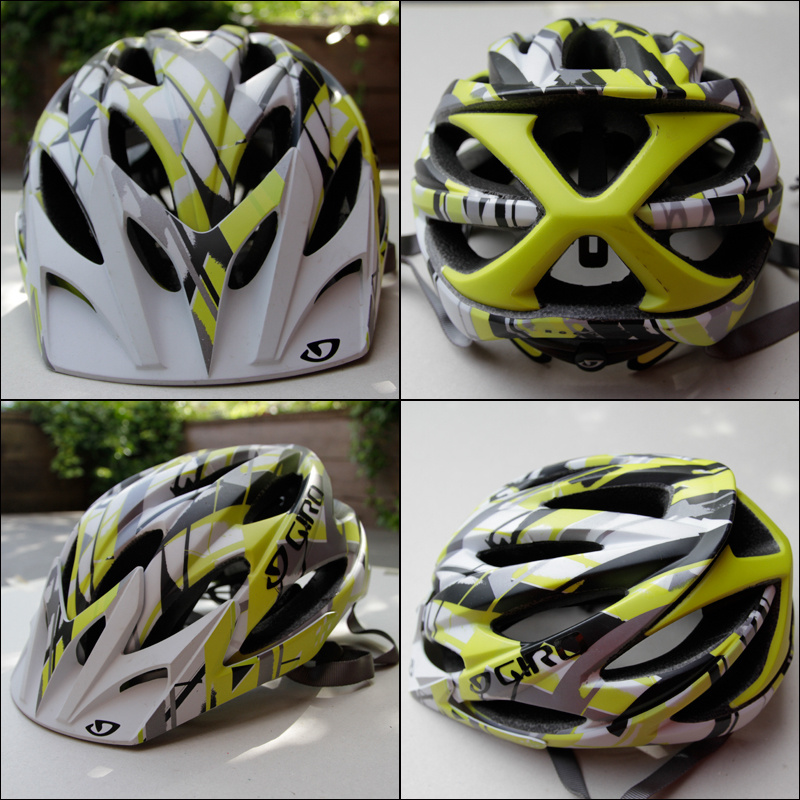 Close up
- P.O.V.™ adjustable visor
- In-mold composition with EPS foam and polycarbonate shell
- Roll Cage™ reinforcement
- Roc Loc® 5 fit adjustment
- 17 Wind Tunnel™ vents with vented visor .
- Inner padding made of Giro's X-Static fabric. 
- Available in six colours.
The details
The XAR helmet builds on its predecessor the XEN by having the same coverage in a lighter more ventilated package and with the new Roc Loc 5 fit adjustment system. Roc Loc 5 - A new ratcheting dial replaces the two handed push levers with a one handed dial. You can adjust the tightness of the helmet as well as where it sits vertically on your head with the twist of the dial with one hand. You can also adjust on the fly enabling you to tighten the helmet for a descent, and loosen it for a long hot climb. Interestingly this system only extends on the back 3/4 of the helmet making tension come from the back of the helmet not around the helmet. This prevents that tightening around your head by systems that cover the entire helmet.
The In-Mold construction creates a lighter helmet that is easier to mold to specific ventilation parameters since it is a one piece system. Typical hard shell helmets are constructed as two pieces and glued together. Both construction styles have the same safety benefits.
Giro's 'wind tunnel' system utilizes external ventilation holes and internal channels to maximize air flow though and over your head. This feature was most noticable when you were going fast to generate wind through the helmet. Long climbs didn't show this ventilation effect but the ability to loosen the helmet did help.
Giro's P.O.V. visor allows for a 15 degree up and down adjustment of the visor to allow more light in, or lower to block light as conditions change. I tended to leave the visor in the lowest setting to block out the sun and any overhanging branches.
The Roll Cage is simply a web of DuPont ® Nylon® molded inside a helmet's EPS foam liner which adds to the impact resistence of this helmet.
X-static padding has anti-microbial properties and can be removed for washing. It was on the thin, but dried quickly and didn't smell after many extended hot rides. Sweat would still drip off my head on the those long climbs but it didn't have the clammy feeling of many helmet pads.
The six colour options offer a variety of styles that will appeal to all riders.
Performance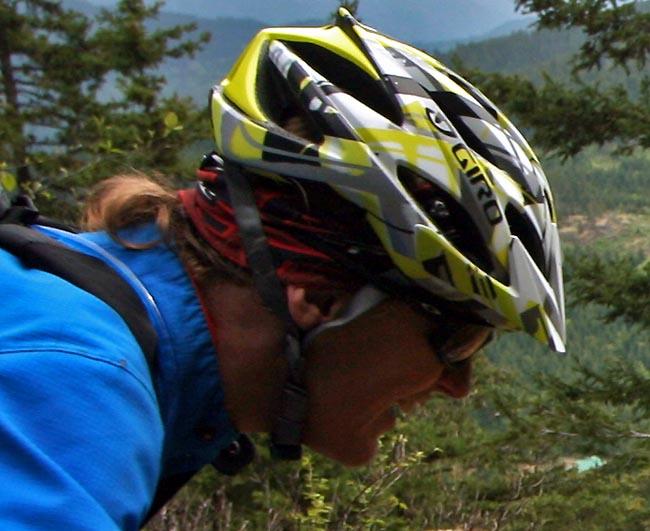 Having a more rounded profile the helmet looks wider, but this didn't affect comfort or fit. It was light and comfortable. The chin straps were soft and wide with a simple clip that could be undone with one hand. The side clips were also easy to use and allowed for easy adjustment. I liked the Roc Loc 5 since I could easily tighten the helmet on descents and loosen it on climbs. This was beneficial on the longer hotter climbs.