The American South West is HUGE. If offers many great places to ride and camp that is different from our wet coast. Maybe that's what keeps us going back. While Moab is awesome there are many different areas worth checking out. One of those is the Fruita /Grand Junction area. These are two towns further east along the I-70, about an hour and a half drive from Moab, that offer a different style of technical desert riding. Just before the Bookcliffs and Grand Mesa's heading towards Denver is an area with many different styles of trails.
Fruita is home to the now 17 year old
Fruita Fat Tire Festival
. Grand Junction, a 20 min drive East, has a network of great trails in its own right. You can easily spend a few days riding in this area, but we're just giving you a sample of what they have and just featuring some new additions to the trail network.
Fruita has three main riding areas all described
here
: Rabbit Valley; 18 Road and the Kokopelli loops. Grand Junction has one main area - the Lunch Loops.
It's worth noting that even though these trails are well signed and marked, sometimes it can be hard to figure out the best way to link the trails. If you're short on time or you want to maximize the fun factor consider hiring local knowledgable guides like Sarah and Dave of
Desert Rat Tours
.
The Fruita and Grand Junction trails are maintained by
Colorado Plateau Mountain Bike Trail Association
( COPMOBA). If you want to show your appreciation for Fruita trails and want to make a donation visit this
website
Kokopelli Area - Fruita
Characterized by technical ups and downs the Kokopelli area has a new addition to the Mack Ridge trail. With this new section you can create an epic, technical climbing loop with the other uber technical trail Moore Fun. Remember what goes up technically also goes down, technically... This area offers some of the best technical riding in the American South West.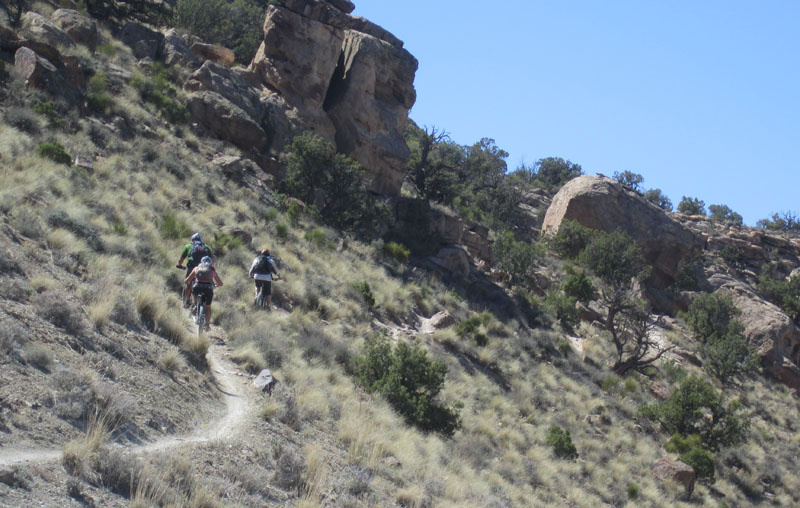 Sight lines are great here and you can see the trail twisting before you.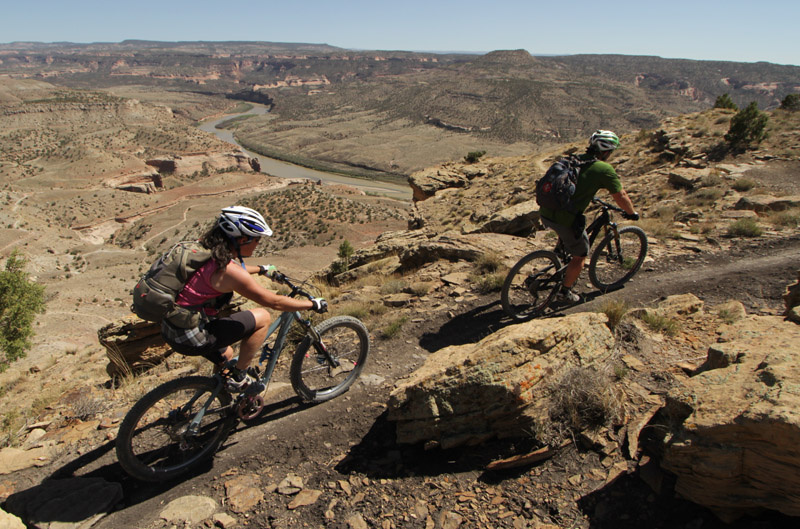 The views of the Colorado River along this ride are spectacular. Here Sarah and Dave starting the Ridge part of Mack Ridge.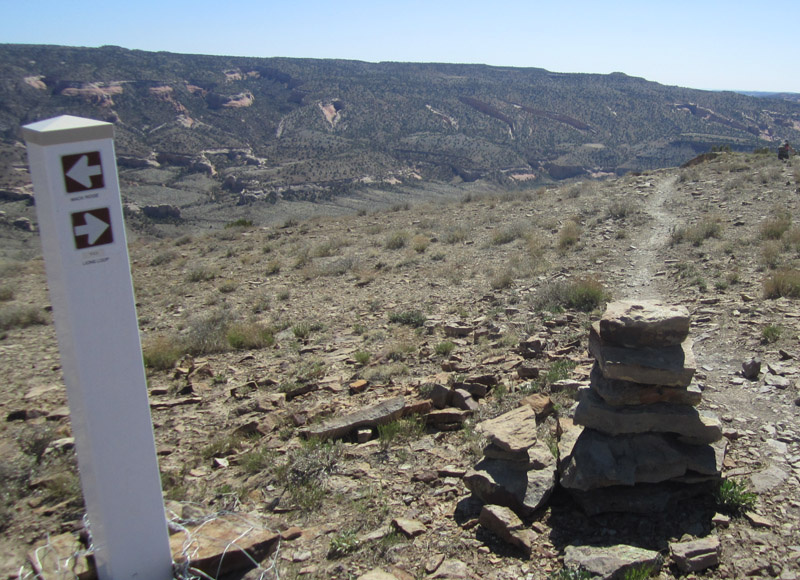 This area does a great job of marking trail intersections so you can always figure out where you are going. Lions Loop that way!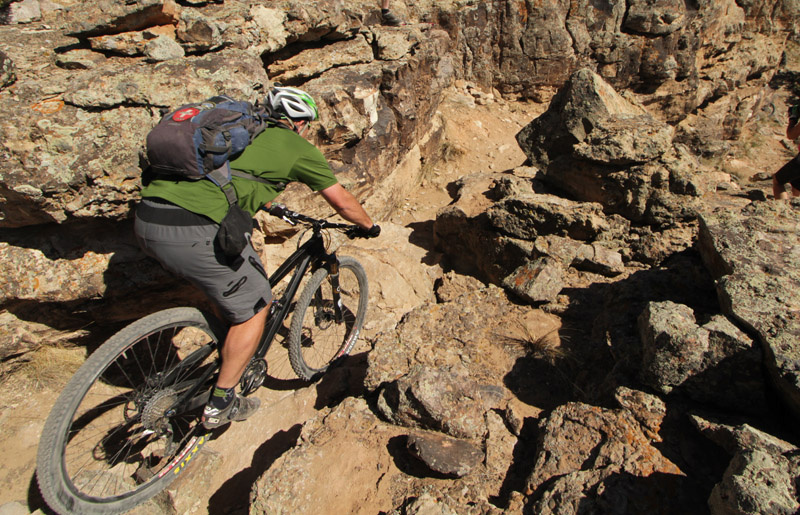 One issue for this ridge trail was getting off it again and creating a loop. Some creative trail design and construction was used.. Luckily Dave helped build this crux move, so he can show you the line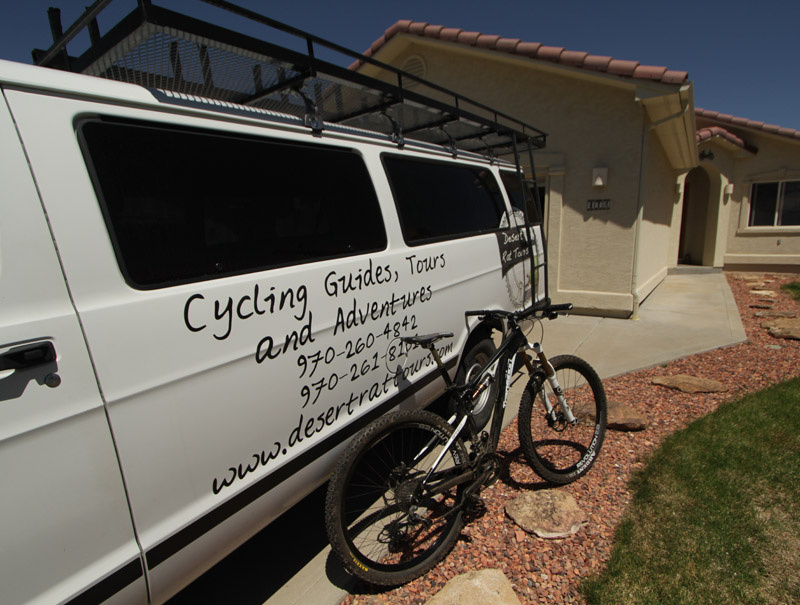 Back at Desert Rat HQ in Grand Junction we enjoyed the sun and warmth
18 Road
We didn't get a chance to ride in the 18 Road area mainly due to sheer laziness. Greg Mazu of
Singletrack Trails
is a professional trailbuilder based in Fort Collins, CO who's done a significant amount of work in the Fruita/GJ area. PBR is his new creation. The
Pumps Berms and Rollers
add another dimension to the flow of 18 Road:
Lunch Loops - Grand Junction
Not to be outdone, the Lunch Loops in Grand Junction have their own style of technical trails. Holy Cross will make you work both up and down, fortunately punctuated by fast flowy sections. This area is always getting new work and new variations to older trails. The local Grand Junction trails are so good that we've spoken to more than a few people who've specifically moved to the area and taken jobs here just for the riding.
In 2007 the BLM made a huge step towards accepting mountain biking by allowing the construction of a DH specific mountain bike trail -
Free Lunch
. Local freeriders (of course) want more, but this will hopefully be something on which more trails and more challenge can be built.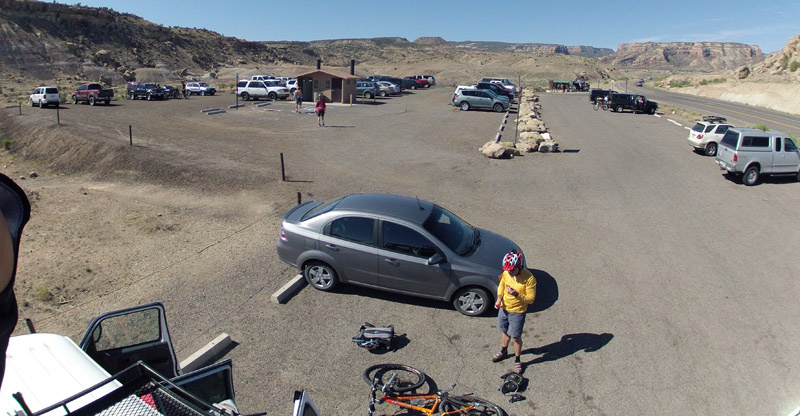 Lunch Loops Parking Lot. This area is becoming so popular they had to enlarge the parking lot! Despite that riders spread out pretty quick.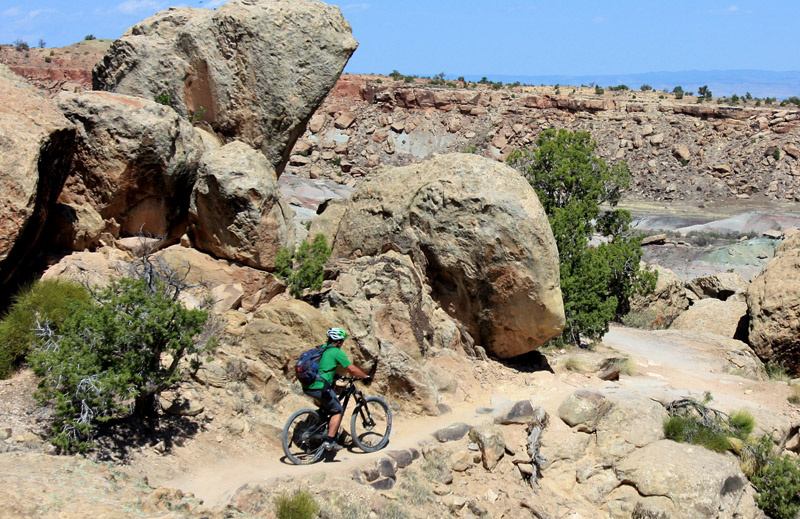 Desert Single Track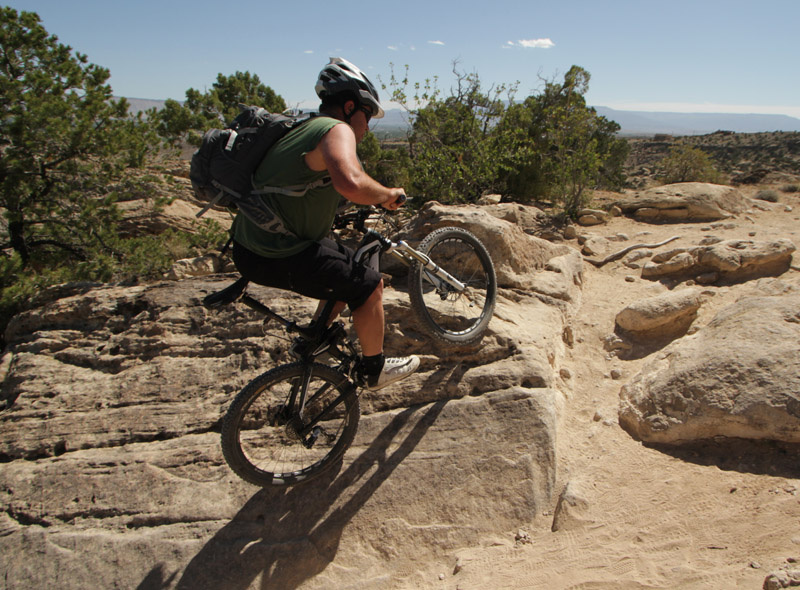 There are even technical climbing options as well as tight, rocky twisties!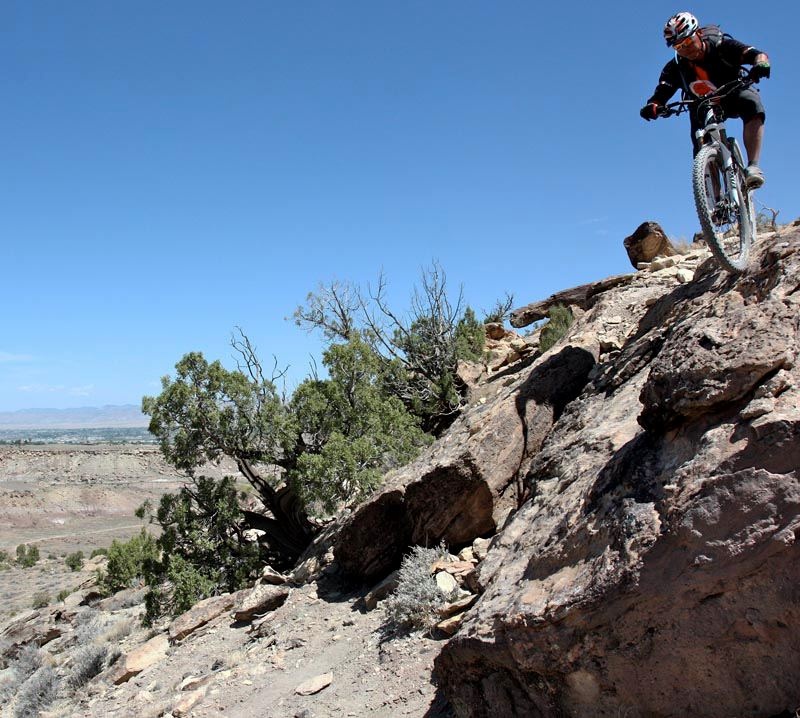 Lee getting technical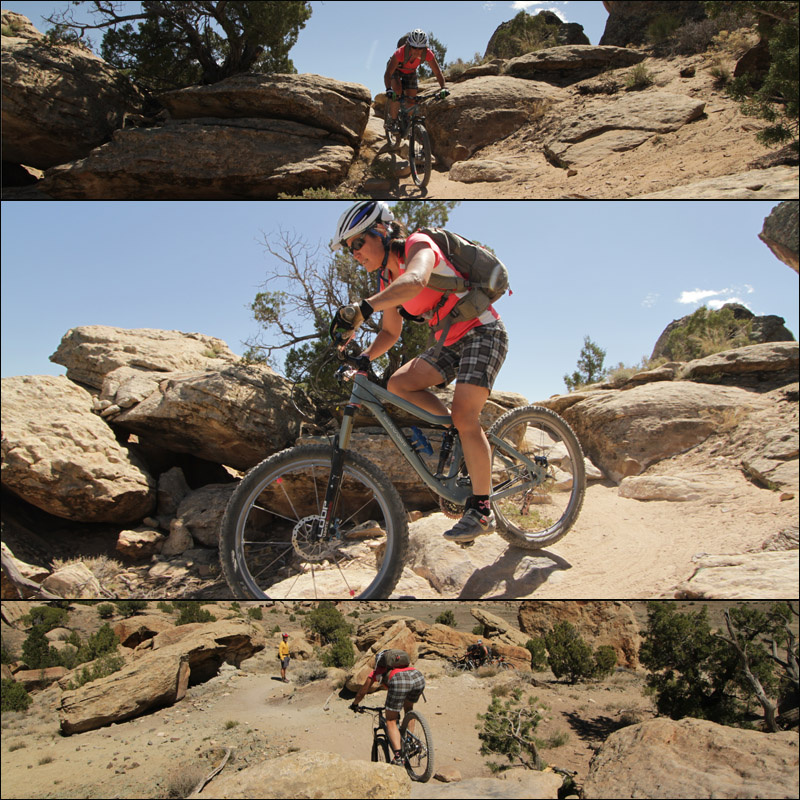 Sarah picks lines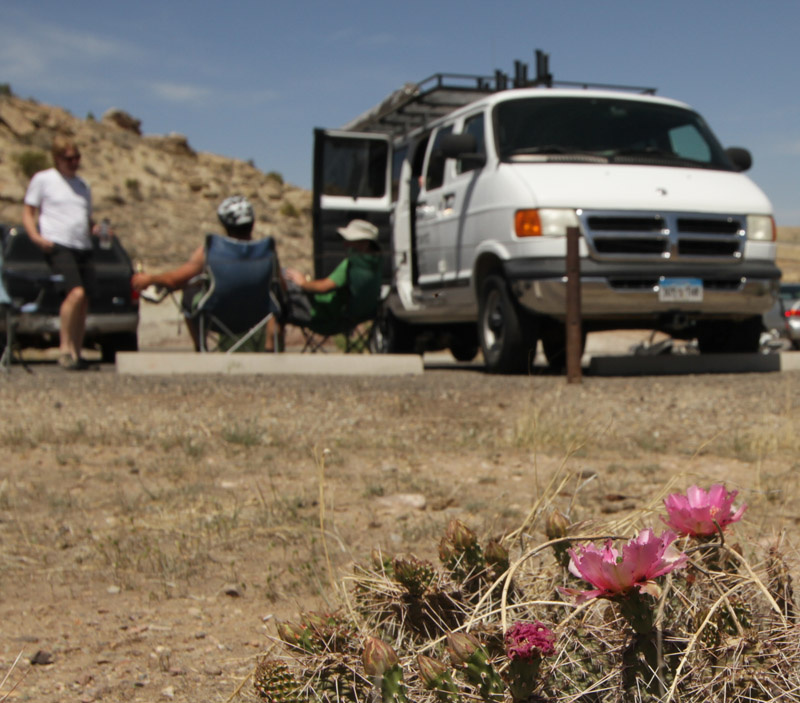 Chillin' back at the van
More pictures, videos, maps and information can be found here
.
Thanks for following us on this 3 part tour of the American South West, we will be back.
-Lee and Sharon