Mag 7 Epic
(adding Portal and riding in mid-day heat apparently makes it an epic)
The Trail Mix group who work on Moab trails have been busy. Mag 7 used to start at Gemini Road, but the trail groups have created a new Epic Ride; Mag7 is a 26 mile point to point between Hwy 313 and the exit at Portal on Hwy 279 ( Potash Road). The first sections – Bull Run – Arths Corner – Little Canyon Single Track – can also be done as an out and back if you don't want to shuttle. The ride up Gold Bar, Golden Spike to Portal is long and does require some route finding to make it interesting.
I'm sure this area was ridden by the locals for years since it's incredibly cool. It would not be easily accessed by tourists since navigation in these parts can be difficult, if not deadly. Adding trail markings, signage and directions makes this much less of a dangerous undertaking although one that still requires fitness.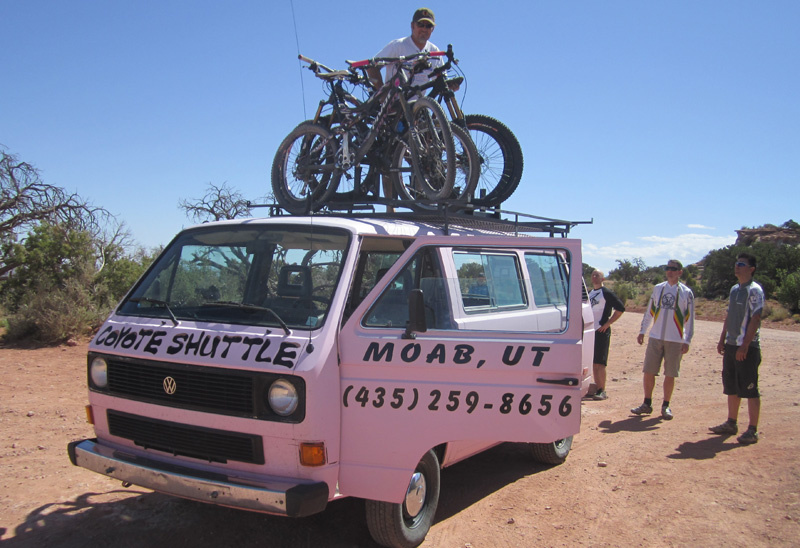 Shuttle the road unless you like road riding on your mountain bike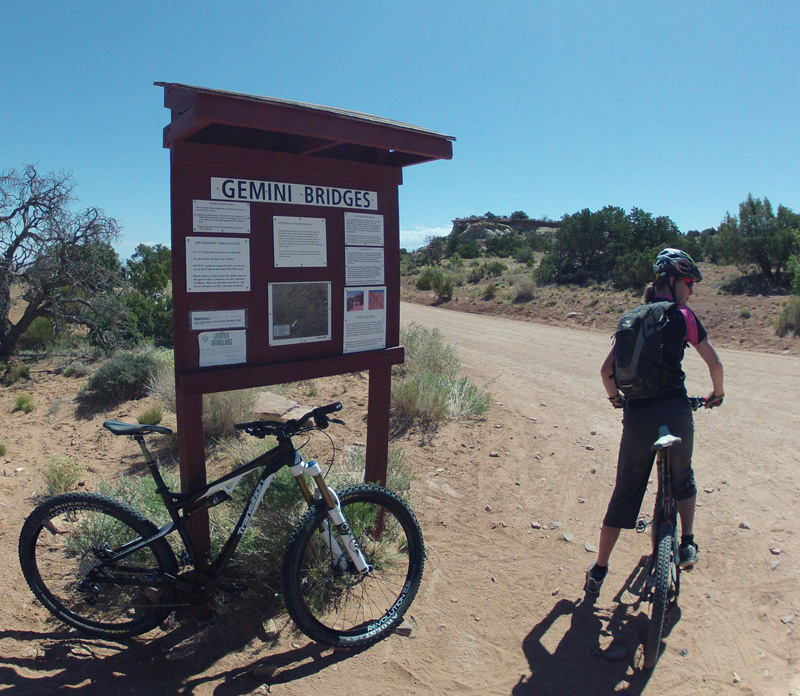 Mag7 ride is well signed - Trail information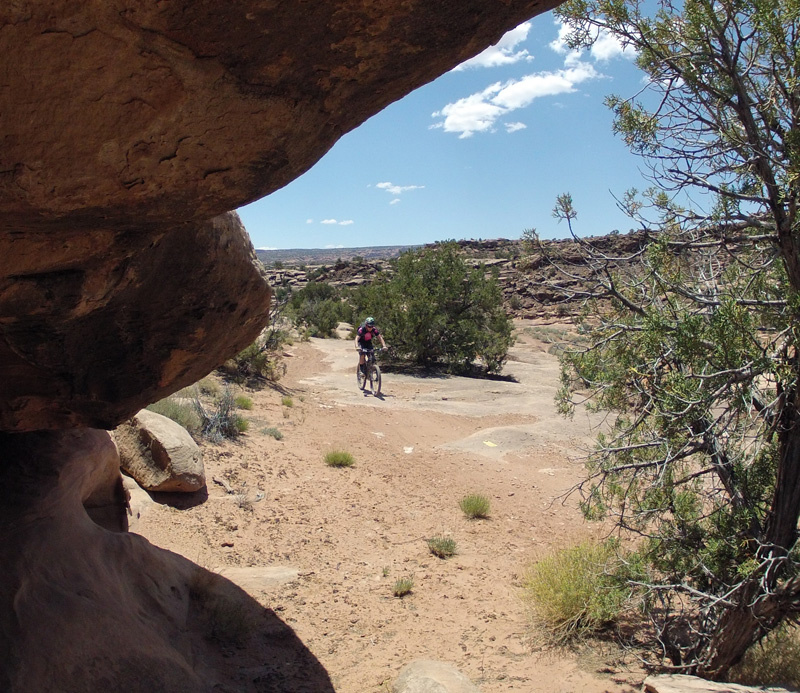 Take advantage of the shade as much as you can!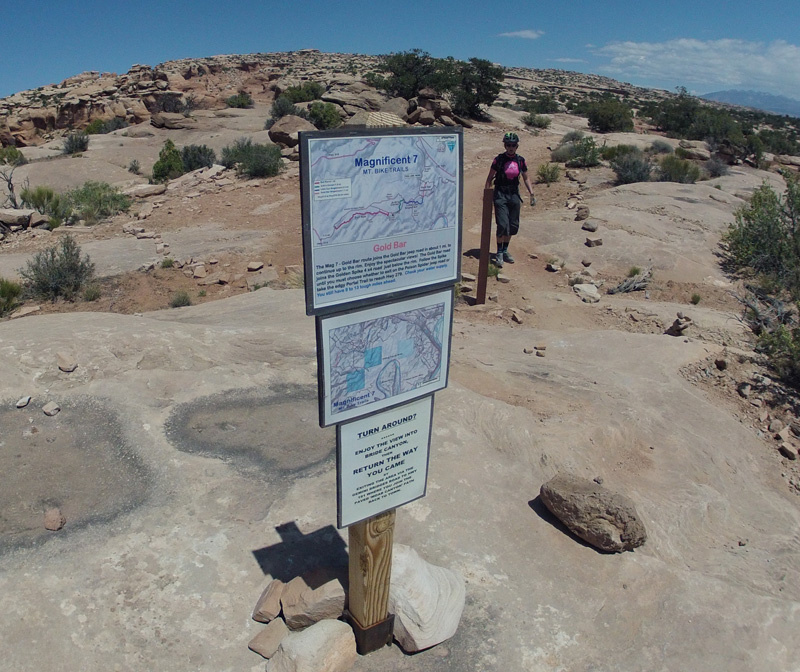 Top of Gold Bar Climb
The Bull Run to Little Canyon leg is fast and swoopy, loosing 400m in 16km. Don't underestimate the rest of the ride! The next 16km is where you climb a grueling 500m in twice the time it takes to do the first half! Take note that many people just do Mag 7 as an out and back or finish by riding out to the 181 and then either to a previously dropped car or on bikeways back to town - which should take another 2 - 3 hours. If you're going to finish on Portal bring plenty of water! Portal via Golden Spike and Gold Bar and the remnants of old previously legal singletrack will add another 2-4 hours to your ride.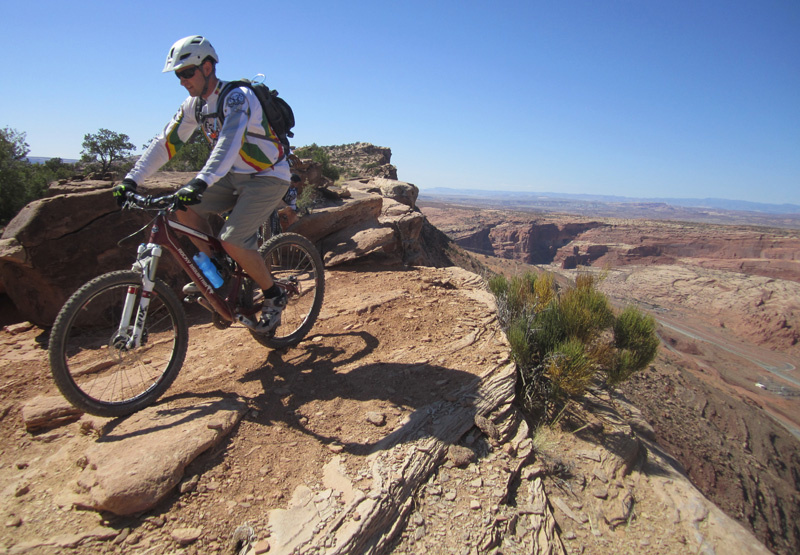 Riding on the edge; 300m drop to minimal transition of bus-sized rocks
On to Portal - Mandatory walking sections! Bit of climbing here and there, but it's mostly downhill with rocky ledgy sections.
Portal is quite technical with lots of rock features and ledges to roll
Moab - COMPLETE Mag7 at EveryTrail
More pictures, video, maps and ride details are here.
Hazard Enchilada
This is the Moab Classic. Burro Pass is the highest start of this ride, but is not usually clear of snow until July. This ride is often ridden from Hazard County - which still gives you an 1800m descent over 32km. Worth getting out of bed to do. We used
Coyote Shuttles
which stages out of
Chilli Pepper Bike shop
to get us to Hazard (and to the Mag7 start). The peaks of the La Sal mountains in the background are at 13,000ft and you can ski there in the winter!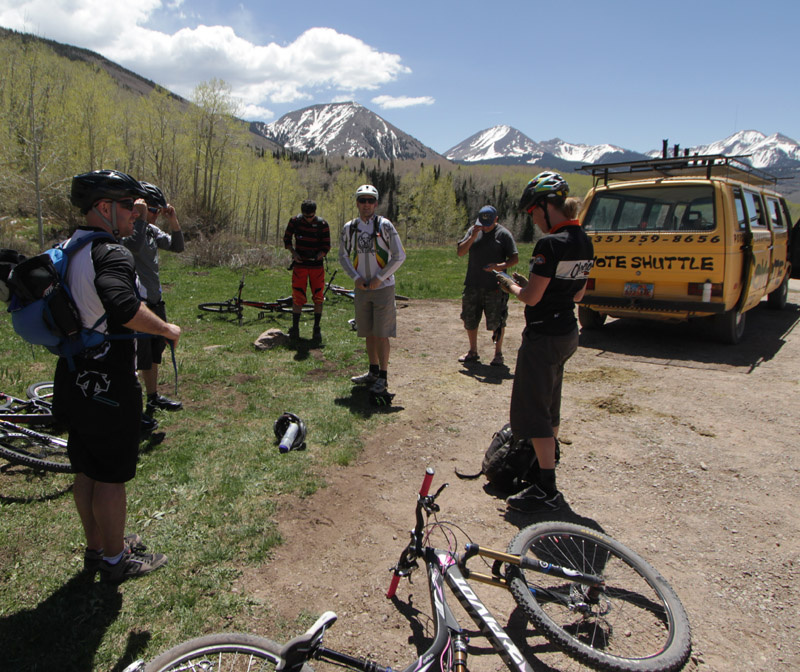 Hazard parking lot
The views do not suck on this ride, neither does the trail which is a combination of singletrack, some doubletrack then mostly singletrack again till you hit Porcupine Rim. Porc Rim is incredibly fun doubletrack/jeep road with lots of cheap air opportunities ranging from 1 to 5 foot hits launching off rock to more rock or hardpack ground. Needless to say the terrain is not forgiving so you should ride accordingly!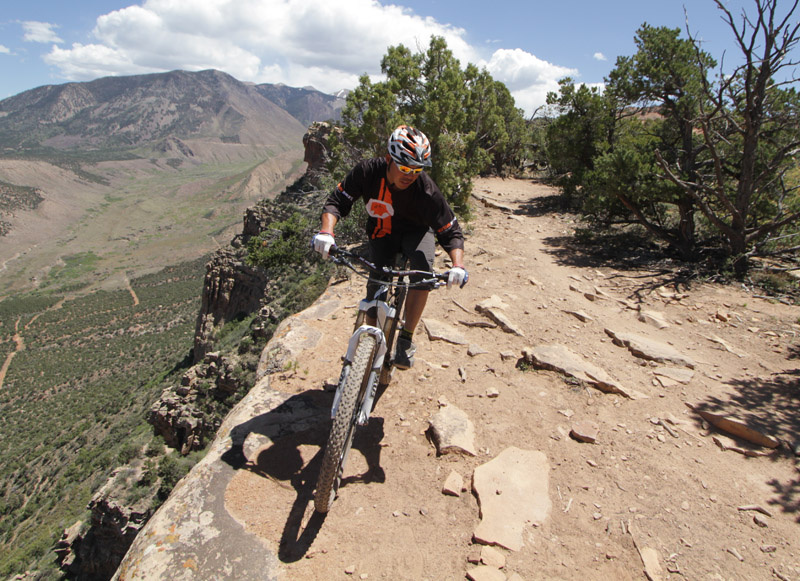 Lee on UPS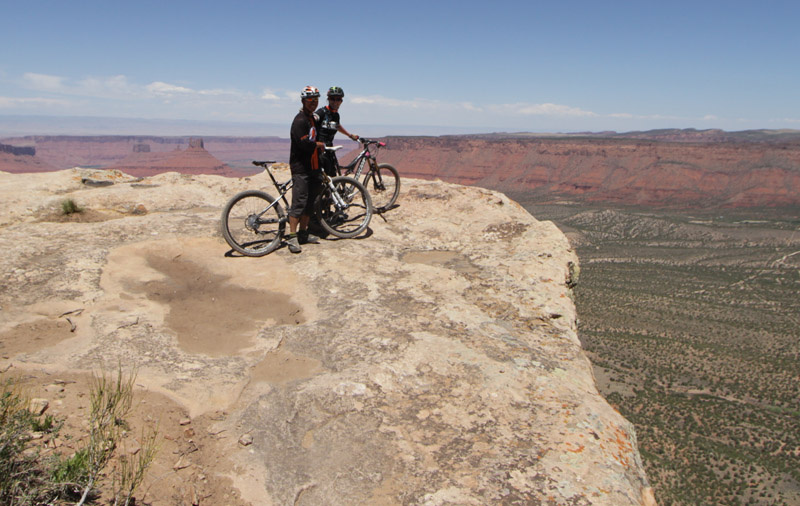 Gotta take in the views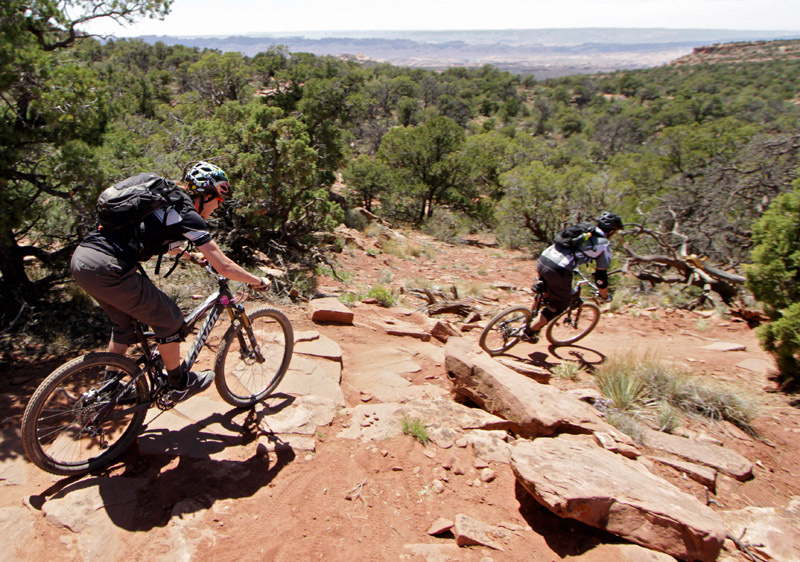 Then you go down.
John found us a nice beach to hang out at after the ride
Moab - Hazard Enchilada at EveryTrail
More pictures, video, maps and ride details are here
.
While still an incredibly popular destination, especially for Canadians who are tired of a long, cold, dark winter, Moab offers incredible rides, epic scenery, great trails and always a vacation worth doing. The great work by the Trail Mix group makes planning rides easy and lessens your chance of going off trail and dying (!) which is always a possibility in this potentially inhospitable epic land.